Salvo musicians play their part in blessing Australia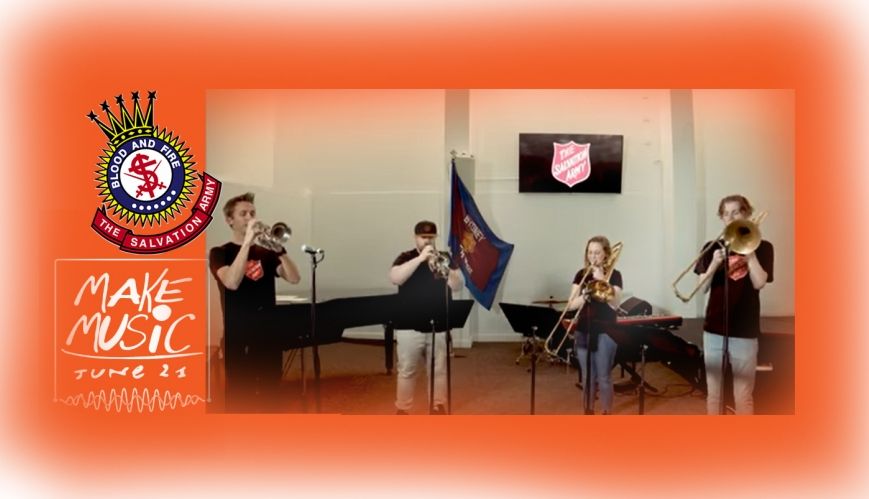 Salvo musicians play their part in blessing Australia
19 June 2020
Peter Gott, Matt Metcher, Adele Masters and Oscar Lewis put down a track for the Australian version of The Blessing.
By Darryl Whitecross
The Salvation Army has a rich history in making music, not only to accompany congregational singing but also in stand-alone compositions and singing groups, not to mention the art of timbrel playing.
That music has been on the cutting edge of styles across the generations, from the early days of the church when founder William Booth took popular tunes from the pub culture of the day and added Christian lyrics to them, through the era of the Gowans and Larsson musicals and the Joy Strings to today where many talented musicians continue to write and produce music across a myriad of genres that bless the hearts and souls of people across Australia and the world – inside and out the church's "four walls".
It is on days such as world Make Music Day – June 21 – that that tradition can be celebrated. Make Music Day, which has been on the world calendar for about 40 years, is often referred to as World Music Day. It began in France where it is called Fête De La Musique and is a national holiday. UNESCO has its own International Music Day, on 1 October. It was introduced by the International Music Council in 1975.
One of the most recent projects in which Salvation Army musicians have been involved was the production of The Blessing Australia video, which was a collaboration of performers from more than 250 churches across the country – instrumentalists to singers to dancers and audio and video technicians. It came after similar national collaborative versions were recorded in a number of different ways in the United Kingdom, South Africa, Malaysia, Ireland, India, Nigeria, Zimbabwe, Sweden and Canada – and the number is growing.
The Blessing combined-worship phenomenon emerged after the release of the song in March, this year, by Kari Jobe, Cody Carnes and Steven Furtick of Elevation Church in Charlotte, North Carolina, in the United States. The song is based on a blessing in Scripture in Numbers 6:22-27.
For the Australian version, the project coordinators called for dancers, prophetic artists, choirs, rappers players of unique instruments or other creative ideas – especially those from different cultural backgrounds – to be part of the video to recognise "the breadth and diversity of our great nation".
Aussie Salvos
A small group of Salvo brass musicians from across Sydney came together to record backing tracks that were mixed into the Australian version of The Blessing, which, as the proverbial saying goes, is taking the world by storm. The clip of the group playing their part can be seen at the 5.30-minute mark of the clip, which was released on YouTube on 6 June.
The group was made up of Peter Gott (cornet), Corps Officer of Shire Salvos at Miranda, Matt Metcher (cornet and audio technician), from Shire Salvos, Adele Masters (trombone) from Campsie Corps and Oscar Lewis (trombone) from Sydney Inner West Corps. William Searle, from Wollongong Corps, edited the video footage and audio recordings.
Sydney Youth Band leader Major John Vines said the group coming together to record was "a very last-minute thing".
"The coordinator for the Australia project thought it would be great to have more diversity of instruments and some of the team knew me and my involvement with the Sydney Youth Band so suggested brass parts," John said.
"The issue was the timeline. They contacted me Monday and needed the recording by Wednesday. Oscar wrote the parts Monday night and the quartet came in to record on Tuesday, then it was mastered ready to go for Wednesday morning. These guys hammered it through."
Oscar said it was the first time had written something of that scale.
In a truly collaborative effort, Oscar said he contacted three respected Army musicians and composers in Brisbane – Carindale Corps bandmaster Jared Proellocks, Brisbane City Temple songster leader, Chris Brindley and Revelation Big Band leader Sam Creamer – for their input and advice.
The score was written on the Monday in time for a Tuesday recording session at Sydney Inner West Corps but had to be re-written "on the spot" before recording began.
Oscar said he originally wrote the music for six parts but, for the recording, three players were unavailable so Matt stepped in to play a cornet part and Oscar re-wrote the tenor horn and tuba parts so he could play and record them on his trombone. He said the group could be heard virtually throughout The Blessing Australia video.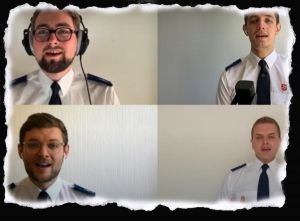 Britain's FourHymn: (clockwise from top left) Nathanael Watchorn, Joe Rose, Nick Hampton and Karl Westwood as they appear in The Blessing UK video.
London Salvos in UK version
The popular group FourHymn from The Salvation Army's Regent Hall Corps in London was featured on the final track of the UK version of the song.
FourHymn – policeman Nick Hampton (tenor), building surveyor Nathanael Watchorn (second tenor), Army young people's project coordinator Joe Rose (first bass) and UK territory music department's Karl Westwood (bottom bass) – also were only given a quick turnaround time to put their track down.
Nick said the group, which formed in 2015, was asked to be involved by The Blessing UK's Les Moir, who is well known in the Christian music scene in Britain and had worked with FourHymn on its second album.
"We were asked with quite a quick turnaround. I would say it was two weeks' total because it was so new at the time," Nick said. "We loved being involved and it really was a privilege."
Salvo singer in Hawaiian version
In Hawaii, Rick Ahn, the ministry director at The Salvation Army's Kroc Church in Ewa Beach, featured in that American state's video. Twenty-five churches from six islands of Hawaii were involved in the recording.
Rick said his name was first suggested after a "pastor's round table of island denomination leaders". The approach was made by Divisional Commander Major Jeff Martin through his corps officer, Major Phil Lum. He said he was hesitant at first, thinking: "Why me?"
Rick Ahn from the Kroc Church in Hawaii sings on The Blessing Hawaii recording.
"Also, I really don't like cameras and the thought of being online 'permanently' was terrifying but, after concluding that somehow my participation might serve as a blessing to the community of believers and beyond, I was able to get over myself and do it.
"We had a week to record, which was a challenge in itself. I had some excellent support from our corps audio/visual staff who help me record my portion at our corps. Overall, it was a truly humbling experience to join with the Church at large to honour God and bless his people. It's incredible what God can do when we let go of our fears and doubts to serve him. I don't have any formal singing background. I just love to praise the Lord and am part of our worship team."
intergenerational project
Coordinators of The Blessing project in Australia said they hoped it would "lift up the name of Jesus", "create denominational unity, cultural diversity, diverse creativity" and be "intergenerational".
"While these Blessing projects are sweeping the globe at large, our video seeks to be uniquely Australian," they said.
About 300 submissions to appear on the track were received. The video was edited and produced in Sydney by Christian music producer Luke Munns' The Lakehaus Studios.
The 7.30-minute clip begins with a prayer for Australia to the background sounds of a didgeridoo: "From the bush to the beaches", "through fires and drought", "no virus could hold us", "we were made for such a time as this", "the Lord bless you and keep you, Australia".
At the time of publication, The Blessing Australia had received about 292,000 hits with accompanying comments from around the world.
View The Blessing Australia song here: https://www.youtube.com/watch?v=OOt7baaVSbE