Australian Salvos pay tribute to Bearcroft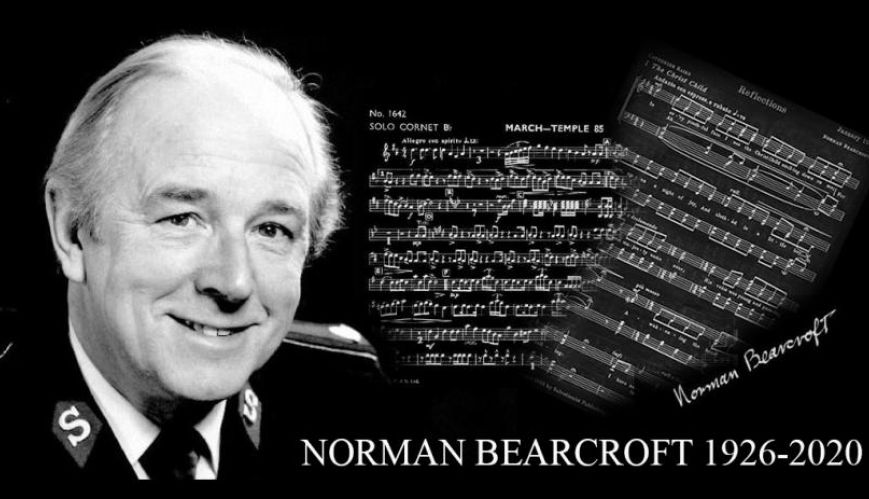 Australian Salvos pay tribute to Bearcroft
3 July 2020
Artwork by Darryl Whitecross
By Darryl Whitecross
Composers and musicians from across The Salvation Army in Australia have paid tribute to Lieut-Colonel Norman Bearcroft, who has passed away at his home in New Jersey, in the United States, aged 94.
Norman was considered one of the Army's most prolific and respected music writers. Many Salvationsts will have a favourite Norman Bearcroft piece, whether vocal or brass, and a title will immediately spring to mind.
Born on 24 January 1926 in Wallsend-on-Tyne, England, Norman was promoted to glory on 26 June.
Melbourne Staff bandmaster, Ken Waterworth, said Norman's music had a "sparky sort of edge" that brought energy to Army music in his heyday in the 1970s and 1980s.
Ken said many of Norman's compositions were written for soloists, in many cases writing pieces for specific bandsmen which put them "on the map" in world brass band circles.
Former Melbourne Staff Band bandmaster Colin Woods.
Sydney Congress Hall bandmaster, Barrie Gott, said Norman's eternal reward would be "well deserved". Barrie, who also conducts the Sydney Veterans Band, described him as "very engaging and very humorous".
"He could communicate with bandsmen and audiences extremely comfortably," he said.
Colin Woods, who served as Melbourne Staff Bandmaster from the late 1960s to the mid 1990s, remembers inviting the then-Major Norman Bearcroft to be the first "famous" international Army musician/composer to be part of a biennial series of visits to Australia.
"Norman was a big name in Salvation Army brass banding circles," Colin said. "His music was popular, easy to listen to and a joy to play, particularly if you were a euphonium player who liked playing in the upper register. He also knew how to write a good march.
"At the time of his visit (in 1973), he was bandmaster of the CSB and the MSB was able to present much of his latest, unpublished music during his visit."
Colin said Norman proved to be "even more popular" due to his wit and friendliness.
Lieut-Colonel Bearcroft's autobiography was published in 2010.
"Over the years, I was privileged to remain in contact (with Norman), discussing matters of interest re. Salvation Army music-making, as well as being in receipt of his latest in unpublished music," Colin said.
"I was extremely fond of him as a man as well as a composer, finding his music to be ideal for Salvation Army purposes."
Rod Reeve, the Melbourne Staff Songsters (MSS) leader from 1989-2003, met Norman in 1990 when the MSS attended The Salvation Army International Congress.
"He was the composer of so many magnificent works ... but it was his devotional writings and arrangements that many will remember him for," Rod said.
"His music has touched the lives of countless thousands all around the world, including those who have performed it, and will continue to do so."
Two of Norman's most recognised accomplishments were the foundation of the International Staff Songsters (ISS) about 40 years ago, and the re-formation of the Canadian Staff Band (CSB) about 50 years ago.
The ISS Facebook page said the group was "deeply saddened by the news of the promotion to glory of our founding leader". It described Norman as having a "larger-than-life personality" and "an immense musical talent".
"We also remember with great fondness his humour and the joy we shared in making music together," it said.
The ISS Facebook page said Norman provided the Army world with "many blessings, crafting beautiful melodies and arrangements to give voice to the 'heart songs' within The Salvation Army and helping to bring countless lives nearer to God. We continue to enjoy and gain great blessing from his songs that are timeless in meaning."

CSB bandmaster, John Lam, said on the band's website, Norman had resurrected the CSB in 1969 after "a decades-long hiatus" and was its bandmaster until 1976.

John said Norman's vision, musical prowess, wit and charm created "a legacy of music ministry that will continue to resonate around the globe for generations to come".

"I am overwhelmed with gratitude for the legacy that Norman created and passed down the generations to the current band," John said.

The secular international brass banding website, 4barsrest, described Bearcroft as "one of the Salvation Army's most prolific and respected composers" having published more than 180 works across band and vocal journals.
Norman, who also served as The Salvation Army's National Music Secretary in the United Kingdom, published his autobiography, In Good Company, 10 years ago.