Rain fails to dampen Tamworth community spirit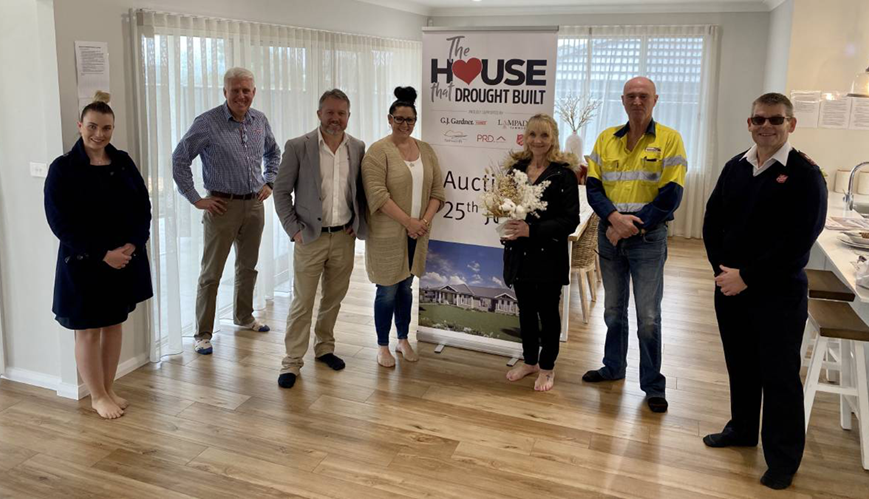 Rain fails to dampen Tamworth community spirit
27 July 2020
Captain Brad McIver (far right) joins (from left) Amy Hughes (PRD Tamworth), Dean Cummins (PRD Tamworth), and Daniel and Natalie Urquhart (G.J. Gardner Homes Tamworth), in congratulating buyers Cathy and Brian Crowe on their new home after the auction on Saturday.
By Jessica Morris
The auctioneer's hammer came down like rain that was falling outside when 'The House That Drought Built' sold for more than half a million dollars in Tamworth at the weekend.
It was somewhat ironic that a house constructed to raise funds for drought relief would be sold on a wet day, but no one was complaining as the four-bedroom home went for $560,000.
A large portion of these funds will go towards The Salvation Army's Rural Drought Relief Program in NSW.
Located in the Lampada Estate, just 5km from the Tamworth CBD, the house was purchased by Cathy and Brian Crowe, who said they were driven to support their neighbours doing it tough due to the drought.
"The fact that it was such a great cause was one of the main factors that we decided to come and have a look at it, with the option of buying," Cathy told NBN News.
The House That Drought Built was initiated by GJ Gardner Homes (Tamworth), and building began in February in collaboration with the McCloy Group, Tamworth Regional Council and PRDnationwide.
Locals donated materials and trades for free or at cost price, allowing the majority of profits to be poured into drought-affected communities across Tamworth and regional Northern NSW.
Nicole Jenkinson, Salvation Army Public Relations Manager for the Hunter, Central and Mid North Coast NSW, said the project had been an incredible example of community collaboration and all that can be achieved when everyone steps up and chips in to support neighbours in need.
"Hundreds of local business people supported this project by providing their services and products at a reduced cost, while community members were also invited to make a contribution through the Buy A Brick component of the campaign," she said.
"Ultimately, this beautiful house was built by an entire community and The Salvation Army is immensely grateful for the privilege to partner with the people of Tamworth to support local farmers." 
How's that for a community effort? The drought may not be over, but the Tamworth community has shown there is more than one way to 'live, love and fight' alongside each other – sometimes, it takes building a house!