'Snail mail' delivers the write connection in Ballarat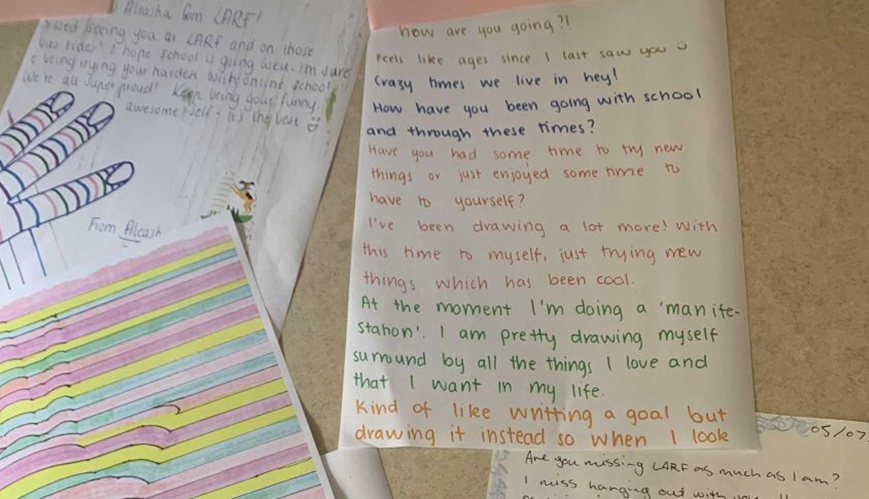 'Snail mail' delivers the write connection in Ballarat
10 September 2020
'Snail mail' has connected young people with mentors in The Salvation Army Homelessness Ballarat LARF program. Each letter is filled with personal notes, pictures, jokes and memories to cultivate hope during lockdown.
By Jessica Morris
In a year when social distancing has become the norm, 'connection' has become vital for the young people involved with The Salvation Army Homelessness Ballarat service (formerly known as Karinya and SalvoConnect Western).
While the rest of the world turned to Zoom, these young people found a screen just didn't cut it. Thankfully, writing and receiving old-fashioned 'snail mail' did. And it's an art they've rediscovered in the LARF (Life Skills, Activities, Relationships and Fun) mentoring program during the COVID-19 lockdown.
"Initially, we were really concerned about the children and young people due to their experience of extreme social isolation being compounded in this way," said Amber Byovet coordinator of their Recreation, Activities, Mentoring and Parenting program [encompassing LARF].
"We eventually came back to our core work, which is around building long-term, healthy and trusting relationships. We adjusted and formalised the volunteer mentors' roles and they began writing letters to the LARF mentees."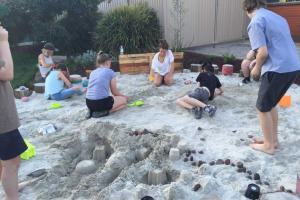 Before COVID, LARF connected young people and their mentors through group activities as shown above. With lockdown restrictions in place, they have adapted to find new ways of connecting.
Traditionally, LARF supports young people aged 8-16 through group work, mentoring and transporting them between appointments. Lockdown threatened to upend the program, and the team struggled to find a solution for clients who didn't have access to the technology required for social connection.
"The impact on us was quite extreme and we didn't have a precedent for how we could operate or even adjust to such a huge change," said Amber.
With a bit of ingenuity, Amber and her team unlocked an even greater gift – deeper connection between generations as volunteer mentors (aged 16-30) wrote letters to their younger mentees.
After trialling different approaches, they found that clients gravitated towards reading handwritten letters from their mentors. Not only did they delight in receiving a note that was filled with personal details, jokes and memories, but it gave them something tangible to hold on to during isolation.
"The idea behind the letter-writing was about supporting the young people through this time of extreme social isolation to still feel connected and cared about and to know that someone significant in their lives was holding them in their mind," said Amber. "The letters also provide tangible evidence of this, something that the young people can hold, re-read or put up on the wall to remind them of moments when they felt safe and connected."
The LARF program has run out of The Salvation Army Homelessness Ballarat service for 18 years and is crucial to support young people affected by or at risk of homelessness in the western Victorian region.
"These young people find a place of trust and begin to find out about themselves, and that's a spiritual journey," said Fiona White, chaplain at the facility. "The pathways become much more fluid between the social space and the corps [particularly Delacombe], to the extent that it's not noticed, and as young people grow up they recognise it's a place they can find some healing. It's where their families can find the strength to keep going in difficult times.


"As the young people are encouraged to dig deep within and understand their feelings, this is a time where many will learn to feel safe as they find a presence, a presence that many of us would recognise as a spiritual presence."

As lockdown continues, so will the letter-writing between the excited kids and mentors. And to commemorate the connection they are building, Amber and the team are creating a letter-writing art installation.

"We will be using excerpts from the letters and making them into hundreds of tiny paper aeroplanes. We will turn these into a large mobile, hanging them in a symbolic or meaningful shape that suggests care and connection," said Amber. "[It] will represent the story of what we have been through in these unprecedented times and have a big impact when the program can finally return to face to face."