Marcus zooms into junior soldier ranks at South Barwon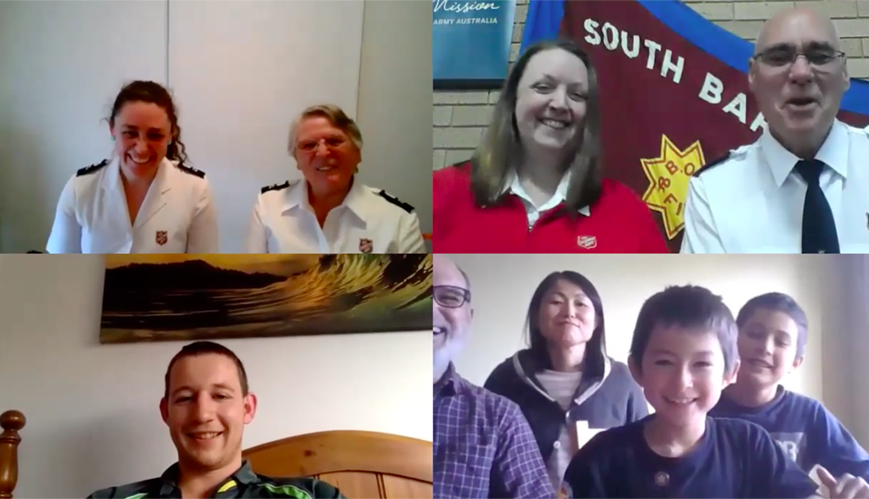 Marcus zooms into junior soldier ranks at South Barwon
23 September 2020
Marcus Thomson became a junior soldier on Sunday after he was enrolled on Zoom – (top row from left) Alison Wishart and Jenny Wishart (Junior Soldiers leaders); and Majors Karen and Clint Castley. (Bottom row from left) 'Big Bud' Benjamin Vale; and Dale, Sachi, Marcus (wearing a junior soldier badge) and Owen Thomson.
By Jessica Morris
During Victoria's COVID-19 lockdown, the thought of conducting an enrolment ceremony seemed a long way off. That was until South Barwon Salvos welcomed their newest junior soldier, Marcus Thomson, on Sunday over Zoom.
"I reckon we're the first corps in the whole world to do this, and it's exciting to be on the cutting edge of technology," said Corps Officer Major Karen Castley. "And even if we're not, we're claiming it!" laughed Major Clint Castley during the virtual service.
After attending Junior Soldiers classes online this year, seven-year-old Marcus was officially welcomed as the newest member of the South Barwon Salvos on Sunday.
He was joined online by his family, Junior Soldiers leaders Alison and Jenny Wishart, and new 'Big Bud' [prayer pal] Ben Vale.
"Marcus has made a decision to follow Jesus and have Jesus as his friend and Saviour – so we're really just making it official and welcoming Marcus into South Barwon Corps as our newest soldier!" said Karen.
Calling on the words of Hebrews chapter 12, Karen encouraged Marcus to "throw off all that entangles him" on his new adventure with Christ. He then repeated the Junior Soldiers promise online with the help of his older brother, and fellow Junior Soldier, Owen.
Not to be outdone by restrictions, Alison still managed to sneak in a miniature Salvation Army flag, which was waved in celebration as Clint urged the South Barwon Corps to keep embracing the Thomson family.
"As a corps family, we also have a responsibility to support Marcus and his brother Owen, and to support his mum (Sachi) and dad (Dale) in prayer and to show an interest in this family," he said.
What a great show of community from South Barwon corps – welcome to the family Marcus!