Men's shed chips away at isolation in Ballarat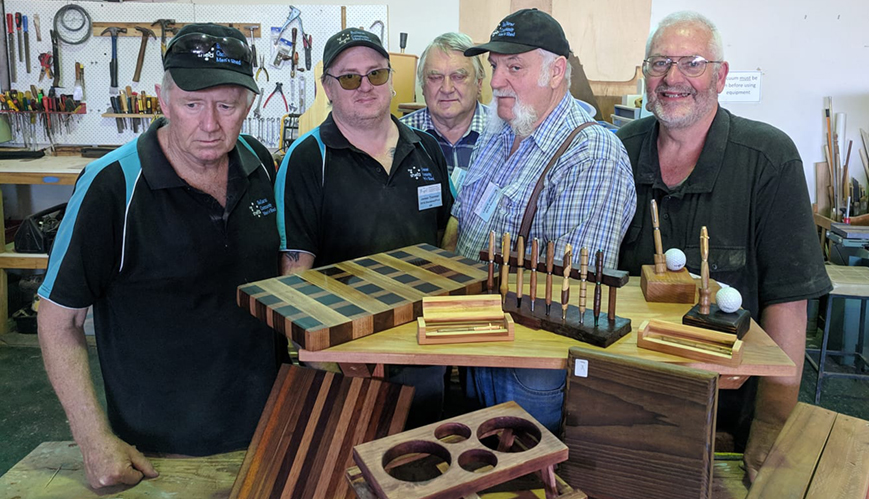 Men's shed chips away at isolation in Ballarat
13 October 2020
Members of the Ballarat Community Men's Shed – (from left) Terry, James, Bernie, Lance and Ken – show off their handy work. Photo taken before social distancing and mask regulations in place.
By Jessica Morris
Sometimes all you need to experience hope is a hammer in one hand and a cuppa in the other – just ask the men who call the Ballarat Community Men's Shed their 'haven'.
Before the COVID-19 pandemic, an average of 15 locals would drop into The Salvation Army-run centre each week. Over the years, coordinator Duanne Seivers has seen it become safe haven for men looking for a place to belong – including himself.
"As a chef by trade, a men's shed and woodworking wasn't something I experienced before," Duanne said. "Being involved with the men's shed has made me more accepting and understanding of others. My wife has said I'm a lot calmer, happy and that I really enjoy my job now."
Duanne came to the men's shed a decade ago in search of community. While younger than most attendees, he became a member and volunteer in the kitchen, before he took on the position of coordinator in 2017. "I've become quite handy on the tools and have tackled projects in the past I would pay someone else to make!" he laughs.
On their busiest days, between 20 to 30 men drop by for a cuppa, and new members are quickly made to feel at home while they create a chopping board, carve a wooden ball-point pen, make some kids' toys or paint.
"New members who start are always shy and don't talk much, but after a week or two they open up and feel more relaxed," Duanne said. "We also have had members who have never done any woodwork in their life, but once you get them going you can't stop them. One of our newer members struggled to make his first chopping board, and now he has made over 30 and now we can't stop him!"
As an expression of The Salvation Army Ballarat, members have been known to do odd jobs at the corps and participate in Red Shield Appeal fundraisers. And by simply doing everyday life together – from birthday celebrations to learning how to sand with the grain – they have hands-on experience of Christ's love in action.
Through COVID-19, Duane has maintained a connection with members, and the Victorian lockdown has proved challenging for many who are in residential care or rely on support workers. The fact the men's shed is also the only social activity for many isolated locals has also become apparent with restrictions. But given many have part of the community since it was founded, there is no doubt they will be back as soon as doors reopen.
"Men's shed members come from all walks of life, and you might not think you would fit in or like the shed until you try it," said Duanne. "What unites them is that they have time on their hands and would like to do something meaningful with that. I have seen [members] become more accepting of others who [have different] views, beliefs, backgrounds and skills to them."

For updates about when the Ballarat Community Men's Shed reopens, visit the official Facebook page here.