Promoted to glory, partnered in celebration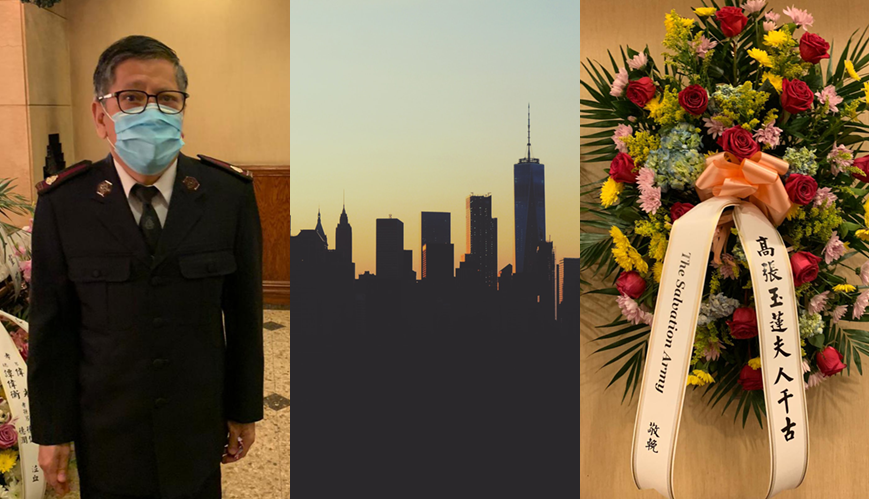 Promoted to glory, partnered in celebration
21 October 2020
Major Ricki Ki (left), Corps Officer at the Bensonhurst Corps in Brooklyn, who represented The Salvation Army at the funeral in New York. (Centre) A silhouette of New York City courtesy Rohit Tandon on Unsplash. (Right) The flower arrangement.
By Jessica Morris
The world has seemed smaller in light of a global pandemic, but, with travel restrictions, it has never been harder to say farewell to the people we love.
For some of us, this has looked like attending funerals or memorial services online because we can't travel interstate. But for Salvation Army employee Leanne Wong, these restrictions took on a whole new meaning when her mother-in-law was promoted to glory in September. At age 86, she passed away peacefully in New York City, one of the hotspots for COVID-19.
With family overseas, Leanne looked to her local community for support. As a Salvation Army relationship manager for the multicultural community in Melbourne, she has developed strong relationships with her team. So when she notified her line manager, Major Bruce Harmer, about the loss, she received more than just condolences and a flower arrangement.
"Bruce straight away arranged flowers to send to my house. When I thanked him, he proposed if I would like to have someone from The Salvation Army in New York representing my family to attend [the funeral]," said Leanne.
"This was a lovely idea, but I did not expect it could happen. There were only three working days left to find someone available in New York and it was also under a critical situation."
Major Bruce Harmer and Leanne Wong at a multicultural community function last year on behalf of The Salvation Army.
Thankfully, the beauty of a global Salvation Army is that it is also a global community. Within days, Bruce arranged for Major Ricki Ki, Corps Officer at the Bensonhurst Corps in Brooklyn, New York City, to attend the funeral of Leanne's mother-in-law. It showed that even amid international lockdown, social distancing and having to wear a mask, it is possible to show the tangible love of Christ.
"My relatives in New York felt honoured to have The Salvation Army representative with them to show support and also demonstrate a real-life testimony to 'leave no one in need', even though we are thousands of miles apart," said Leanne.

"We are blessed by the kindness of two officers who have exercised The Salvation Army's value of 'Caring for People' with compassion during such tough times."
Global connection
Bruce was able to connect Leanne's family with Ricki due to his contact with Colonel Richard Munn, Director of the Salvation Army International Social Justice Commission in New York. He said the quick connection revealed how the global Salvation Army comes together, especially in light of COVID-19. 
"We are a family held together by our shared values and shared beliefs. Leanne is part of that global family and it was just such a natural action to reach out to our brothers and sisters in New York in support of Leanne and her daughter," said Bruce.
"The ministry of presence, perfectly delivered by Major Ricki Ki in support of Leanne was just a glimpse of the many acts of kindness delivered by Salvationists living out their ministry in more than 130 countries. 
"There might be restrictions on our travel due to the global pandemic, and yet it was possible to support Leanne through Colonel Richard Munn and Major Ricki Ki. I'm so thankful that we have a healthy culture of service woven into the tapestry of Salvationism wherever we serve around the world."