Getting homeless veterans back on the job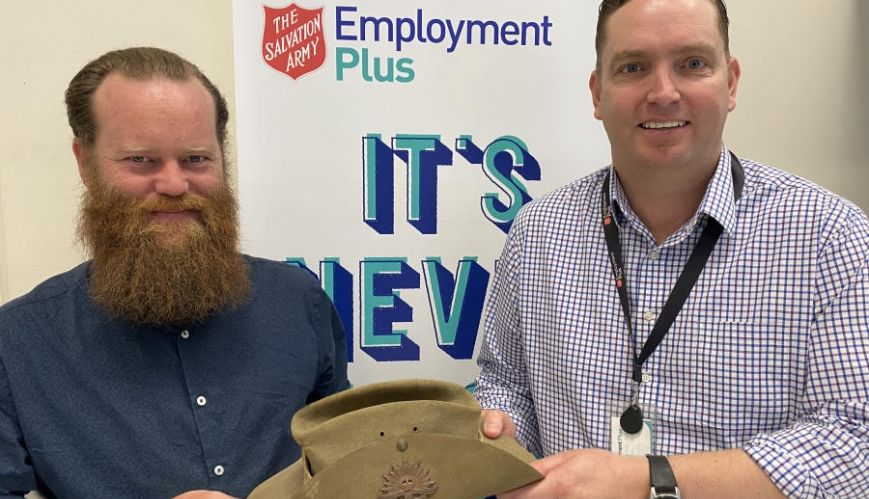 Getting homeless veterans back on the job
28 October 2020
Accommodation and Homelessness Services senior caseworker Johnathon Dyer and Employment Plus Queensland engagement manager Ian Charlton with a World War Two Australian army slouch hat worn by digger Private Rogers in Australia and Japan as part of the British Commonwealth Occupation Forces.
By Darryl Whitecross
One of the lessons learnt from 2020 – where working from home and self-isolation at home has been the 'norm' because of measures to combat COVID-19 – is that a home provides security and safety for families, people living alone and a community.
Being homeless is a significant issue in Australia and The Salvation Army is doing its best to provide a roof for as many of those affected as possible and give them a life that many take for granted.
A pilot scheme has begun in Queensland as part of The Salvation Army Veteran Support Program, which aims to find housing for defence force veterans experiencing homelessness.
The Veterans Employment Program initiative is a collaboration between the National Homelessness Stream and in line with the National Homelessness Agenda, two expressions of the Army in the state, Social Mission Homelessness and Employment Plus.
Steve Kennedy, the Employment Plus national manager for strategy and tenders, said the pilot, which was launched in October, would run for 12 months and provide "personalised employment support" principally to the 50-60 veterans already part of the Veteran Support Program.
Ian Charlton, EPlus' Disability Employment Services engagement manager for Queensland, said the pilot was "designed with the veterans' experience at its very heart" to provide "free, high-quality wraparound support".
The support is to include professional career advice and support to find job opportunities, preparing resumes, cover letters and job applications, coaching in attending interviews, help in dealing with employment service providers and navigating the employment services system and ongoing mentoring with a professional employment consultant.
Ian said support staff in those areas were "on-call" to help participants when they felt they needed support.
"Employment support will be provided in-kind by the EPlus Disability Employment Services team in Brisbane," Ian said. "The pilot is not connected with any government employment services and is internally funded by The Salvation Army."
Johnathon Dyer, senior caseworker with Accommodation and Homelessness Services in Brisbane, said the idea for the pilot came after the Army perceived that there was a "gap in services" for veterans in the area of employment assistance, particularly those in "unstable housing situations".
Johnathon said the project aimed to deliver "sustainable housing transition outcomes".
"We know that a job, before or after a transition into private tenancy, can improve a person's chances of remaining financially independent, socially engaged and mentally healthy (and) this pilot will test the viability of a holistic service, which delivers ongoing employment support concurrently with case management from our homelessness stream," Johnathon said.
He said there was often a Catch-22 situation regarding homelessness and joblessness for veterans: without a job, it was difficult to keep a home and, without a home, it was difficult to get a job. Having a job "increases housing options".
He said that, at various stages of the pilot, data collected from questionnaires given to participants would be analysed to help determine its success and whether it would continue.
If the data indicated the pilot had been successful, it probably would roll over to be a continuing initiative with funding and other support structures put in place for that to happen, Johnathon said.
He said that, as the Veteran Support Program was run in conjunction with RSL Queensland, participants would have the opportunity to choose to continue receiving support from the new program or to become part of the RSL's comprehensive program.