Eastlakes Corps could always count on Lin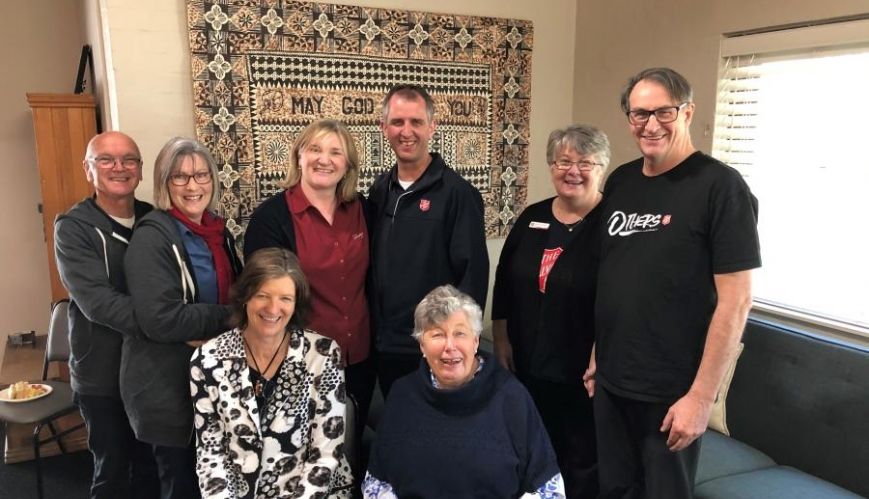 Eastlakes Corps could always count on Lin
8 November 2020
Lin Clee spent 16 years volunteering at Eastlakes Corps in Lake Macquarie, NSW, doing the corps finances. She is pictured here (bottom right) with Jill Gillespie, Corps Business Manager (bottom left), and former corps officers Colin and Pam Robinson (top left), current corps officers Terri and Bernie Muendel, and Sandra and Howard Koutnik (top right).
By Lauren Martin
If you speak to any corps officer, most would tell you that they didn't go to training college to spend their officership balancing budgets or looking after admin. But good stewardship means that it is an essential part of the job. One corps, however, has had a 'secret weapon' in this area – Lin Clee.
Lin began volunteering at Eastlakes Corps in the Lake Macquarie area of NSW in 2004 when her husband met Salvationist [now Envoy] Howard Koutnik, who was collecting at Belmont Bowling Club.
"There was always a bunch of guys there," Howard recounted recently at Lin's farewell. One of them joked with Howard, saying that his wife was retired and wanted the Salvos to "take her off his hands" for a few days a week! Howard replied: "What does she like doing?" and that's how Lin began a volunteering role that would last more than a decade.
Lin originally came to Eastlakes Corps to assist with the weekly craft group, but it wasn't long before her skills and passion for accounting caught the eye of the corps officers and she was asked if she would be willing to volunteer in the church office two days a week.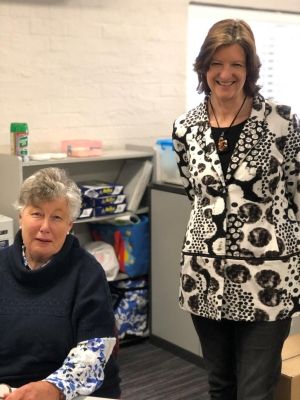 Lin Clee (left) with Jill Gillespie, Eastlakes Corps Business Manager.
When she arrived, the corps finances were in the red, but it wasn't long before Lin had them back in the black where they stayed for the next 16 years.
Majors San and Topher Holland, former corps officers, wrote a letter that was shared at her recent retirement, praising her skills, honesty and loyalty. "We affectionately called you 'our rottweiler' as you protected us in allowing us to lead and do our ministry, without the burden of the everyday administration and finance."
They went on to say that through her role, she partnered with them in "the cause of helping so many who are disadvantaged within the community".
Auxiliary-Lieutenants Bernie and Terri Muendel, Eastlakes Corps Officers, said they have been blessed to begin their ministry at the corps knowing that all of the finances were 'shipshape'.
"Sixteen years [of volunteering]," said Bernie. "That's something you don't see very often in our society, where someone is consistent and diligent and remains faithful for 16 years, so I want to give you a round of applause."
As for Lin, after 47 years working in finance, she felt she had some skills that could be useful. "I'm a bit nutty!" she joked, "I just love sorting through bank reconciliations and paying bills and organising people and organising the cafe and ordering the stock."
She also had a soft spot for the Salvos, having wonderful memories from the 1950s, after she and her family emigrated from England, of a local Salvation Army officer who would visit her community every week to teach Sunday school.
"We used to have book prizes and wear our uniforms," she said. "It was so important for us to have that as we struggled to settle into this new country."
She said when she started as a volunteer with Eastlakes Corps, it took six weeks and many weekends worth of work to process all the paperwork and get the corps finances back on track. After that, she took pleasure in keeping on top of everything and made lifelong friends through her time volunteering at the corps and attending the craft group.
Although Lin didn't attend Sunday meetings, her faith played a huge role in her volunteering. "If you weren't a true-blue Christian then you wouldn't do these things," she said. "I just love helping people."