New Housing Development Opens in Geelong Region
New Housing Development Opens in Geelong Region
12 November 2020
Mr Darren Cheeseman, Member for South Barwon, speaks at the opening of the new housing development in Grovedale, in Geelong's southern suburbs. The development provides 25 new town houses to people who are homeless or at risk of homelessness in the region, and will be managed by Salvation Army Housing. 
By Jessica Morris, Peter Nugent and Bruce Harmer
The Geelong Region's most vulnerable people now have a place to call home after The Salvation Army opened 25 new townhouses in Grovedale yesterday.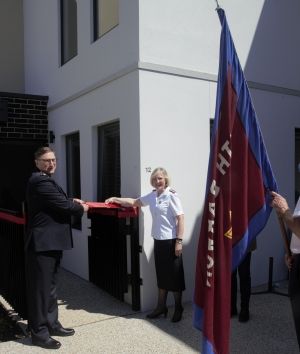 Divisional Commander of Victoria Lieut-Colonel Bruce Stevens cuts the ribbon on the new development with Chief Secretary Lieut-Colonel Winsome Merrett. 
People who are homeless, or at risk of homelessness across the Barwon Region, will stay in the fully furnished townhouses, which were funded by the Victorian Department of Health and Human Services after The Salvation Army provided the land.
"These 25 units are not only aesthetically pleasing, but absolutely safe, secure housing being provided to the most vulnerable in our community," said Chief Secretary Colonel Winsome Merrett, at the opening.
"The housing team, and the social mission team and the local corps, South Barwon, have worked very closely to ensure that we are able to provide seamless integration of services for these clients," she said.
Winsome and Victoria Divisional Commander, Lieut-Colonel Bruce Stevens then cut the ribbon to symbolically open the property.
The CEO of Salvos Housing Chris Karagiannis said the property is about supporting people's "social, spiritual and holistic needs."
"Putting a roof over someone's head is the first step, it's not the only step," he said. "It's about being able to support someone through their journey and through their life. Connecting them to services through other supports is integral."
In his speech, Mr Darren Cheeseman, Member for South Barwon, commended a successful collaboration between The Salvation Army and State Government after 13 of the two and three-bedroom units came from the Victorian Government's Social Housing Growth Fund. The remaining 12 were funded by the Accommodation for the Homeless initiative.
"These homes will make a huge difference to people in our community who have been struggling to find stable accommodation and will give them the foundation to recover and rebuild their lives," said Mr Cheeseman.
Situated on Victoria's south west coast, Geelong has the second highest homelessness rates in the state. Public housing currently has more than 3,000 people on waiting lists in the area, making the new Grovedale Development pivotal to the region.
"I think this is a great model," said Winsome. "The actual houses themselves are wonderful, the design is compact, it is clean, tidy, bright, light. They are so good for people who have been traumatised or are desperately looking for safety and security."