Kidzone celebrates two major awards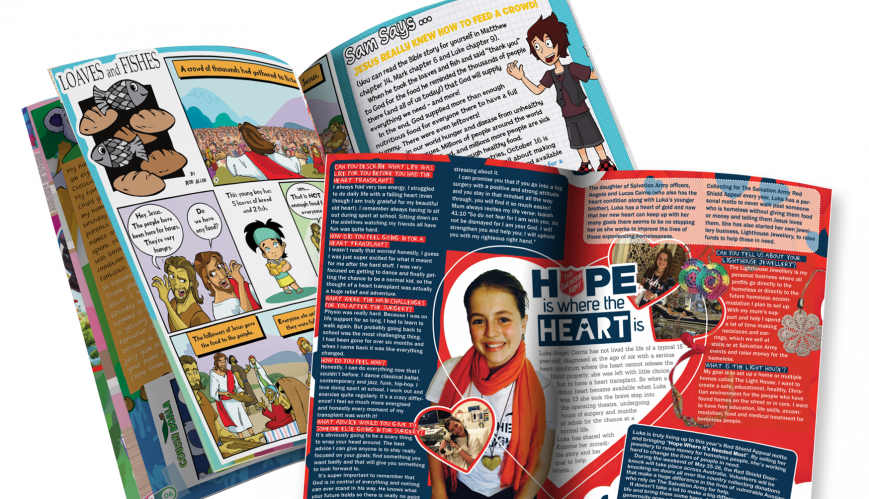 Kidzone celebrates two major awards
23 November 2020
Kidzone won ARPA awards for their illustration 'Loaves and Fishes' and the headline, 'Hope is where the heart is'.
By Jessica Morris
Three members of the award-winning Kidzone team – Cheryl Tinker (editor), Kelly Powell (assistant editor) and Faye Michelson (writer).
Kidzone is not just a hit with kids; it is loved by big kids as well!
The cornerstone Salvation Army children's publication took home two gongs at this year's Australasian Religious Press Association (ARPA) awards.
Competing with about 80 peer publications across Australia, New Zealand and the South Pacific, Kidzone was commended for its meaningful and colourful content. Most notably, senior illustrator Rod Allen won Gold for 'Best Original Illustration' for his depiction of the 'Loaves and Fishes' Bible story (based on verses from Matthew 14, Mark 6, Luke 9 and John 6.)
Kidzone also won Silver for 'Best Headline' for an article about a young girl who underwent a heart transplant, headlined 'Hope is where the heart is'. Penned by editor Cheryl Tinker, the headline was praised for its "clever but not too subtle" use of phrase.
Kidzone senior illustrator Rod Allen.
The awards are significant for the historic publication, as it was the only children's-driven magazine to be commended among the 2019 finalists.
It's fair to say Cousin Koala will be celebrating these awards with an ice-cold glass of milk and some gum leaves. Congratulations Kidzone!
* The Salvation Army Warcry magazine in New Zealand, Fiji, Tonga and Samoa Territory picked up six ARPA awards, including Gold for Best New Writer (Jules Badger), Best Single Feature Author (editor Shar Davis) and Best Designed Magazine.