Creativity builds resilience at Common Ground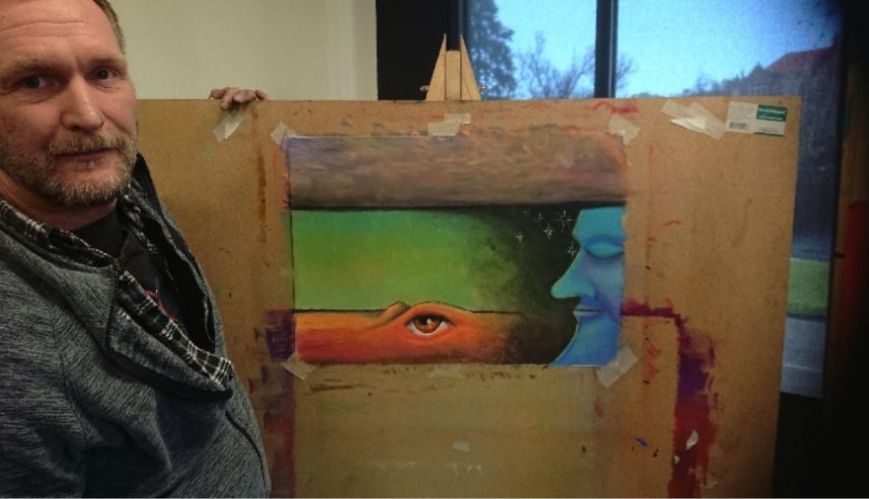 Creativity builds resilience at Common Ground
8 December 2020
Simon with his artwork, painted at the Art Friday program at The Salvation Army Common Ground housing facility in Hobart. 
By Jessica Morris
When The Salvation Army Housing Campbell Street residence in Hobart, Tasmania, had a small fire accident last year, the artwork that lined their common-room walls was ruined. Now, thanks to a successful council grant for the Common Ground facility, a new art program is helping residents make their mark on the community.
The grant allowed the Campbell Street team to cover the cost of materials, and 'Art Friday' was born. Every week, multiple residents gather to paint and create from the heart under the guidance of Jakub Rejlich, who works as a Support Staff member at Campbell Street and has experience in the fine arts. And they've done more than just fill the new common-room walls – they all managed to sell their paintings too!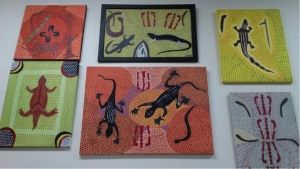 Art by Brian Barratt hanging at The Salvation Army Common Ground housing facility in Hobart, Tasmania.
"The art group is a lifeline for me," said Sharee, a tenant and art group participant. "I always thought I was not good enough, but these art days have given me the confidence to express myself and find my identity as an artist."
Major Brad Watson, Public Relations Secretary for Tasmania, said: "The creative process can bring healing to people through individual and collective emotional and spiritual expression. The tenants have clearly been able to express some of this spiritual encounter, which is part of their God-given capacity as people."
Any artist will tell you that you can't contain creativity, which is why no one was surprised when one tenant, Simon, went off-canvas and painted the building – a trend they hope to continue in the future.
For now, multiple structural pillars at Campbell Street stand painted as permanent reminders that anyone can go 'From Darkness to Light'.
"I wanted for those people who have started their journey in Common Ground to remember that we all came from the dark but that we can all start on a new and bright future in a warm, safe and grounded environment," said Simon.