NSW Premier helps launch Christmas research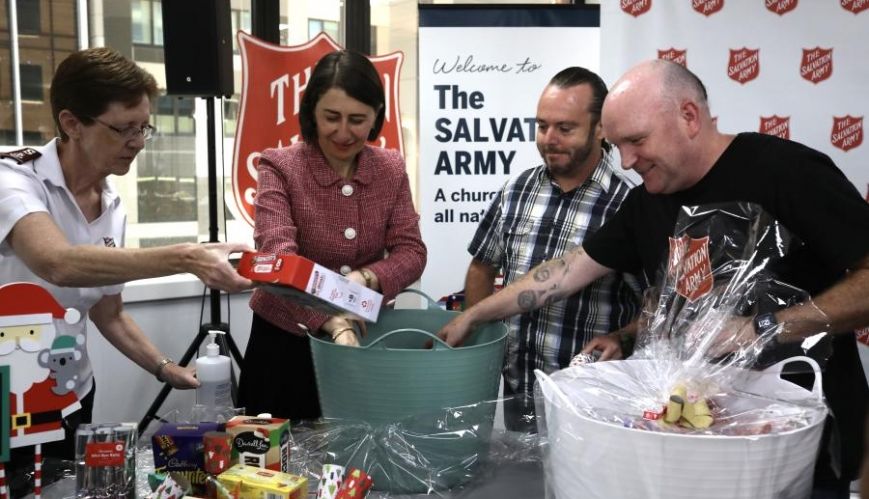 NSW Premier helps launch Christmas research
10 December 2020
NSW/ACT Divisional Commander Lieut-Colonel Miriam Gluyas (left) with NSW Premier Gladys Berejiklian and Salvation Army volunteers Robert and Danny packing a Christmas hamper at the launch of The Salvation Army 2020 Christmas research.
By Lauren Martin
The Salvation Army has released research showing that nearly half of the Australian adult population is feeling financially stressed in the lead up to Christmas.
The research*, conducted by Pureprofile for The Salvation Army Christmas Appeal, surveyed 2001 people, with 41 per cent (representing 8.1 million Australians) saying they are feeling financially stressed this Christmas.
New South Wales Premier Gladys Berejiklian was on hand to launch the research in Sydney on Wednesday 9 December. She said it was wonderful to know The Salvation Army had thousands of volunteers across Australia, "doing their bit" to support those most vulnerable.
"It's been a very difficult year for all of us in New South Wales and around Australia and The Salvation Army has been there every step of the way supporting our citizens," she said. "We want everybody in our state, everybody, to have hope for the new year, every child to feel special during this time of year and I want to thank The Salvation Army ... for reminding us that Christmas is about giving and there's great joy in giving more than receiving and I think all of us have experienced that this year."
The Premier then helped to pack a hamper for a family in need with two Salvation Army volunteers.
The Salvation Army's 2020 Christmas research also revealed:
More people are feeling anxious (32%), depressed (25%), lonely (29%), stressed (36%) and uncertain (38%) compared with last year.
5.1 million Australians (26%) are more concerned about being able to pay for Christmas expenses this year compared to 2019, with 23% feeling pressure to spend more than they can afford this Christmas.
More than one in eight Aussies (13%) will go into debt this Christmas.
2.1 million Australians (11%) are concerned their children will miss out on food and basic living necessities this Christmas, with 1.9 million (10%) concerned their children will miss out on presents.
"After a devastating year, this Christmas really is more important than ever," said Captain David Collinson, The Salvation Army Public Relations Secretary for NSW. "We're encouraging Australians to be reminded about what really matters at Christmas, focusing on the values of peace, joy and hope this year."
This year, through our frontline mission, The Salvation Army has helped more than 80,000 people impacted by COVID-19, providing over $10 million worth of financial assistance. It's expecting to distribute more than 30,000 hampers and vouchers, give out more than 500,000 gifts and toys and support more than 50,000 families in need this Christmas.
To support The Salvation Army Christmas Appeal, head to salvationarmy.org.au or call 13 72 58
* The Pureprofile research involved 2001 respondents, representing 19.8 million Australians aged 18 plus.