Flames and pain, Christmas and community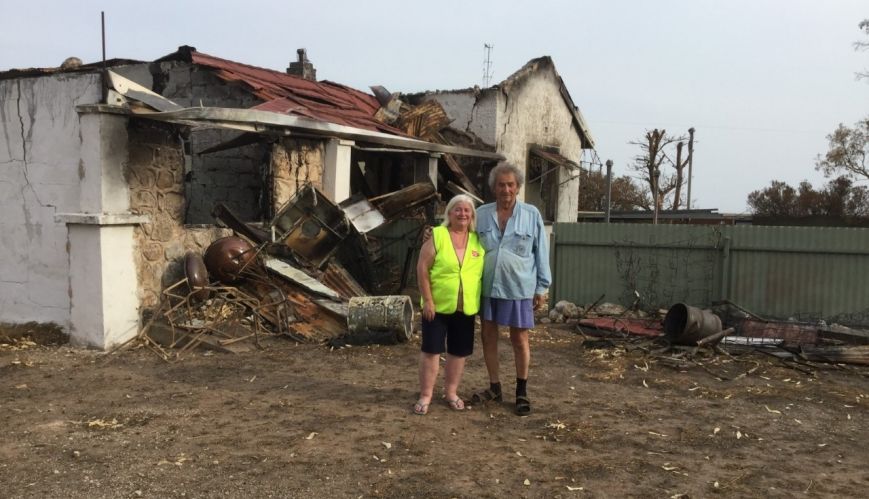 Flames and pain, Christmas and community
22 December 2020
Copper Coast Corps Officer Captain Karen Armstrong with a community member at his burned-out house.
By Naomi Singlehurst
Captain Karen Armstrong celebrates Christmas with her family on Boxing Day because she is always out caring for the community on 25 December.
Karen is the Corps Officer at Copper Coast, a local government area on the northern end of Yorke Peninsula in South Australia. She says Christmas is the busiest time of her year.
"Over the years I had come across so many people who had been all alone on Christmas Day and didn't have anyone. So, for me, Christmas is about giving love and hope to people – some who are experiencing deep, dark turmoil in their lives," she says. 
Last Christmas, Karen, together with enthusiastic Copper Coast Corps volunteers, offered 'Christmas Cheer' to well over 100 people in need. "We had a massive increase on last year – double, nearly triple the demand," says Karen.
With the help of Red Shield funding, the team was also able to put on a free pre-Christmas party for disadvantaged families.  
"It was a fabulous day," says Karen. "We had a petting zoo, jumping castle, face painting, a virtual reality game, a play area for little kids. There was a barbeque, ice cream, drinks, donuts, popcorn, fairy floss, slushies and we also did a Devonshire tea. Every child also got a book from Santa.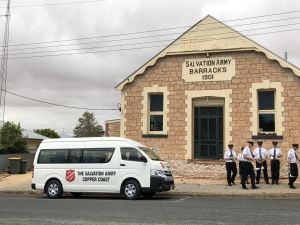 Copper Coast Corps has been serving the community for more than 100 years.
"It was a chance so many families rarely, if ever, have," she says. "One mum, who had three little children said, 'I would never be able to afford this – it's marvellous.' Another mum said she and her daughter had faced so many struggles, it meant the world to them that they were able to have such a special day together."
The team also put on a Christmas Day lunch. Karen says many who are served one year come back as volunteers and begin to engage in the community and corps. "It's something beautiful – having conversations around the table and becoming all the more part of a community."
In late November last year, a "mega-fire", several hours away from the Salvos centre, destroyed farming homes, stock and machinery. Prior to Christmas, Karen and team began visiting regularly to help with Salvation Army emergency relief funding. They also took extra gifts for Christmas to help spread joy in the shattered community.
"We helped families with young kids, but also many farmers were grandparents, so we also took extra gifts for them to give their grandkids. Some had lost everything," Karen said. "People got very emotional. For some, the generosity was a trigger for the tears to open up and flow.
"One woman – who laughed and cried when helped – had lost her partner only a few months before facing the fires. Another man we helped after Christmas said he had gone into shock after he lost everything and not contacted anyone for over a month. He had no water and power when we visited him six weeks after the fires.
"He said the flames had been leaping 10 metres into the trees, swirling like a tornado. We saw him after Christmas, so, as well as emergency funding, we were able to take some leftover gifts from Christmas."
Why invest so much energy at Christmas time? Karen pauses when asked and then says: "It is so important because there are many who are lonely and without family. They need to feel loved and part of a community. And really, everything we do, at its heart, is because of the love of Jesus. We see God at work in lives in a real way every day, including Christmas time."
Naomi Singlehurst is Content Specialist - Mission, in The Salvation Army's Brand and Marketing Department.