Salvationists invited to #ChangeTheHeart of a nation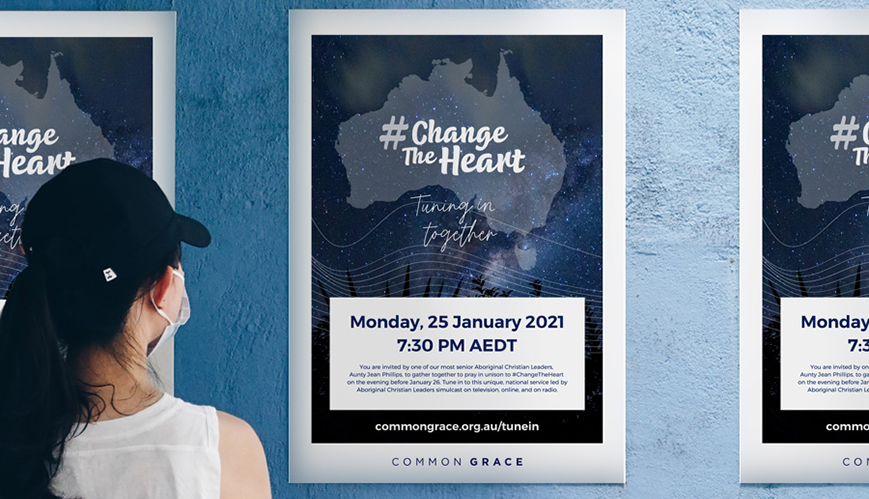 Salvationists invited to #ChangeTheHeart of a nation
25 January 2021
Salvationists are invited to tune in to Common Grace's free #ChangeTheHeart prayer service on Monday 25 January.
By Jessica Morris
Christians across the country will unite in a time of reconciliation and justice through the 'Change The Heart' online prayer service today.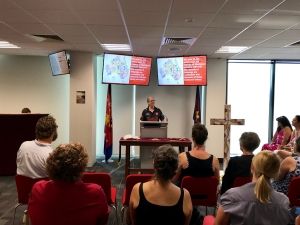 In previous years, Salvationists have attended a Service of Lament at THQ and DHQ buildings in the lead up to 26 January, and some corps have hosted #ChangeTheHeart events. In light of COVID restrictions, the virtual prayer service hosted by Common Grace means Christians across the country can still unite in support of reconciliation.
Senior Aboriginal Christian Leader Aunty Jean Phillips has called on people of all backgrounds to join the event, coordinated by Common Grace, which, according to its website, is a movement of people pursuing Jesus and justice – together for the common good, finding common ground and sharing in common grace.
In turn, Salvation Army Secretary for Mission Lieut-Colonel Lyn Edge is inviting Salvationists to participate virtually, after people took part in services or reconciliation and repentance across the country last year.
"During 2020, many Salvos engaged in yarning circles to share and learn together. As we continue on that journey of reconciliation, I wish to extend to you all an invitation to join our friends from Common Grace as we engage deeply and pray in unison to #ChangeTheHeart, on the evening before 26 January," Lyn said.
The #ChangeTheHeart prayer service will be simulcast today on radio, television and online from 7.30pm AEST. Details on different timezones and service providers can be found here. In addition, more than 40 churches are hosting events (in accordance with COVID-19 restrictions) to coincide with the live stream. Find an event near you here.
As we recognise the ongoing impacts of British colonisation on Aboriginal and Torres Strait Islander peoples, Uncle Vince Ross has shared a blessing with The Salvationist Army:
"May the God of creation warm your heart like the campfires of old,
Bring wisdom and peace as shown to the First Peoples of this land,
Shake off the dust from the desert plains by the refreshing rains,
Followed by the glow and warmth of the sun,
Let the light of God show us the right path to take,
And stand tall like the big river gums, drawing life from the ever-flowing waters."
For more details on how to participate in the #ChangeTheHeart prayer service, visit CommonGrace.com/tunein.