Salvos Funerals expands its care into Victoria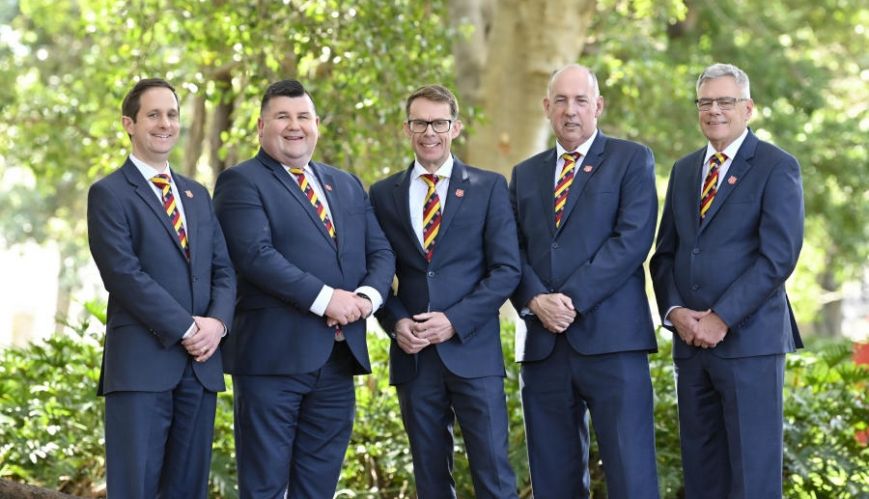 Salvos Funerals expands its care into Victoria
3 February 2021
The Salvos Funerals team (from left) Marc Allison, Lachlan Walker, Malcolm Pittendrigh, Philip Stoneley and Russell Icardi.
By Holly Reed with additional reporting by Lauren Martin
The Salvation Army's care for families and individuals experiencing the loss of a loved one has grown, with Salvos Funerals expanding from New South Wales into Victoria, offering cremation-only services.
Salvos Funerals has served more than 1400 families since it began in 2017 in Sydney and the NSW Central Coast. Late in 2020, it began offering cremation-only services in Melbourne, with plans to offer its full range of funeral services by autumn 2021.
Overseeing the initial expansion into Melbourne is Senior Funeral Planner and Funeral Sector Advisor Marc Allison, who says he is looking forward to bringing the service to his home town.
Marc, who helped start The Salvation Army's newest enterprise, is no stranger to the funeral industry. Coming from a family that has been serving grieving families for 160 years, he has devoted himself to the service full-time for 13 years. In that time, he says he has learnt much about the process of grief and the importance of a funeral service in adjusting to life without a loved one.
"One of the most apt descriptions I've found is that the death of someone close to you is like losing a limb – it's not going to grow back. You need to adapt to a new normal," says Marc. "Funerals can help us to pause and reflect on who and what we have lost. They bring people together to grieve, comfort one another and find hope. And for Christians, there is greater comfort still in meditating afresh on the hope that we have in Christ." 
Marc sees his role as providing 'genuine compassion that comes from the love of Christ'. In practice, this means – when people allow it – he will pray with them. He says this is often the most poignant moment of his time with a family, even for those who are not religious.
National Director of Salvos Funerals Malcolm Pittendrigh says operating a funeral service during 2020 was challenging, but like all industries, changes were made to continue to provide the best possible care. "[We were] meeting families online using the latest technology and designing forms that made the paperwork easier to administer remotely."
He said during the height of COVID-19 restrictions, most families using Salvos Funerals opted for a no-service, no-attendance, direct-cremation option due to the cap on large gatherings.
"COVID was extremely hard on grieving families – with so many unknowns and variable restrictions on what was permissible," said Malcolm. "Providing a plausible alternative provided much comfort to families that would have normally opted for a traditional service with large numbers of family and friends. This also provided greater flexibility in terms of the timing of the memorial service [and] was a cheaper alternative for families as well."
The move into the Melbourne market is an exciting step for the enterprise – providing further opportunities to connect with and support the community and in turn, generating extra income to maintain vital Salvos social programs and services.
With a key focus on the City of Casey and the Mornington Peninsula, Salvos Funerals hopes to emerge as a trusted funeral provider for people in the area. Marc will be integral in serving families in the beginning as well as helping Salvos Funerals adapt, plan and grow in this space. As a service that does not operate out of fixed 'brick-and-mortar' locations, part of this preparation will include making connections with key community contacts, including corps officers.
"The reason for starting small is that we are still learning, despite having served more than 1400 families in NSW since our official launch in March 2017," says Marc. "As far as I am aware, we are the only large Protestant church or charity in the world that has put our brand to a funeral service. We're breaking new ground. The funeral sector in Victoria also works differently to NSW. Under God, we want to grow in an orderly manner."
Holly Reed is a Content Specialist in The Salvation Army's Brand Department.