'Call to Prayer' focuses Army world on peace in Myanmar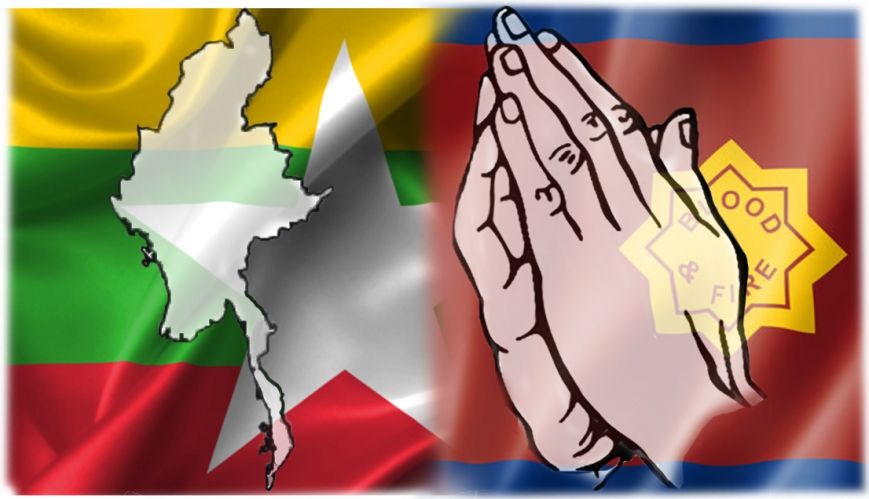 'Call to Prayer' focuses Army world on peace in Myanmar
24 February 2021
Artwork by Darryl Whitecross.
By Darryl Whitecross
Salvationists from around the world have shown solidarity with officers, soldiers and friends of The Salvation Army in Myanmar in a Call to Prayer as political tension grips the south-east Asian country.
The military seized power on 1 February in a coup against the democratically elected National League for Democracy party, led by Nobel laureate Aung San Suu Kyi, and detained her, President Win Myint and other senior party leaders.
The coup occurred just before parliament was to sit for the first time since the NLD won the country's 8 November election.
Broken Hill Corps Officer Major Sugu Meredith, who is from Myanmar, said her mother and sister, both retired Army officers, and her brothers lived in Yangoon and could see from their home where crowds gathered to protest the political situation: "They can see what is going on." She said they would only leave their homes when necessary.
Sugu and her husband, Kevin, were appointed to Broken Hill last month but had been keeping a close watch on what was happening n Myanmar. Kevin said that the Myanmar government had recently shut down the banking system leaving people without access to their money. ATMs have been switched off.
He said that "in the middle of a pandemic (COVID-19)" having "big crowds milling around" also created an unsafe environment to be in.
Sugu said that members of The Salvation Army had joined other churches in the city to be part a visible part of the protests: "Different churches go out on different days."
A Call to Prayer on 11 February enlisted prayers for a "peaceful solution" to the unrest with Territorial Commander for Singapore, Malaysia and Myanmar, Colonel Rodney Walters, describing the situation as "harrowing".
The territory's President of Women's Ministries, Colonel Wendy Walters, said the call to prayer brought greater awareness to the crisis.
She said it had been difficult for territorial headquarters to get regular updates from the regional leaders based in Yangoon, the largest city in Myanmar because the internet was often turned off there with curfews on its use: "They get messages out whenever possible." 
"The authority has imposed a curfew for internet usage, hence connectivity with intermittent blackouts will pose a challenge to stay connected with the region at all times," Wendy said. "They are very cautious as to how much they share as they want to continue to protect their people and also The Salvation Army."
The Army has 52 corps in Myanmar with about 110 officers who are "safe and well".
"Despite the country's current turmoil with many 'eyes' watching our people, (we're) glad that we have received reports with no unpleasant incidents involving our comrades. All officers, staff, families and property are safe," Wendy said.
The territory has asked that Salvationists in Australia continue to praise God because, despite the difficult political situation, soldiers continue to be enrolled, local officers commissioned, babies dedicated and there is strong enthusiasm for the gospel ministry.