You are here:
Home › News › 2021 › 02 › 25 › Rural Motorbike Ministry On The Road In Western Australia
Rural motorbike ministry on the road in Western Australia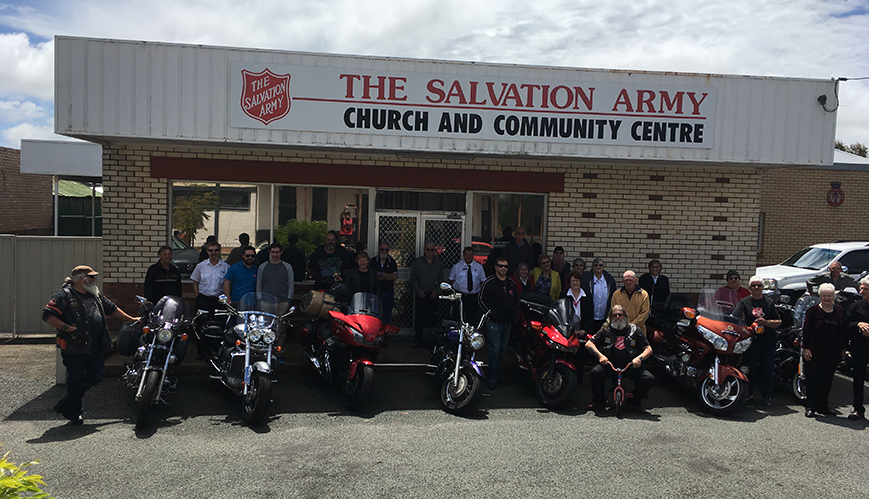 Rural motorbike ministry on the road in Western Australia
25 February 2021
In the last decade, the WA-wide motorbike ministry of Major Niall Gibson, Major Ian Dearing and Captain Dean Hill has expanded and includes more locals than Salvationists. In this picture, they stand outside the Narrogin Corps. 
By Jessica Morris
Lots of Aussies are doing it tough in the bush. A combination of drought, bushfires, floods and a pandemic has made it increasingly difficult for people in remote areas to feel connected with the outside world.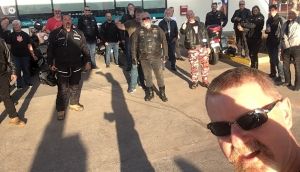 Major Niall Gibson (front right) has utilised his love of motorbikes to connect with Salvationists and locals who live in remote areas across Western Australia.
That's why it's important we travel the extra mile and go to them, says Major Niall Gibson, Corps Officer at Narrogin, south-east of Perth.
Niall, along with retired officers Major Ian Dearing (the brainchild) and Captain Dean Hill, started a rural motorbike ministry over a decade ago when they decided to support other rurally appointed officers in their state with the community interaction they craved.
"We've all had appointments in the bush and we know that sometimes it's nice to have the support of other people," said Niall. "We are able to support and encourage the rural corps officers and their community. Just to be able to turn up one weekend and have fun as well as worship together is great. It is a good opportunity to invite people who may be on the fringe of the corps. The motorbikes are a great drawcard."
To date, the motorbike ministry has visited every regional corps across Western Australia, bar Karratha, and two riders from Karratha have participated. And that's no small task when you consider there are 24 Salvation Army corps spread across the state, with more than half located regionally!
Last year, 25 people took part in the annual event, which has expanded from Salvos to include members of the community.
"Participants don't have to be from The Salvation Army or even Christian. We invite all our friends, mates – even mates' mates!" said Niall.
It makes for a memorable journey and weekend, as the 'motley crew' stop to support corps with a trivia night and share their testimonies.
"I call the whole weekend a hoot! And we literally run church ourselves with a testimony from one of us," said Niall. "Now most are not even officers, and we have some ex-bikie members involved."
All going well, this year the diverse group of friends will take the road again and meet up in Albany. How's that for an alternative way of doing mission on the road of life?