Advocate for equity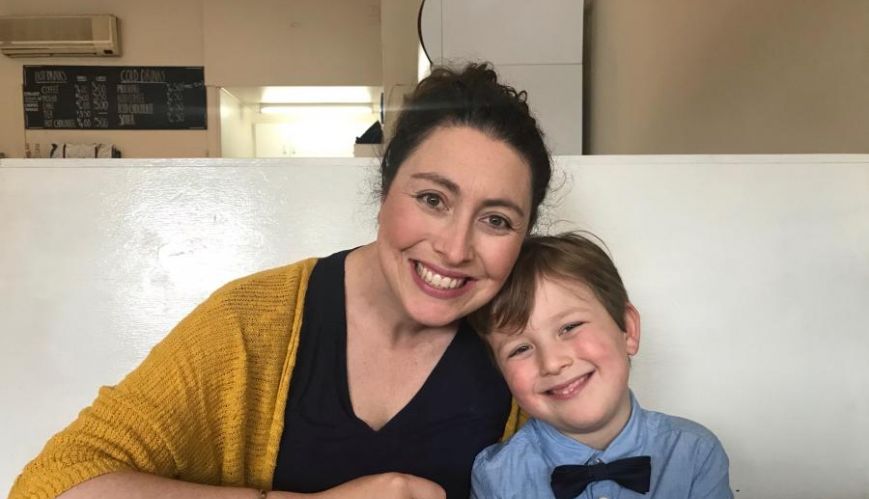 Advocate for equity
8 March 2021
The Salvation Army Gender Equity Advocate, Major Gen Peterson, with her son, Henry.
Interviewed by Simone Worthing
On International Women's Day, Salvos Magazine Assistant-Editor Simone Worthing speaks to Gen Peterson, Gender Equity Advocate for The Salvation Army.
What is your actual appointment?
Gender Equity Advocate (two days a week). Paralegal (three days a week).
What led to you being appointed in this role?
I have a long history of being loud, disgruntled and frustrated by gender inequality, so I assume that had something to do with it!
What does this role entail?
While it is a lofty goal, I hope that The Salvation Army would closely resemble the Triune God we serve. Just as the three persons of God are perfectly united, co-equal and undivided in essence, we, too, want to be a movement that represents this perfect unity and harmony. But the systems and structures within our organisation have allowed inequality to creep in. As a result, the experience of men and women in the organisation more closely represents the inequality that we see in the world.
My role will work to highlight the gender inequality that exists in The Salvation Army, demonstrate the loss to the Kingdom we experience because of this sin, and then create ways to align ourselves more closely to God's plan of equality. This will likely involve lots of prayer and conversations with men and women to uncover some of the issues, teaching and resources to communicate a theology of gender equality, and at times, strong advocacy to break through some of the unequal systems that have been allowed to endure. We will also need to actively provide more opportunities for women to lead at all levels of the organisation and dismantle processes and policies that have enabled discriminatory practices to flourish.
Who are you working with on gender equity and what part do they play?
I will be working with anyone who will lend me their support.
There are many people in place within the organisation who are doing important work in this space. That includes all officers with responsibilities for women's ministry, who will know and communicate the lived experience of women. Managers working in any HR or leadership positions who can practically identify the impediments to fair workplace systems. Eva Burrows College who are working on excellent resources to assist us to understand our theology, and how we can translate that into practice. Corps officers and soldiers who see and experience inequality and have ideas as to how we can combat this in practical ways. Social program employees, clients and chaplains who can provide an important understanding as to how inequality affects women who are already experiencing significant social disadvantage, and brilliant insight into how this could be addressed. And finally, our leadership, who have demonstrated their commitment to making significant changes in order to achieve the goal of gender equity.
What would you like to see happen in this space?
Recent headlines in the news of inappropriate behaviour in the workplace, sexual assault and harassment, violence against women, economic inequity between men and women ... these all demonstrate to me that the value of women continues to be reduced and denied.
If we are going to make a difference for women in the wider community, we need to also be prepared to make big changes within The Salvation Army and lead the way toward gender equality. Organic change has proven to be ineffective, and as an organisation, we need to work hard on our gender equity action plan.
We need to find ways to measure women's actual and perceived experience of disadvantage. I would like to see a forum where women can then safely communicate those experiences of disadvantage, and see our organisation respond proactively to both believe and correct the experience of disadvantage.