Valuing children's contribution to the kingdom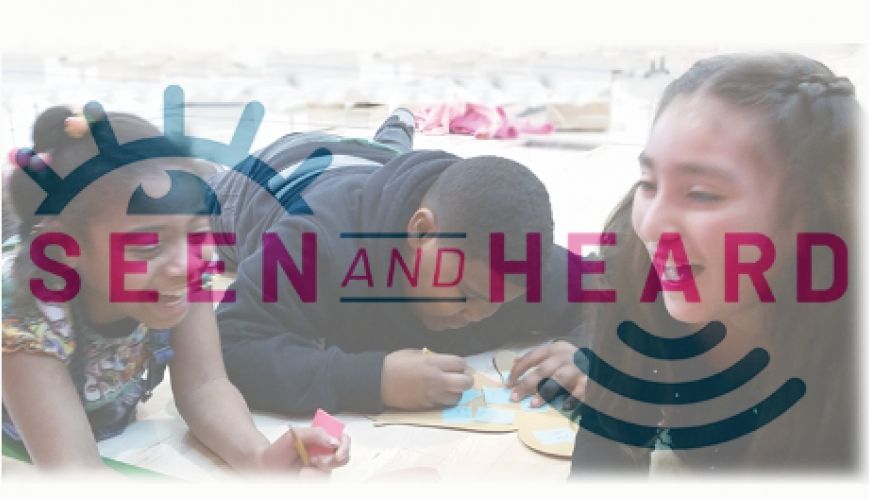 Valuing children's contribution to the kingdom
23 March 2021
Sunday 28 March 2021 has been set aside as this year's International Day of Prayer for Children and Youth.
From International Communications with additional reporting by Darryl Whitecross
There is an age-old thought among many parents that children should be 'seen and not heard', but Captains Marc and Mariska Potters, from the Children and Youth department at International Headquarters, believe children have a much more valuable contribution to make.
In the lead-up to this year's International Day of Prayer for Children and Youth on Sunday 28 March, the officers said that, after a year where children found their lives, education and vital social interaction interrupted by COVID-19, it had become important to hear what children were saying.
The theme for the day is 'Seen and Heard'.
"We believe children are the leaders, disciples and decision-makers of today. We believe children have unique skills and expertise that our church and the world need now. We believe children hear from and are used by God every day. We believe that children are full, active members of the Body of Christ and they are no less important or vital than any other part," they said.
The Bible contains many stories about children playing an "important role in God's story", according to Marc and Mariska: "Think about Samuel, David and Mary. Jesus said: 'Let the little children come to me and do not hinder them, for the kingdom of heaven belongs to such as these'. Children are important to God, and therefore important to us."
General Brian Peddle has encouraged young people across the globe to log on to the International Headquarters (IHQ) Children and Youth department Facebook page (@TSAyouthandchildren) and "use their skills and abilities" to share what they were doing "in their space" for the day.
He said he looked forward to speaking with young people around the world when he visited the various territories where the Army had a presence but was disappointed that he had been unable to do that over the past 12 months or more because of travel restrictions due to the global COVID-19 pandemic: "I love to see how they are participating in these days in mission."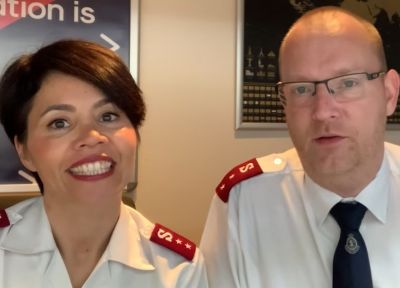 Captains Mariska and Marc Potters, from the Children and Youth department at The Salvation Army's International Headquarters in London.
Commissioner Rosalie Peddle has encouraged young people from across the Army world to "get active". "We're looking forward to seeing and hearing what you are going to be doing on this special day," she said. "Don't think you have nothing to share. Just like the boy who had two fishes and five loaves of bread, what you have is enough to make a difference."
The resources to be used in mission expressions around the Army world were created by the Children and Youth department in the New Zealand, Fiji, Tonga and Samoa (NZFTS) Territory. Those resources can be downloaded in English, French, German, Hindi, Faroese, Icelandic, Norwegian, Portuguese, Spanish, Swahili and Tamil.
Scott Keane, the Youth Web and Resource Manager for the NZFTS Territory Children and Youth department, produced the study material while the children's material was produced by Bethany Coleman, the Projects Assistant in the Children's Mission department.
"We also met a couple of times via [video call] with Marc and Mariska ... and they provided feedback and signed off the final content," Scott said.
Scott said the 'seen and heard' concept originated from within his department in 2019 when Hannah Medland was the Children's Mission Director. The logo utilised a "colourful soundwave" that represented 'heard' as well as 'seen' by "being visually striking".
Scott's wife, Rosy, who is the NZFTS Mission Leader for Women's Ministries and who had "a big part" in the development of the theme, said: "The phrase 'seen and heard' came out of my conversations with and prayers for my friend Hannah (Medland).
"Hannah would come into my office and speak about her consuming desire to see children invited into the centre of church; recognised for their inherent spiritual wisdom and incorporated into all Army life," Rosy said. "In one of our prayer sessions, I prophesied that 'The Salvation Army would be a place where children are seen and heard – a direct undoing of the cultural curse that 'children should be seen and not heard'."
The resources can be used in worship meetings and Bible study with content for different age groups. Some of the content was intended to be used in the weeks leading up to the day of prayer in Sunday school and in youth groups.
Mariska said an annual day of prayer for children was introduced in 2009, when the General decided that a day be set aside each year on the Sunday nearest to July 30: "This being the date, in 1880, on which evangelical work among children was begun in response to passionate representations made to the Founder [William Booth] by Captain John Roberts.
"Since then, the date and name of the day changed [International Day of Prayer for Children and Youth] and now IHQ takes the initiative to provide materials; always in collaboration with one of the territories [this year, the NZFTS Territory]," she said.
Mariska said that when children are embraced, "we embrace Jesus". "Don't be scared to put them in the centre," she said. "You wouldn't be scared to put Jesus in the centre, would you? Just enjoy this wonderful day with every generation and allow yourself to be amazed and surprised by what children and youth can bring to the table."
For access to the resources, follow this link: salvationarmy.org/ihq/seen-and-heard.