Inner-Sydney unites for Wednesday night service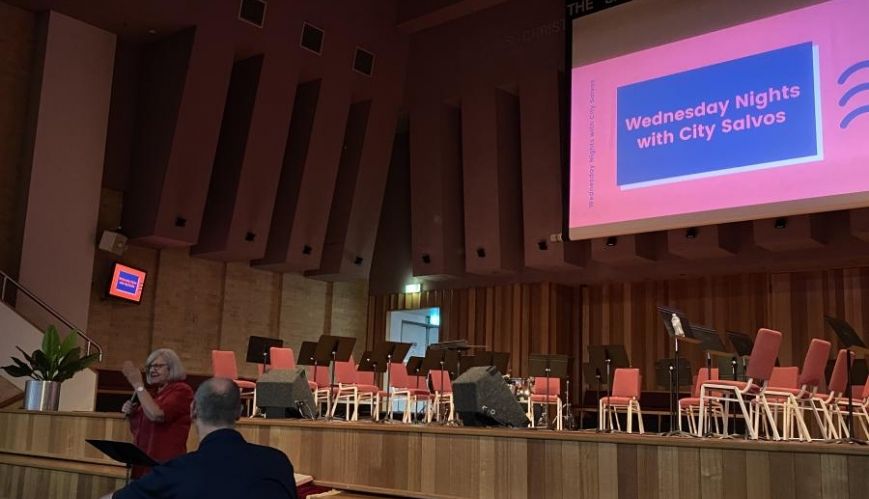 Inner-Sydney unites for Wednesday night service
24 March 2021
Area Officer Major Beth Twivey preaches at the Wednesday night service at Congress Hall.
By Lauren Martin
All expressions of The Salvation Army in the city of Sydney are working together through their Area Leadership Team to create meaningful faith pathways.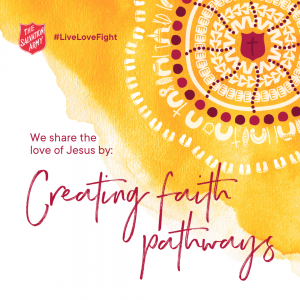 A chapel service called 'Wednesday Nights with City Salvos' was launched a month ago at Sydney Congress Hall, with participants from most inner-city services encouraged to attend. Streetlevel Mission Team Leader Mitch Evans said despite other chapel services having been run at various times in the city before, having all services working together is exciting and removes replication.
"Unity in the city has been a huge thing on my heart for many years now. We'd been involved in many conversations in the past about what 'could' be," Mitch said.
When COVID-19 hit in 2020, The Salvation Army was forced to stop meeting together in ways that it normally would. This gave the faith and mission expressions of The Salvation Army in the city of Sydney a chance to reset and plan for the future. One of the results is an inclusive faith expression on Wednesday nights, following on from Sydney Congress Hall's weekly Hope Dinner and food pantry.
"On our first week together I spoke about this being everyone's church and a safe place for us to be real with one another," Mitch said.
The three key elements of the new faith expression are to be:
A place where we can be real and authentic with one another. 
A place where people are included – no matter where we are in life. 
A place where we can learn together about Jesus.  
"Wednesday Nights with City Salvos is my church," Mitch said. "It's also the church for the guy who's just 'walked in' – creating space to get people involved, to set them up to succeed and lead their community is something we want to foster and grow."
'The guy who just walked in' a few weeks ago happened to be named Justin. During sharing time, he stood up and announced that he had been in and out of addiction for 28 years, but always knew he would be welcomed at the Salvos.
"I think God is calling me back because I've got scriptures going on in my head. I know that's him speaking to me telling me to come back," he said to clapping and murmurs of support. "It's been a long time since I've been here. It feels so good. It feels like I am at home."
After the service, Claire Clifton, William Booth House Recovery Services Centre Manager, spoke to him about re-entering the service.
"The sharing time is probably the highlight for me," Claire said of the chapel service. "We want this to be a place where people feel comfortable to be themselves, be open and honest. People share the ups, people share the downs, because that's what family and community is about."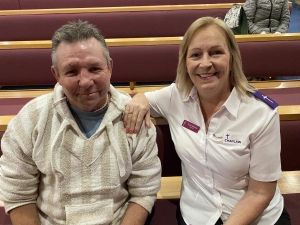 Hotel chaplain Susie Wallace sits with a friend at the 'Wednesday Nights with City Salvos' service at Sydney Congress Hall.
For Captain Craig Harlum, Inner City Network Chaplain, it's heart-warming to see each expression working together to offer hope through an inviting faith expression. He said a similar faith expression running at Sydney Congress Hall is what saved his own life 20 years ago.
"I became a soldier here 20 years ago. This has been a very special space for me. A very nurturing space for me, a very caring space. And the people here [at Sydney Congress Hall] have been incredibly loving and caring and accepting of me, of where I was at in my journey and that's what kept me going."
As well as working with the Area Leadership Team in running the Wednesday night chapel service, Craig works between all Salvation Army expressions in Sydney city, alongside Major Lyn Prince, the other Inner City Network Chaplain. 
To further journey with people, Craig facilitates several small groups on 'Spiritual Principles', discussing things like forgiveness, mercy, grace, love, acceptance and relationship.
"I tend to listen to where people are at in the group and find a way to have a Bible verse, which helps us to have a conversation about how God intends us to connect with him, and how he can help us in those areas of our lives," he said.
"We then challenge each other to be aware of him through the week and to invite him into our space. And then the following week we usually come together and talk about how that's made a difference in our lives or how we have seen God at work (or how we haven't seen him at work) whatever that might be. And more and more people are being encouraged by that."