Salvation Army commits $3m to flood recovery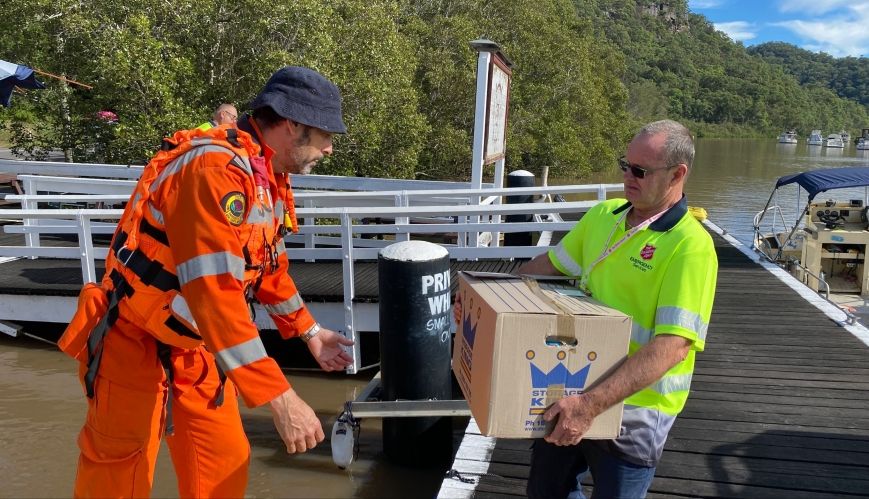 Salvation Army commits $3m to flood recovery
25 March 2021
Salvation Army Emergency Services volunteer Barry Hemphill (right) hands a Salvation Army care pack to Bayard Atkinson of the State Emergency Service for delivery to households isolated by floodwaters on the Hawkesbury River north of Sydney.
By Lauren Martin
The Salvation Army has released $3 million from the Red Shield Appeal fund to assist people impacted by the widespread flooding across New South Wales.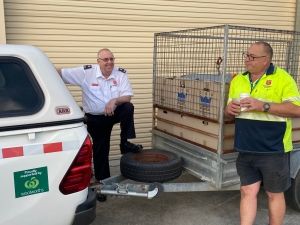 The Salvation Army's Emergency and Disaster Coordinator for Newcastle, Hans Schryver (left), with Salvation Army Emergency Services volunteer Gavin Hope at the Central Coast depot where hampers were packed for delivery to properties cut off by floodwaters.
In announcing the funding, Chief Secretary Colonel Winsome Merrett said the thoughts and prayers of Salvos around the country were with those affected.
"Please take a moment to pray for the families impacted by the floods, and for our teams on the ground," she said. "We will continue to walk alongside those affected by the floods throughout the recovery period.
"A huge thank you to all our Salvation Army Emergency Response Services (SAES) teams, corps officers, employees and volunteers serving the community during this crisis."
SAES teams have served more than 3500 meals to emergency services personnel and at evacuation centres where people sought shelter.
Teams have been stationed at Macksville, Bulahdelah, Laurieton, Kempsey and Taree on the Mid-North Coast and at Richmond and North Richmond in Sydney's north-west.
Recovery teams, already on the ground supporting those still impacted by the Black Summer bushfires of 2019-20, are now being mobilised to assist people impacted by the recent flooding as well.
Overnight, a Salvation Army team at Gosford on the Central Coast packed 30 hampers for delivery this morning to Spencer Wharf on the Hawkesbury River north of Sydney for State Emergency Services (SES) teams to deliver by boat to properties cut off by floodwaters.
Hans Schryver, The Salvation Army Strategic Emergency and Disaster Coordinator (Newcastle), said his teams had been active up and down the coast for the past eight days, with emergency response continuing even as recovery work begins.
"[We are] helping those in the community that need our help in the way of household needs – especially the ones that are in the isolated areas. But also being supportive of the recovery effort at the evacuation centres that are still operational."
Major David Collinson, Public Relations Secretary for NSW, has been touring flood-affected areas and says some people are still either stuck in their homes or unable to get home.
"There is a lot of devastation as you drive [to different places]. You see cars on the side of the road that have obviously been flooded. And there are things floating down the river that shouldn't be in the river! But the communities are holding together really well – Aussies supporting Aussies."