Sofa so good with International Student Lounge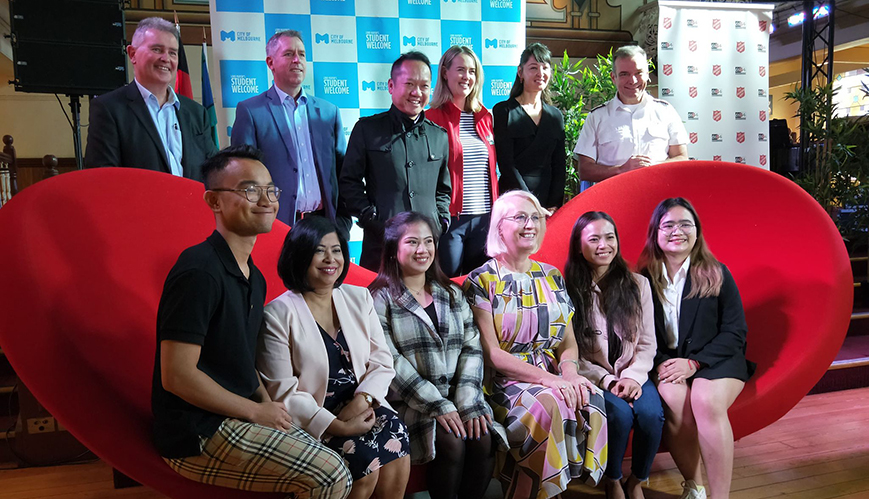 Sofa so good with International Student Lounge
31 March 2021
The Salvation Army 614 in Melbourne re-launched their International Student Lounge on Friday. 
By Barry Gittins
The last year has been challenging for international students as they battle isolation and job loss. But thanks to the re-launched initiative - The Couch - at The Salvation Army Melbourne Project 614 on Bourke Street, international students in Melbourne again have a place to drop in and belong.
International students Hayden Huang and Kimberly Clemencio share their stories with 614's Tameka Buckley at the re-launch of The Couch.
The initiative was officially re-launched on Friday, 26 March, with the backing of the City of Melbourne and Newcrest Mining Limited. Tameka Buckley, host of the launch at Project 614, acknowledged the original owners and elders of the land before welcoming all present to the event and introducing Melbourne's Lord Mayor Sally Capp, who followed suit.

"International students are absolutely vital, and valued," Ms Capp then said. "They are a part of us, and they are welcome here."

Reflecting on the roles that international students had taken on last year to combat COVID-19, as frontline workers, hospitality workers, student nurses, hospital volunteers and volunteers in general, Ms Capp declared they had helped and were helping to "deliver vital services in our community".
The Lord Mayor thanked them for their contribution and said they deserved a safe space in which they could reflect, relax and find comfort. The Couch, Ms Capp explained, would once again provide that space for international students, as well as deliver free nutritious meals and help them to be "job-ready" and receive ongoing support in their employment, courtesy of a 614 staff member funded by Newcrest.
Describing Major Brendan Nottle and his 614 team as "innovative, open, welcoming and responding to critical issues in Melbourne", Ms Capp said that the return of international students to Melbourne was a key sign of the city's recovery post-COVID.
Ms Buckley thanked the City of Melbourne's international student advocate Gary Lee for his involvement, and then invited two students to speak.

Kimberly Clemencio, a third-year student (Community Service) at Southern Cross Education Institute, from the Philippines acknowledged that "2020 was a tough year… emotionally, mentally and financially for many international students, and I was one of those students". Kimberly shared that her "brother passed away and I couldn't go home".

Kimberly said The Couch will again provide a place where people far from home can "network, build new friendships and gain confidence".

Jayden Huang, a second-year student (Psychology) at the University of Melbourne, from China, said he is going to volunteer at The Couch, and views it as a fun way to make connections.
"I feel so welcome here," he said. "The 614 staff feel like family members."
Corps officer, Major Brendan Nottle said the revived The Couch initiative was a tribute to the "huge, fantastic heart of Sally Capp and the City of Melbourne, who look out for those who are doing it tough".
The Couch first operated from 2011 to 2016, impacting many lives. It regularly attracted up to 400 international students to events; under COVID regulations, attendance at the re-launched Couch is currently capped at 80 people.
While originally conceived and equipped as a study hub, Major Nottle said his team soon found that "sharing meals, Zumba classes, yoga, and Bollywood nights" were the mainstay for The Couch attenders.

"These students are dealing with loneliness and social isolation," he added. "Some international students go without nutritious meals, and face challenges with mental health, addiction and visa issues.
"Many of these kids have come from families who have sacrificed so much to send them here, so they have the chance of a better future. We want them to be safe and supported – that's what The Couch is about."
From 29 March, The Couch will operate at Project 614's Bourke Street premises each week, Monday - Thursday nights, 6.30pm - 8.30pm. Hours will be extended as COVID restrictions are lifted.
When talking about The Couch, Victoria Public Relations Secretary Major Warren Elliott asked, "What's the need, and how can we meet it?

"The Couch has asked and answered this; collaboration is the key, and good teams achieve good solutions."