Narrogin celebrates Joan's community spirit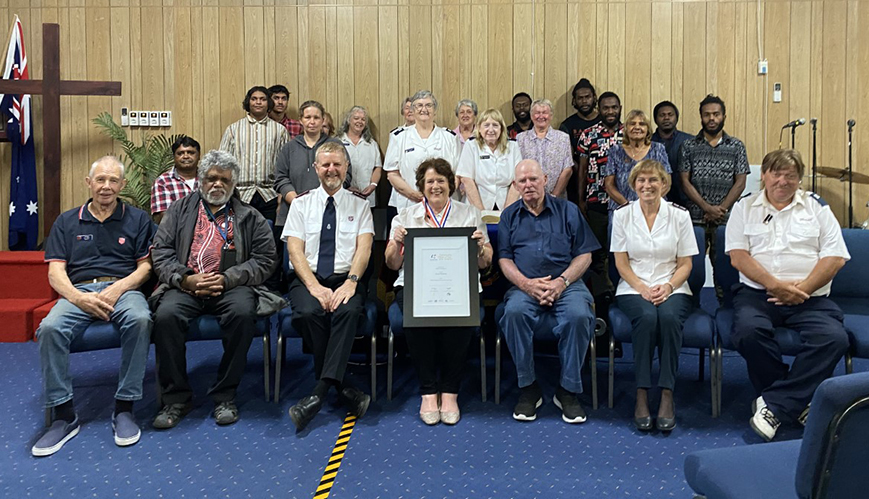 Narrogin celebrates Joan's community spirit
7 April 2021
Joan Porter (front centre with her certificate) with her Salvo family at Narrogin Corps including Major Niall Gibson (front row, third from left) and Major Michelle Gibson (front row, second from right).
By Jessica Morris
It's impossible to celebrate Joan Porter's Community Citizen of the Year award without actually highlighting her community – which is why she was determined to share the moment with her beloved Narrogin Salvos 'family'.
Joan, a senior soldier at Narrogin Corps, 200km south-east of Perth, was awarded the Narrogin Shire Community Citizen of the Year in the Senior category in January, in recognition of her role as a volunteer for the Country Women's Association (CWA) for many years, her participation in fundraising events and involvement in The Salvation Army.
Her citation also mentioned that she is a volunteer at the Narrogin Palliative Care Unit and that she provides support to cancer patients at Sir Charles Gardiner Hospital.
But it is her faith in God and commitment to the Salvos that Joan says is the inspiration behind her passion for community work. "I am part of a team!" Joan exclaims. "I love coming here to The Salvation Army with Majors Michelle and Niall Gibson. This [award] is ours!"
Joan has been involved with the Salvos for a decade. Her love of community work means she will try her hand at anything to help others, particularly the elderly.
"It's a privilege to look after the elderly, and it's wonderful to have The Salvation Army to improve the lives of people at the nursing home," shares Joan, who stops by once a week to lead residents in songs and fellowship, being a member of the 'Friends of the Nursing Home'. 
"We provide a beautiful afternoon tea, and I do a singalong. It's enjoyable and I get more out of it than they do! To see the smile on their faces and them clapping their hands. And they always ask, 'You'll be back next week?'"
Joan's collaboration at the local nursing home only fills one day in her week. The rest of the week is full of other community initiatives – CWA activities and fundraising [she's president of the local branch], volunteering at the corps' drop-in centre, seeing her grandchildren, and generally being a good friend.
"We had a woman lose her husband recently," shares Joan. "So, we gathered a band of women, everyone brought food and we had a beautiful wake. It took the worry away."
A key part of Joan's life is advocacy as the president of the CWA. The association petitioned the State Government to provide chemotherapy at the local hospital. "I thought, 'We're going to have to do something!' So we wrote letters," recalls Joan.
This initiative was also personal to Joan. As a survivor of breast cancer, she is familiar with the physical and emotional toll it takes on the body. It has prompted her to trial medications in order to help future generations.
"During all this, I was diagnosed with breast cancer. I prayed about this, and the doctors asked if I would do a special trial of an operation and take special meds that help women after me. So, I do that every year," she says. "I can be a positive person for other people who get it. I've had it, and it's not a death sentence."
Joan says her strength comes from God, and with it she carries a deep love for her community that embodies the heart of an 'Everyday Salvo'.
"Without God in my life I don't know where I would be. I'd rather be a quiet helper than in the spotlight," she says, crediting her "wonderful husband Bob", family and members of the Narrogin Salvos community for serving alongside her.
"It's lovely to get some recognition for our corps; we have so many resources for the community. If me getting this award can help my corps as well, that is great!"
And true to form, Joan leaves with a call to action – reminding us that everybody has what it takes to be an Everyday Salvo.
"If you're feeling lonely and you don't know what to do, go to a nursing home and say, 'Can I be helpful [by] sitting and talking to some of your residents?'" she says. "Do some volunteer work and [your life] will change."