Salvos providing cyclone support in WA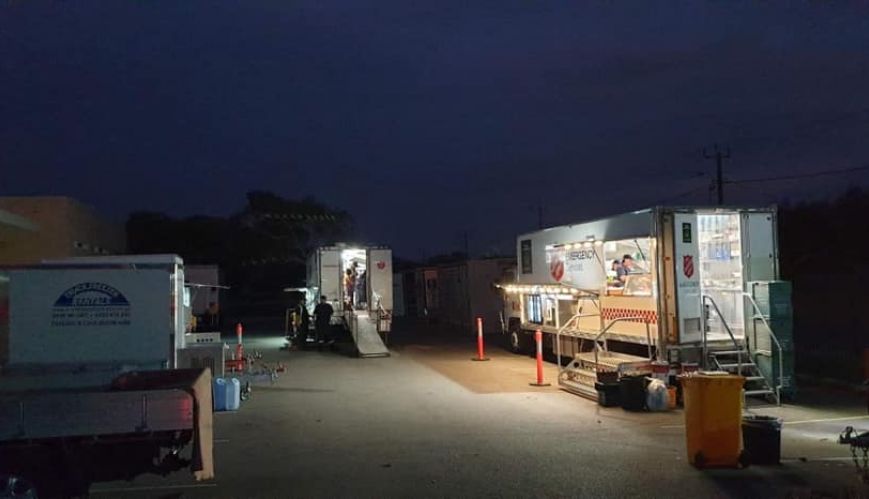 Salvos providing cyclone support in WA
13 April 2021
Salvation Army Emergency Services teams are feeding first responders in the aftermath of Cyclone Seroja, which hit Western Australia near Geraldton, north of Perth.
By Lauren Martin
The Salvation Army is in action in cyclone-affected Western Australia, providing meals to first responders and emergency support to those affected.
Geraldton Corps Officer Major Natalie Norman said she grew up on the blustery west coast of Tasmania, but Cyclone Seroja "was the worst wind I've ever experienced. It was gusting at 120km per hour ... and we were on the bottom edge of it – we didn't experience the wind anywhere near as bad as the other towns".
Despite being without power, Natalie and her team opened their Doorways emergency relief service on Tuesday morning for the first time since the cyclone struck the Western Australia coast on Sunday and Monday with gusts of up to 170km/h in some parts.
"One of our biggest problems is that we had fridges and freezers full of food, so now we're just working out what we're going to do with that," she said. "We have a big generator as part of our set-up so we are powering a big freezer on that. And we are trying to give food away that is thawed but still cold."
She said the local supermarkets had opened and there were long queues outside because the power outage had forced many residents to throw away all their perishable food. 
A Salvation Army Emergency Services (SAES) team from Perth, equipped with a catering truck and fully-stocked cool-room, travelled 500km north yesterday to Geraldton.
The team is supporting State Emergency Services (SES) and Department of Fire and Emergency Services (DFES) personnel who are completing the clean-up and support to houses and other infrastructure in and around Geraldton.
"We arrived in Geraldton [on Monday] and have just completed dinner for about 300 SES and other DFES personnel," said Ben Day, The Salvation Army Strategic Emergency and Disaster Management State Coordinator. "We [are continuing to] serve breakfast, lunch and dinner and sending food out to various locations."
Residents in the towns of Kalbarri, Northampton and Mullewa felt the brunt of Cyclone Seroja, with many houses rendered unliveable and its residents requiring emergency accommodation.
Salvation Army personnel in Geraldton will move into the city's recovery centre tomorrow and start to assist people from outlying communities that were hardest hit. The Salvation Army is also assessing how best to work with other agencies to provide the support needed, both immediately and into the future.
Natalie said the Salvos would stand by the communities affected for the long haul.
"It's just nice to talk to people and say, 'You're not on your own, there are people to help you, we are here to listen and we are here to give you a shoulder to cry on'," she said. "You just sit and listen. And if they want to talk, they talk."