Pair stride out for charity on Brisbane to Sydney walk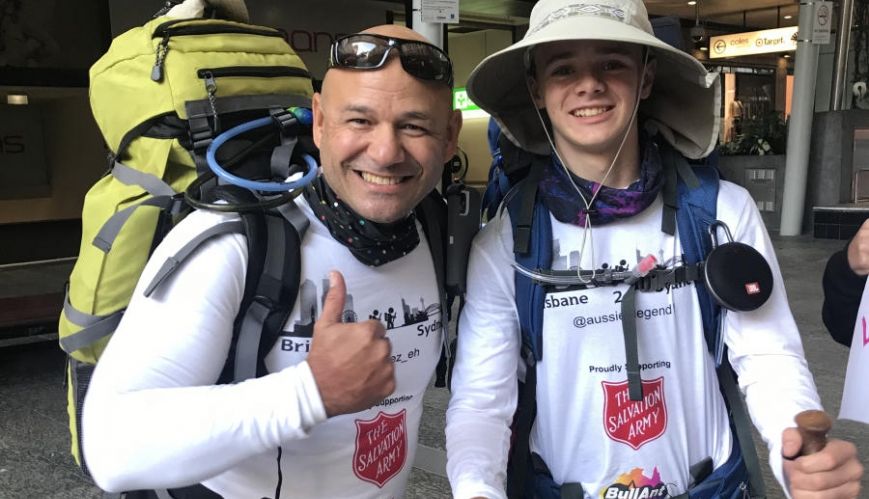 Pair stride out for charity on Brisbane to Sydney walk
22 April 2021
With a confident thumbs up and walking poles in hand, Tim Koloi and Will Neisler hotfooted it out of Brisbane's Queen Street Mall yesterday on a 1200km walk along the water's edge of Australia's east coast with a plan to reach Sydney in seven weeks.
By Darryl Whitecross
Fifteen-year-old Will Neisler and a family friend, former police officer Tim Koloi, yesterday began arguably the biggest adventure of their lives – a charity walk from Brisbane to Sydney to raise money for The Salvation Army.
Will and Tim have been training for several months and aim to walk about 1200km in seven weeks – the longest time Will says he's been away from home.
Will's mum, Anne, said she was not worried about her son being on such a long journey as Tim would be a good and reliable companion, and Will's father Basil would be "shadowing" them as a one-man support crew.
Will said he and Tim "love a physical challenge" and decided to take on the walk and, in the process, "raise some money for a really great charity". They aim to raise $50,000 and have chosen to give the money to The Salvation Army, "who are always there for people in need", says Tim.
The pair set off from Brisbane's Queen Street Mall yesterday morning and aim to follow the east coast all the way to the steps of Sydney Opera House. The two were farewelled by a small group of family, friends and supporters and a contingent of Brisbane television and radio stations eager to capture their story.
Tim, a retired police officer, said the pair aimed to avoid major roads and stay "on the coast" – mostly along the water's edge and maybe through some bushland where the coast option was not possible.
The pair had been training separately for most of their preparation, having come together for several of their "long walks" – around 30km – varying the weight they've carried from none to full packs and "super heavy packs".
Tim said he had suffered the expected sprains, blisters and general soreness as part of their training but "we expect there to be pain". Will said he had been relatively injury-free.
Will said he came up with the idea for the walk late last year and had planned to do it with a mate, but that fell through, so he contacted Tim, who he had met through one of Tim's daughters. He said he was "lying in bed one day" and thought, "I could actually do this."
"I wanted to tackle one big thing before I left school [he is home-schooled] and got a job," Will said. His first thought was a Brisbane to Hervey Bay walk but thought Brisbane to Sydney would be more significant.
The pair aim to walk eight hours each day and cover about 25-30km, passing through at least one town daily where they could pick up supplies or take a break if required. Beef jerky is to feature prominently in their diet.
They hope to take "every seventh day off" to rest: "We're not aiming to break any records. We're novice hikers," Tim said.
Tim said some of their journey would include "camping wild", which would give them an experience of what many homeless faced nightly and hoped the money the pair raised would be used by the Army to work in that space.
He said his personal experience with mental health issues and the situations he encountered as a police officer, such as domestic violence, meant he also hoped The Salvation Army could use the money to help in those areas the community, too.
The two plan to document the trip with notes and photographs and post their adventures on social media.
To donate to Will and Tim's cause, go to https://fundraise.salvationarmy.org.au/william-neisler