Army out in force on Anzac Day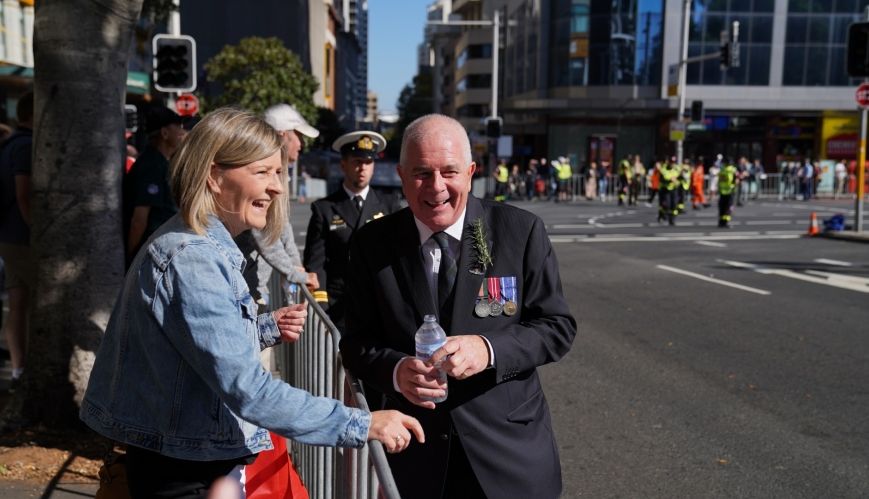 Army out in force on Anzac Day
26 April 2021
Salvationists from Sydney Congress Hall cheered on servicemen and women and provided bottles of water to those taking part in the Sydney Anzac Day march.
By Lauren Martin
With Anzac Day falling on a Sunday this year, many Salvation Army corps took to the streets to be a presence in their local communities.
Some of the Sydney Congress Hall representation that connected with people in the city during the Anzac Day march.
In Sydney, the Sydney Congress Hall congregation engaged in a Sunday service of a different kind – being an intentional presence during the Anzac Day march, handing out bottles of water, having conversations and inviting people into prayer.
"The Sydney Anzac Day march is such a significant part of our community life and it happens right outside our doorstep," said Casey O'Brien Machado, a Sydney Congress Hall soldier. "We wanted to be an intentional Army presence there. The [Salvation] Army has such a rich heritage of engagement with Anzacs and servicemen and women. We wanted people to realise that The Salvation Army is still around and connected to this particular work."
Fellow soldier Susan-Gai Anderson said it was a privilege to be able to connect with older servicemen and women and their families. "It was received very well. Even young service people recognised either a Salvation Army uniform or the red shield shirts and felt that there was a connection there," she said. "It was a really effective way of connecting with people."
Susan-Gai said those involved met at the corps before hitting the streets to pray that the connections made during the ministry would be meaningful. She said many people had the opportunity to offer prayer to people, as well as handing out water as a way of practical assistance.
"Our intention was that people would see that The Salvation Army was there, that we are a church of Christian believers and we are helping in a practical way but also having the spiritual connection available if people wanted to have a prayer."
For those in Sydney Congress Hall who couldn't be part of the outreach, an online Anzac service was made available.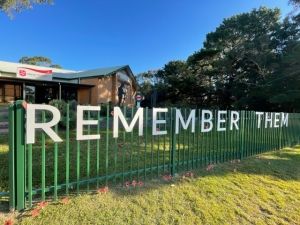 Shire Salvos Menai created an interactive Anzac display on their property that was open to the community.
In southern Sydney, Shire Salvos set up an Anzac display in the yard space of its worship centre in Menai and invited passing community members to make and display a poppy and pay their respects. A Sydney plywood company, MY Ply, donated the large lettering for the 'Remember Them' sign and two large plywood soldiers.
Michelle Wheatley, one of the corps members who helped set it up, said it was beautiful to see how the community interacted with the display. "A few times I drove past and there were people who were stopping and taking photos there, some people just sitting in on the lawn and taking in the atmosphere.
"For many people it's the only time they will walk into the grounds [of a church]. To have the opportunity to walk onto the grounds and know that it's an inviting place is important."
Joe McIver on the bass drum for the Wollongong Corps Band during the Anzac Day march through the city. Photo courtesy Illawarra Mercury
Further south in Wollongong, 35 members of the corps band and timbrels, led by Corps Officer Major Phil Inglis, participated in the Anzac Day march through the city, a tradition that has been going on for decades. "Last year [because of COVID-19 restrictions] lots of the bandsmen did driveway services," said Wollongong soldier Karen Walker. "But this year it was great to get back together and it was wonderful to see so many community members out supporting the march."
Karen also said it was important for The Salvation Army to be a presence on Anzac Day. "We've had our Red Shield Defence Service personnel on the frontlines in wars and lots of relationships have been built over the years. So we [this generation] want to show our respect and thank them and our diggers for their service."