Appeal hits a high note - and all that jazz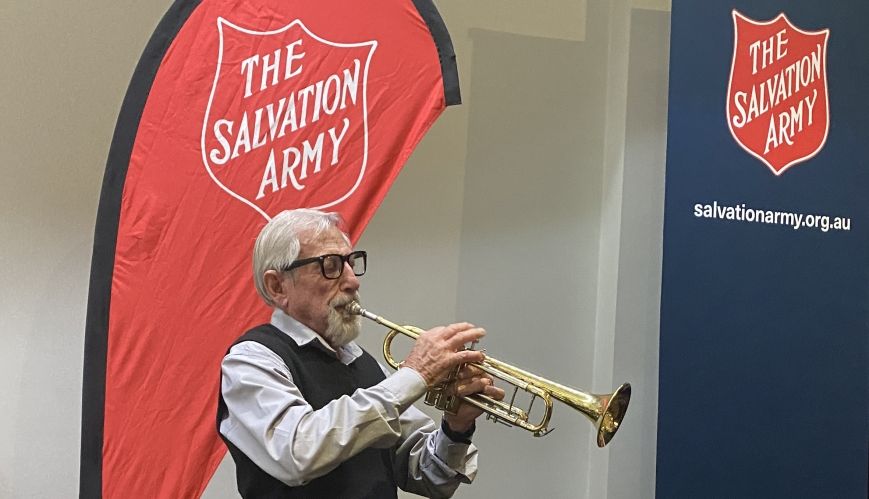 Appeal hits a high note - and all that jazz
25 May 2021
Veteran jazz musician Clem 'Mr Music' Soppa calls the government, business and community leaders to attention at The Salvation Army 2021 Red Shield Appeal launch in Bundaberg.
By Darryl Whitecross, Jessica Morris and Lauren Martin
As the Red Shield Appeal enters week four of this year's major fundraiser, it is becoming even more creative. From jazz solos in Bundaberg to busking in Geelong, plus some awards for good measure, it has been a week for the books.
Queensland
Traditionally, a master of ceremonies would stand and tap a glass with a piece of cutlery or give a fake cough to bring a function to order, but at this year's appeal launch in Bundaberg, veteran jazz trumpeter Clem 'Mr Music' Soppa played First Call – aka Assembly of the Buglers – which is usually heard at racecourses.
Clem, who has had this role for several years, set the Bundaberg business community lunch at The Waves Sports Club on its way to raising a record-breaking $116,000, beating the previous mark of $92,000. The Bundaberg appeal was kicked off with a $30,000 donation from Martin Barrett and Auswide Bank Wide Bay, on top of $25,000 from a donor who could not attend.
The launch, at The Waves Sports Club, had a decidedly sporting feel, beginning with MC, property developer Bill Moorehead, who has refereed more than 400 rugby league games in the area and was awarded the Australian Sports Medal in 2000.
Bill, who has been the MC for the past 10 years, interviewed the two guest speakers – former Brisbane Broncos, Queensland State of Origin and Australian Test team player Corey Parker and Queensland divisional envoy Bill Hunter, who was the chaplain at the Broncos for more than 20 years.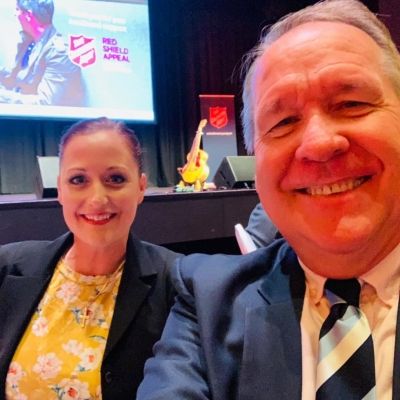 The Member for Ipswich West, Jim Madden, grabs a selfie with Ipswich appeal launch testimonial speaker Rachel Mills.
The breakfast launch appeal in Ipswich, west of Brisbane, was attended by "an amazing group of humans who genuinely care for our local community", according to Bundamba Corps ministry assistant Rachal Mills, who shared her story of transformation at the Ipswich Civic Centre. "[It was] such an incredible opportunity ... to share my story of hope," she said.
Sitting next to Rachel at the function was the Member for Ipswich West, Jim Madden, who said, "I had the pleasure of sitting next Rachal, who spoke about her life struggles and how The Salvation Army was of great assistance to her. Her story of redemption brought tears to my eyes. I wondered how many other 'Rachals' had been saved by The Salvation Army." Jim encouraged the public to support the appeal so the Army could continue to support "people like Rachal".
Just over 100 people were at the event, which was attended by Queensland Divisional Commander Major Gavin Watts, three state Members of Parliament and Ipswich Mayor Teresa Harding.
The Cairns Just Brass group performing at the launch.
The Just Brass group from Cairns Corps won the hearts of those in the room when they performed at this year's appeal launch in the Far North Queensland city.
Cairns Corps Officer Major Ben Johnson said the group was made up of mostly primary school children from refugee families who had been in Australia for less than two years. "They delighted the crowd with their music and smiling faces," Ben said.
The Just Brass program is funded by appeal donations. About 150 people enjoyed the lunch event at the Pullman Reef Hotel, which was attended by Queensland Divisional Commander Major Gavin Watts.
The appeal was formally launched by Mayor Bob Manning and addressed by prominent local identity George Chapman, who spoke of his experience as an entrepreneur and businessman and gave his overview of the development and growth of the city throughout his career and what he saw as the challenges and responses it faced today.
Ben said the $86,000 raised at the event was "a significant increase on previous years".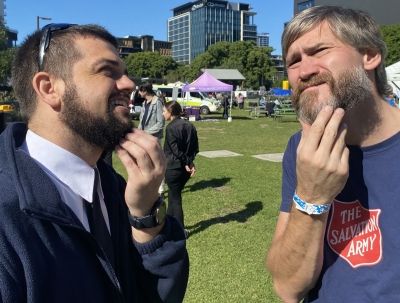 Cadet-in-appointment Peter Hardy (left) and Carindale Corps Officer Major Tim Andrews have a novel way of raising money for the Red Shield Appeal.
Things have become a little hairy between Carindale husband-and-wife corps officers, Majors Tim and Krista Andrews, in suburban Brisbane – but it's all a friendly family feud.
Krista doesn't like beards but Tim is sporting one ... at the moment. Tim said he began growing his hair and beard as part of an undisclosed weight-loss goal – upon reaching the goal, the growth goes.
Krista can't wait that long: "I am not comfortable with where this is going," she said, tongue-in-cheek, on social media. "I can no longer handle the bearded man that is now posing as my husband."
Not long after Tim began his slimming-down journey, the bearded banter morphed into a full-on fundraiser for the Red Shield Appeal where people can vote via social media on Tim's appeal Facebook page.
Tim said that, when donating, people could put in the comments section "does it grow or does it go". So far, it's neck and neck.
Krista's mantra has become: hairlessness for homelessness in reference to the appeal's focus on the homeless this year.
Tim said the bearded battle would come to an end on 13 June when a hairdresser in the corps would remove it professionally in a special segment at church that day ... "unless the beard wins and then I'll probably keep it for another month."
Tim has an ally – Peter Hardy, a cadet-in-appointment assigned to the Carindale Corps, who is also taking part in the beard-growing challenge. Peter said it was his first beard.
It remains to be seen whether the family feud is settled by a whisker.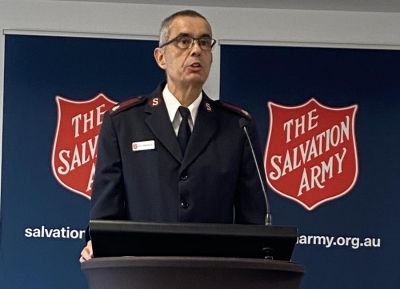 Toowoomba Corps Officer Major Dale Murray announcing 'The Lighthouse of Hope' mission strategy.
The appeal was launched in Toowoomba with a breakfast event on 13 May, almost 135 years to the day that The Salvation Army began its work in the Darling Downs city (2 May 1886).
During the launch at the Oaks Hotel, attended by 150 council, business and community leaders, Corps Officer Major Dale Murray gave an update on the "one-stop holistic mission centre for all Army mission expressions" that was taking shape at the corps' West Street site.
Being called 'The Lighthouse of Hope' mission strategy, Dale said the worship component of Army ministry would no longer be "the soul occupiers of this lighthouse" but that all Army mission expressions in Toowoomba would be represented there, "working collaboratively to keep the light burning brightly to give out hope to our community" – a first for the city.
The work, which was being partly funded by donations received from the 2019 appeal, was expected to be completed by the end of June. Once finished, Dale said the site would have additional office space and a training room with IT capability, shower facilities for the public to use, a full commercial kitchen and a cafe.  
Boxer Jeff Horn with Central Queensland Area Officer Major Peter Sutcliffe at the Rockhampton appeal launch.
Professional Australian boxer Jeff Horn got into the ring to land the first punch at the breakfast launch of Rockhampton's appeal at Frenchville Sports Club.
The launch was attended by more than 200 high-profile government, business and community leaders including Queensland Assistant Minister for Children and Families and Federal Member for Capricornia, Michelle Landry.
The event raised about $35,000 for the appeal.
Northern Territory
Northern Territory Administrator and Red Shield Appeal Patron Vicki O'Halloran made a significant fashion statement when putting her best foot forward at Darwin's appeal launch on 21 May.
Decked out in a pair of 'HOPE' socks placed on each of the tables, Vicki launched the appeal during a breakfast at the Darwin Convention Centre attended by 53 government, business and community leaders.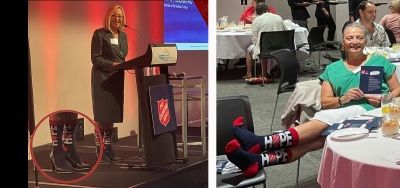 Northern Territory Administrator and Red Shield Appeal Patron Vicki O'Halloran (left) makes her statement and Kate Worden tables her socks.
The socks also were a hit among others on 'the top table' with each slipping on a pair for various photographs.
Kate Worden, Member for Sanderson, said light-heartedly on her social media page after the event that the "worthy and important cause" would be the only time her feet would be seen on the table.
Vicki said homelessness was "at an all-time high" so it was important to support the appeal to "stop the rise".
Along with Vicki's address, other speakers told of the "great work" the Army was doing in the Top End. Katherine Corps Officer Aux-Lieutenant Sam Higginbottom spoke of his journey to full-time service and the community work being done in Katherine, including a ministry to provide breakfast for 100 people each morning along with laundry and bathroom facilities. 
Victoria
After a year's hiatus due to COVID, Melbournians gathered for their appeal launch at the Sofitel on Collins.
Channel 9 journalist Christine Ahern was the MC, Major Brendan Nottle was on hand to tell the businesses, organisations and Members of Parliament gathered about what it means to serve people at the coal face during COVID.
Divisional Commander Lieutenant-Colonel David Godkin (right) honoured Dr George Lefroy OAM and Joan Lefroy OAM with the 'Others' Award during the Melbourne Red Shield Appeal launch, recognising their philanthropy work.
Leader of Project 614 Corps on Bourke Street in Melbourne, Brendan has appeared in nationwide advertisements for the Red Shield Appeal and was able to shed light on the impact the lockdown had on Melbourne's homeless population and people doing it tough in the city centre.
During the lunch, Victoria Divisional Commander Lieutenant-Colonel David Godkin also took the opportunity to honour Dr George Lefroy OAM and Joan Lefroy OAM with the 'Others' Award. They were recognised for their faithful and passionate support of The Salvation Army over many years, in areas including homelessness, family violence, drug and alcohol rehabilitation and youth services. David particularly highlighted their long-term support of The Salvation Army's VAMP (Varied Abilities Music Program) in Mornington and Thornbury, for clients from disability services in the regions. 
In addition, the Honourable Luke Donnellan, Minister for Child Protection and Disability, Ageing and Carers, also spoke highly of the Army's work with Victoria's most vulnerable people. Louise Adams, Chief Executive of Aurecon Australia & New Zealand and 2020 CEO Of the Year, threw the support of the engineering community behind the Salvos.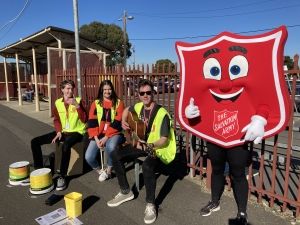 Young adults from Waterfront Christian Church in Geelong entertained footy fans at the South Geelong train station, fundraising for Geelong Salvation Army's Just Brass program and Life Engaged initiative.
Meanwhile, in Geelong, there was a spirit of collaboration when volunteers from Waterfront Christian Church met at South Geelong train station to support The Salvation Army.
The young adults sang, danced and collected for their local Salvo expression before the weekend AFL game at GMHBA Stadium, while Shieldy high-fived the kids. Over four hours, they raised nearly $500.
"We are so excited to be able to put our love into action, and partner with the Salvos in their amazing work through the Geelong Corps," said Rachel Morris, Young Adults Coordinator at Waterfront Christian Church. "This gives us an opportunity to be the hands and feet of Jesus in a practical way."
New South Wales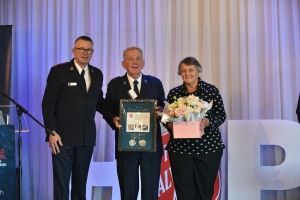 NSW/ACT Public Relations Secretary Captain David Collinson (left) with Graham and Noreen Packer after Graham was awarded The Salvation Army's 'Others' award. Photo: Greg Donovan 
Longtime Red Shield Appeal collector Graham Packer was awarded The Salvation Army's 'Others' award for service to the Army at the Illawarra launch in Wollongong on 19 May.
Those gathered heard how Graham has been the face of The Salvation Army in Kiama for 20 years, tirelessly organising collectors and achieving 95 per cent coverage of the township during the Red Shield Appeal weekend. He has raised more than $1 million for The Salvation Army in that time.
In receiving the award, Graham humbly spoke about the fact that he has never felt called to frontline ministry in The Salvation Army, but knew he was "good at fundraising", so he did all that he could to raise money to support the work of the Salvos, saying that was "his part" in the mission. 
Later during the luncheon, businesspeople and other guests listened to a panel discussion about the increase in need that The Salvation Army was serving in the Illawarra area.
Wollongong Corps Officer Major Rebecca Inglis said she's "seen demand increase like never before" and that people were seeking assistance for the first time in their lives after losing their job at the onset of the COVID-19 pandemic. "They have exhausted all of their savings and now they are desperate," she said.
Sonya Button, Manager of The Salvation Army Carinya Women's Services, said domestic violence had spiked and "the severity of cases has increased and become much more complex".
Echoing her sentiments was Maris Depers, resident psychologist with The Salvation Army First Floor Program, who said that there has been an increase in the number of people requiring suicide bereavement support.
The launch raised more than $70,000 for The Illawarra Red Shield Appeal.