Prime time to promote Red Shield Appeal ... home and away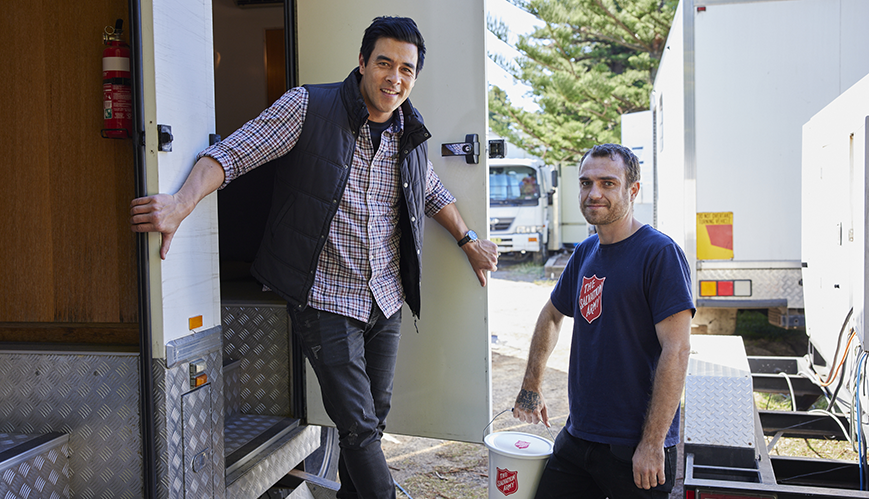 Prime time to promote Red Shield Appeal ... home and away
31 May 2021
To coincide with the Red Shield Appeal, participants at William Booth House visited the set of Channel 7 soap Home and Away. In this photo, actor Jimmy Stewart speaks to a participant who was collecting for the Red Shield Appeal.
By Jessica Morris and Darryl Whitecross
Slime, ice cream and a message from the Prime Minister himself – this Red Shield Appeal weekend had everything!
And to top off a whopper Red Shield month, Prime Minister Scott Morrison also threw his support behind the Red Shield Appeal. 
"I'm encouraging you to get behind the Salvos because the need never ends," he said in a video to all Australians. "Whether it is COVID or not COVID, whatever time it is, the Salvos are always there helping fellow Australians in need. You can help them do that job by reaching out as Australians do every year and supporting the Red Shield Appeal."
But it was all hands on deck as Salvos across the nation worked tirelessly to fundraise for social programs. And while Victorians postponed their plans due to an unexpected lockdown, there was still fun to be had as people reached out to the community. 
Western Australia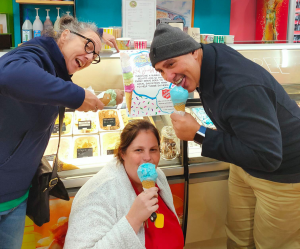 The team from The Salvation Army Southwest take a bite out of their bubblegum gelato at The Bean & Cone ice-cream store in Bunbury, WA. Over May, $1 from every bubblegum-flavoured gelato sold goes towards The Red Shield Appeal. (From left) Youth and Children's Ministry Coordinator Angela Bell, Salvos Bunbury Thrift Shop manager Megan Short and office administrator Guillermo Guerrero Marquez.
After a long month of Red Shield collecting, everyone needs a sweet treat, which is why Southwest Salvos are encouraging everyone to pick up a scoop of ice cream!
Locals in Bunbury and Boyanup have been frequenting The Bean & Cone ice-cream stores all month long, with $1 from every bubblegum-flavoured gelato sold going towards the Red Shield Appeal. And the innovation is the tip of the proverbial ice-cream bucket for the Southwest Salvos across Bunbury and Busselton.
"We know that so many charities are asking for money, so we have to do something different to get people's attention," says Captain Zoe Schatz.
"It's not just giving to a cause – they are getting something out of it. At the thrift shops, we see a lot of people come and put in an extra $5 because they know it's going to a good cause." 
And for those without a sweet tooth, there are still other ways to get involved. The Bunbury and Busselton thrift shops both hosted a 'Red Day'. They also joined the Southwest's effort to collect 100,000 cans that will be recycled and handed in for additional funding.
Tasmania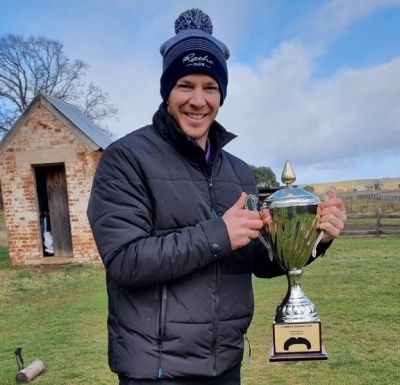 Australian cricket captain Tim Paine joined David Boon at this year's Common Ground Cup in Tasmania, raising funds for Salvation Army Housing and Homelessness programs.
It's not every day that cricket legend David Boon joins you for a round of golf – so it was a delightful coincidence when the Common Ground Cup coincided with Red Shield Appeal weekend in Tasmania.
Held at the historic Ratho Farm in Bothwell, more than 80 people paid for a bite of lunch, golf and a delicious dinner. All funds raised went towards Salvation Army Housing (SAH) in Tasmania and, as a bonus, the teams could also bid to have Boonie join their team. 
This year, Australian Test captain Tim Paine was also in attendance, giving the avid golfers an even more competitive edge. 
"Our relationship with cricket legend David Boon continues to raise awareness about the issues relating to housing and homelessness in Tasmania and the efforts of SAH to meet the needs of our service users," said Anthony Fagan, Housing Coordinator for SAH Campbell St.
"Tim Paine was well received by the punters, who unreservedly stated their intent to return to next year's event."
Queensland
Slime time as Kheri Andrews and Kymani Ndenda take up a challenge to raise $300 for appeal.
This year for the Red Shield Appeal, Carindale Corps in Brisbane's south set a challenge for their young people to choose an adult partner, create their own digital doorknock page and aim to raise $300.
The aim of the challenge is that whoever reaches the goal gets to pour a bucket of slime over their partner. If they fall short, the partner gets to 'slime' them. 
Kheri Andrews and Kymani Ndenda couldn't wait to get their hands on the slime and took to Facebook to encourage other young people to get involved.
The young people were encouraged to choose an adult partner. Carindale Corps Officer Major Tim Andrews said many young people had chosen their prayer buddies as their partner.
"If they raise the money, they get to slime [their partner]. If they don't get to the mark, then the adult gets to slime them," Tim said.
Tim said a special outdoor sliming event would take place at the end of the challenge. There is a rumour floating around that whoever gets the highest total gets to slime the officers as an extra incentive to reach the goal.
New South Wales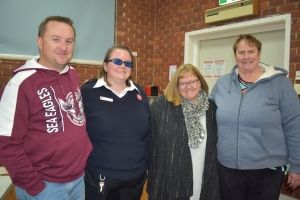 (From left) Phil Murphy, Lieutenant Tarsha Laundon, Carolyn Murphy and Julie Mason at the Deniliquin Salvos trivia night. Credit: Deniliquin Pastoral Times.
Salvos in Deniliquin, just north of the Victorian border, are also in action for this year's Red Shield Appeal. Lieutenant Tasha Laundon and her team have their sights set on raising $4000.
They kicked off the appeal in style with a trivia night at the church hall. Forty people took their shot at some of life's greatest questions and participated in a silent auction. All up, they raised $665 towards their final goal.
"Community support is important because, without the community, we wouldn't be able to keep supporting [them] next year," said Tarsha. "They are a very giving community – whenever you have something to raise money for or to raise awareness, they always get behind you and support it."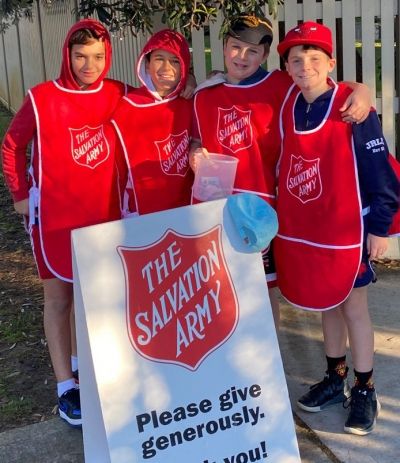 The Scots College Brighton Preparatory School Year Six students collecting for the Red Shield Appeal. 
Year Six students and school leaders, parents and others from The Scots College Brighton Preparatory School community in Sydney's south dug deep to help collect for this year's Red Shield Appeal at the weekend and managed to reach their goal of $10,000.
They were at the Bunnings warehouse at Caringbah.
'Service' is one of 12 Graduate Profile attributes that form part of the college's Brave Hearts Bold Minds philosophy of education. Being out into the community to help collect for the appeal was part of that program.
Scots College aims to inspire its students in Leadership Through Teams to engage in "wise, principled and compassionate service to their college, their community and their world". 
The students and school leaders described this as their hope for this weekend: "There are people right now whose lives we can help change. As a school, we try to serve those in need. We have set our target high so that we can make a big difference in our local community."
Scout groups, Rotary club members, sporting groups and several other schools provided volunteers to help out with collecting for the appeal.
National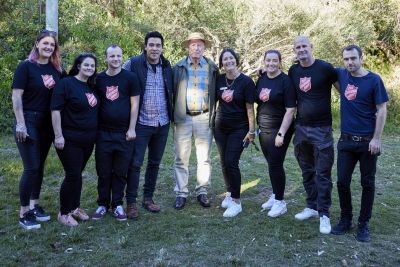 Participants and staff from William Booth House in Sydney meet actors Jimmy Stewart, Courtney Miller and Ray Meagher.
It was a momentous week for participants at William Booth House in Sydney when they received the VIP treatment as they visited the Home and Away set on Wednesday.
Actors Jimmy Stewart, Courtney Miller and Ray Meagher were on hand to say hello and give participants first-class treatment at Manly Beach.