Spotting red flags in relationships in the Huon Valley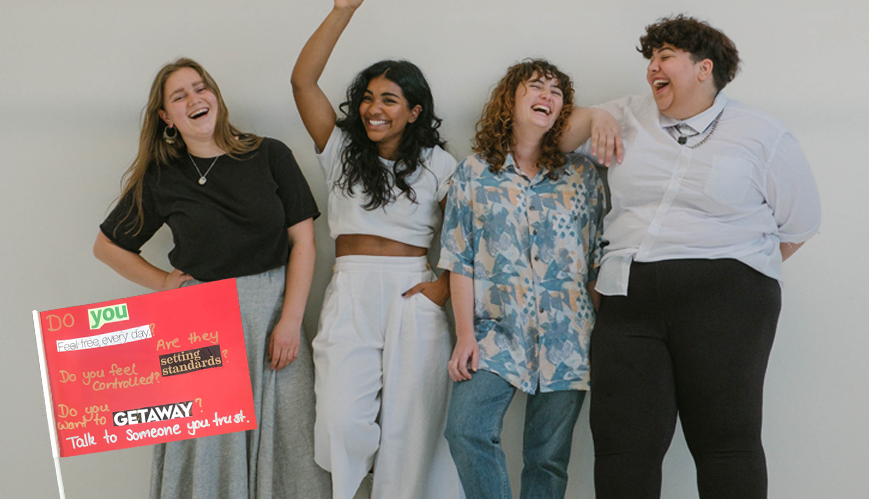 Spotting red flags in relationships in the Huon Valley
9 June 2021
The Chatterbox girls empowerment program at Huonville Corps is changing the way young people view their self-worth. In partnership with Huon Domestic Violence Service, the girls created 'red flag' posters, identifying what toxic behaviours indicate a relationship is turning unhealthy. Banner photo courtesy Gemma Chua Tran from Unsplash.
By Jessica Morris 
When the Chatterbox empowerment program began at Huonville Corps, south of Hobart, the goal was initially to support young girls who lived with a primary carer experiencing mental health issues.
The Chatterbox girls have partnered with Huon Domestic Violence Service to create posters about 'red flags' in abusive relationships.
"One in four families live with mental health issues, and I wanted to bring together a group of students to help normalise their challenging family life," said Chris Walker, psychotherapist and creator of Chatterbox.
When the program was originally presented to the local school six years ago, Chris was asked to broaden the content of group sessions to encompass various issues affecting young people today, including healthy and unhealthy relationships. From the day the two-year program began, Chris says it has never been short of participants.
By normalising discussion about healthy relationships, Chris and her team cultivate a safe space for discussion about everything from social anxiety to social media, sexting and addiction.
Guest speakers are a formative part of the program, and as the girls meet with people who have battled with a lifetime of addiction or have been incarcerated, they are encouraged to think about their own choices.
The weekly 'Circle Time' has seen even the most closed-off participants open up. "We had one girl who didn't speak for the first 14 months in the group," Chris said. "She was really compliant but did not disclose anything about what was going on for her. Then one day she just sat there, and she started and didn't stop for two hours. The whole room was sniffling!"
Huon Domestic Violence Service has been of huge benefit to Chatterbox. Towards the end of the program's second year, one of the service's family violence specialists joins the group over a four-week period to talk about healthy and unhealthy relationships.
"We discuss the many types of relationships, what constitutes healthy and unhealthy relationships and how to recognise the early warning signs, or 'red flags', of an unhealthy relationship. This encourages help-seeking behaviour for the girls around their own relationships and that of their friends and peer groups who may disclose any concerns to them," Chris said.
Last year, the girls were particularly creative, cutting out pictures representing various aspects of 'red flags' in relationships. These were then stuck onto physical red flags. The exercise was so successful that the Huon Domestic Violence Service created posters that are being placed at the local high school and around the Huon Valley.
Chatterbox is a labour of love, but it is life-changing for the 13 girls who actively participate in this much-needed Salvos program.