Support remains on standby across Victoria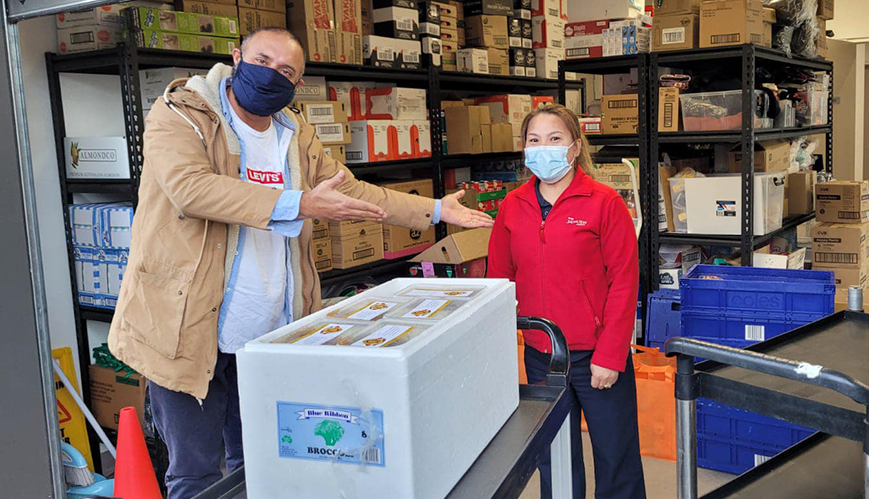 Support remains on standby across Victoria
11 June 2021
Volunteer Sunny Duggal (left) donates 350 meals to Morwell Corps on behalf of the Siri Guru Nanak Darbar Sikh community in Officer to support locals affected by the wild weather in Gippsland. 
By Jessica Morris
After torrential winds and flooding caused mass outages and evacuation across Victoria, Salvos across the state have stepped up to support their communities.
Supporting evacuees in Gippsland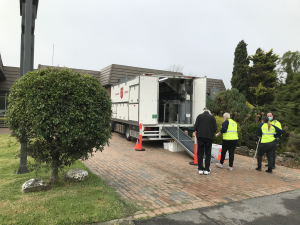 The Salvation Army Emergency Services are serving 40 families in Rowville after they were evacuated there from the Yarra Valley to a local hotel due to flooding.
The Salvation Army Emergency Services (SAES) were called to Traralgon, Rowville and Trentham last night to assist evacuated residents, providing bedding, heaters and financial aid at evacuation centres.
"We were able to help people with immediate material needs and payments until their government support comes through, so we were able to step in the gap, which is fantastic," said Rob Champion, Strategic Emergency and Disaster Management Specialist for Victoria.
In Rowville, the SAES are feeding 50 people displaced from the Yarra Ranges Caravan Park. Residents will stay at a local hotel until it is safe to return home, and the SAES will provide meals until Monday.
The SAES continue to work with local councils and organisations across the state, battling road closures and electricity outages to meet people where the need is greatest. This also includes calls about removing trees that fell on properties and providing heating for the elderly.
"We have remote referrals from misplaced persons, trees on homes, and we do some advocacy and place people in motels ourselves," said Rob.
Connecting locals on Bass Coast
With 156,000 Victorians still without power, the Salvos in Leongatha and Wonthaggi are working with their local councils to set up a power-charging station. The SAES also arrived this morning to support residents. Only 10 per cent of residents have electricity at this stage, with elderly residents being the most vulnerable.
The SAES were called out to Traralgon, Rowville (pictured) and Trentham last night to provide food, bedding and financial assistance to residents. They also arrived in Leongatha this morning to support the work of Leongatha Salvation Army as the town waits for power to return. 
"Our primary issue here is no power, so I headed out to the council's emergency charging station. They had no tea and coffee, so what does a good Salvo do? Go and get tea and coffee!" said Captain Amy Jones, whose young family spent the last 24 hours without power.
"The council contacted me to provide a listening ear and support. We need everyone with power. It's hard to get word out to the elderly about what services are available, given that it's not only electricity that's down but services too."
Captain Amanda Hart also experienced a loss of electricity in Leongatha and says that, when she spoke with the Bass Coast Council this morning, about 90 per cent of residents were still without power. Her community's focus is now on providing food relief to locals, and The Salvation Army is coordinating an outpost in the middle of the South Gippsland Shire after they received a mass donation from Woolworths. 
"Our staff are working from home as much as we can, and our homelessness and family violence case workers are doing what they can. It's difficult getting people into accommodation given the power outage," says Amanda. "We have still been working as best we can to continue supporting people in need." 
Community support
People across East Gippsland have felt the brunt of flooding following harsh winds and rain, and Morwell Corps has been actively dispersing warm meals to locals. They received a helping hand when volunteers from the Siri Guru Nanak Darbar Sikh community in Officer prepared 350 meals for displaced locals. Volunteer Sunny Duggal was happy to lend a hand after already making more than 800 meals for various organisations during Victoria's fourth lockdown.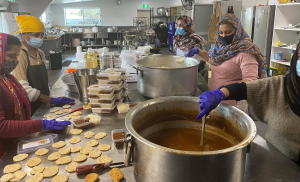 Volunteers from the Siri Guru Nanak Darbar Sikh community in Officer prepared 350 meals for the Morwell Salvos to disperse to evacuees.
"We received the call where people are impacted by COVID-19 on top of this disastrous news of flooding and [heard that] The Salvation Army Morwell will be glad to take few hot meals and dry groceries," Sunny said. "We usually do 150 meals for regular distribution, [and] ended up doing another 200 meals, jumped in the vehicle and [drove] 100km straight to Morwell!" 
While the Salvos have begun recovery in many areas across Victoria, the SAES remains on standby in Gippsland. 
"At the moment, there are a lot of unknowns. We are on standby in Sale and Bairnsdale, and we have set up a central food distribution in Leongatha," said Rob. "This impacted a fairly large area."