Rose 'comes home' to Recovery Church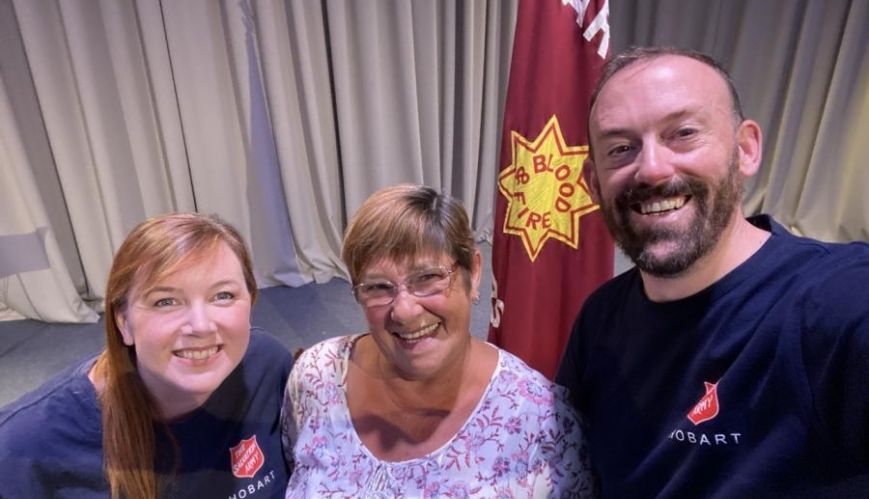 Rose 'comes home' to Recovery Church
13 June 2021
Captain Nicole Snead, Rose and Captain Johnmark Snead at Hobart Corps Recovery Church.
By Jessica Morris
When Rose entered The Salvation Army Bridge Program in Hobart, she quickly found herself at Hobart Corps Recovery Church. And with it, she found belonging and faith in Jesus.
"Rose quickly became a regular, and it has been a blessing to see her story of faith develop and continue to grow," said Corps Officer Nicole Snead.
The Bridge Program, which aims to assist people on their personal path to recovery from addiction, gave Rose the tools she needed to step into freedom. When she completed the program, she chose to continue at Recovery Church. It meant that her transformation continued – and as her faith developed, she saw God answer her prayers.
"It feels like coming home whenever I walk in the door. I know that through the constant prayers of my mum, my faith community, I have come to know God in a new and intimate way, in a saving way," said Rose. "I believe Christ Jesus answers my prayer. He is always there for me and has welcomed me into his family."
Life still has its ups and downs – but now Rose knows she doesn't face them alone. She knows God is with her and that the Hobart Salvos community fights alongside her.
"Rose has now started coming to Sunday worship, and in the past few weeks expressed how coming to Recovery Church gets her through 'til Sunday, and Sunday gets her through 'til Recovery Church," said Nicole.
"We are so very blessed to have Rose as part of our community, and we continue to pray that God will answer her prayers and reveal himself more and more!"