Restoring hope and peace in the neighbourhood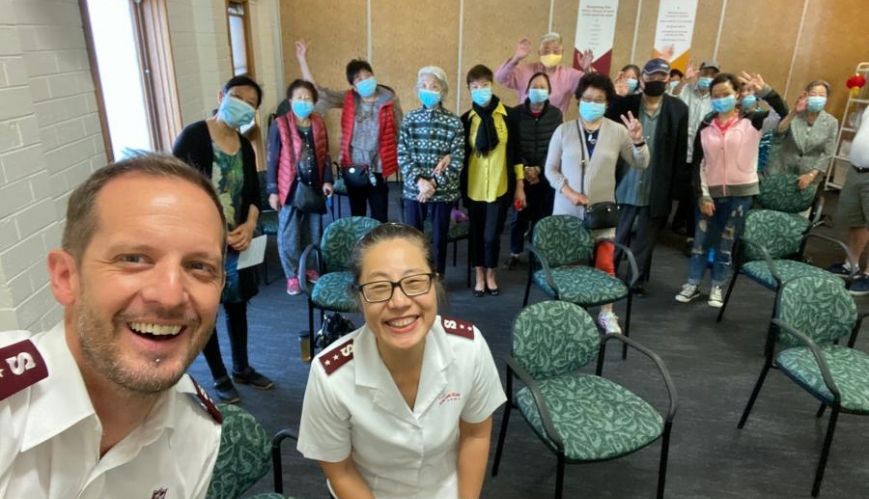 Restoring hope and peace in the neighbourhood
21 June 2021
Richmond Salvos Corps Officer Kris Halliday and Associate Corps Officer Suyi Xiang: "For us, it is about seeing a vision of Richmond as it could be."
By Simone Worthing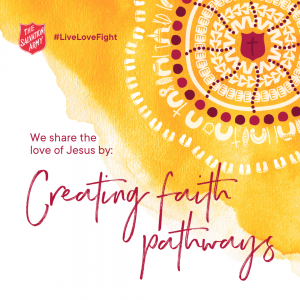 "Geographically, Richmond Salvos is perfectly situated as the place where many 'worlds' come together – migrants and refugees from many nations, housing estate residents in the lowest one per cent income bracket nationally, middle-class areas, and the LGBTIQ+ community. We see opportunity for us to be a key conduit between these groups and to provide safe spaces for people, connecting them to services, to each other and building healthy relationships."
These are the words of Captain Kris Halliday, the Richmond Corps Officer in Melbourne's inner-north.
The corps building is located across the road from a culturally diverse housing estate of 3500 people, with large ethnically Chinese and Vietnamese populations and a continual flow of migrants and refugees from around the world. A medically supervised heroin injecting room is opposite.
"These are obvious focus areas for us," says Kris. "We have developed good relationships with the local community development workers, staff at the injecting room, community health centre, schools, the local council and the police. We are also building partnerships throughout the area as we consider where the Salvos can be of most use in this diverse neighbourhood."
Over the past six months, Kris and his team at Richmond, including Captain Suyi Xiang, Associate Corps Officer, who works primarily with the Chinese-speaking community, have been listening to community members to understand their needs and hopes and how they see the Salvos fitting in.
As a result of this "intense listening", Richmond Corps has started several different areas of outreach.
Community hub
Four days a week, the Richmond Salvos building is opened to housing-estate residents for community development indoor activities, including Zumba and a women's support group. A language school that runs English classes is also part of this hub.
"This gives people, including the elderly, lonely and isolated, a place to connect," says Kris. "Thanks to a Red Shield Appeal (RSA) grant, we have opened a hospitality bar inside the church, offering tea, coffee and snacks for this group or any who use the facility, including those who come for Doorways [emergency relief] assistance."
At the request of the health centre, the Richmond team has also started an outreach to the many people who come to the area to use drugs but are not accessing the heroin injection room.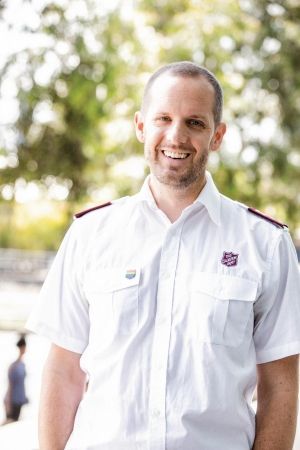 "I feel it's important to foster positive relationships and understanding in this area," says Captain Kris Halliday.
"Our simple goal is to sit where people gather, have a chat with them and connect them with Salvos and other services in the area, including the injection facility and health services," Kris explains.
"Thanks to the RSA grant, we have the opportunity to take those we meet out to local cafes for a coffee or lunch to build relationships. It's a move away from a welfare model to a relational one. Going to 'everyday' cafes also helps reconnect people to their neighbourhood and breaks down some stigma about those who are in the area."
The team has also developed a partnership with the local Vietnamese Association and two local private high schools. Students from these schools come to the church and help children from Vietnamese-speaking families who attend the local primary school and seek support with their homework. Their parents often can't support them due to work or not being proficient in English.
"An additional initiative, funded through the RSA grant and with the assistance of volunteer musicians, is music tuition for kids who live on the housing estate," says Kris. "Parents want the best start for their children, and music is well understood to be a significant development tool. It's a privilege to assist in meeting this need, identified by those in the neighbourhood." 
Additionally, as well as morning worship in Mandarin, the team offers a Sunday afternoon worship service, in English, based on Taize and Ignatian traditions. "Richmond is a busy place, and life can be quite noisy here, so this service offers a quiet, meditative and reflective time of prayer and worship," says Kris. "People from across the community find a place to unwind and connect with God there." 
In July, Kris and a local Uniting Church minister will begin a Bible study for LGBTIQ+ people who will meet in a local coffee shop. "Many people we have been building relationships with have expressed a desire for a safe place to explore the Bible, develop their existing faith and ask questions," Kris shares. 
"The Salvos have been in this area for a long time, and great work has been done, but there is some confusion and hurt in the LGBTIQ+ community towards us. As a gay person who is a Salvation Army officer, I feel it's important to foster positive relationships and understanding in this area." 
Kris explains that listening to the voices of the eclectic community also showed that people want hope and peace restored to their neighbourhood. 
"For us, it is about seeing a vision of Richmond as it could be – people living lives of fullness, of hope and promise, a neighbourhood flourishing, one that looks and feels like heaven on earth. As co-founder of The Salvation Army, William Booth once said, 'That's our business.'" 
INCLUDED 2021 
On an international level, including Australia, Kris is also a key player in 'INCLUDED' – a group of members and friends of the Salvos who support an inclusive model of church that fully welcomes, affirms and includes LGBTIQ+ people. 
Kris and his team have organised global online events where people can have open conversations around their personal stories, advocacy work, share resources, explore theology and better understand how to connect with the LGBTIQ+ community. 
A major online conference, INCLUDED2021, is planned for November to be hosted across multiple time zones. More information on this initiative is available at includedpage.com