You are here:
Home › News › 2021 › 06 › 28 › Back To Back Awards Show Unley Is Getting Better With Age
Back-to-back awards show Unley is getting better with age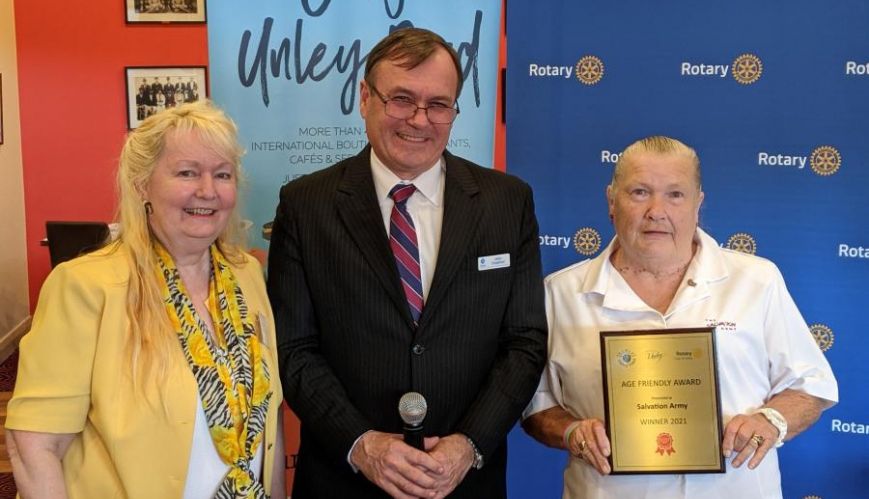 Back-to-back awards show Unley is getting better with age
28 June 2021
Unley Corps' Penny Cochrane (left) and Rosemary Kay accept the 2021 Unley Road Small Business and Pride of Workmanship Age Friendly Award from South Australian Small Business Commissioner John Chapman.
By Darryl Whitecross
Unley Corps in suburban Adelaide has been recognised for a second time in the Unley Road Small Business and Pride of Workmanship Awards for its ministry to the community.
Penny Cochrane and Rosemary Kay accepted the 2021 Age Friendly Award at a special event held earlier this year on behalf of the Unley Corps faith community. The award was presented by South Australian Small Business Commissioner John Chapman.
Last year, the corps' Briony Casburn and Jennifer Millsteed accepted the 2020 Age Friendly award. The corps also won the 2020 Pride of Workmanship Best of Retail award.
Penny said the corps won the award for its work among the senior or disabled citizens in the City of Unley through its C2C program – Coffee to Connect.
Alex Hammett, the coordinator at the Unley Road Association, which runs the awards in partnership with the Rotary Club of Unley, said more than 150 entries were nominated by customers or clients of the various businesses or organisations in the city.
"The calibre of entries was outstanding, and it was terrific to see so many customers entering staff and businesses and making references to their support and service during COVID-19," Alex said.
The corps began C2C about 16 years ago, opening the front door, putting an A-frame sign on the footpath to announce it and setting up an old urn on a rickety table in the foyer.
One elderly soldier in the corps, who said she had been told she was "too old to do ministry anymore", began helping from that first day, and another soldier began providing homemade cakes and slices each week.
Penny said she became involved in the program when she passed the corps on one of her regular walks and went inside to take a look.
"I didn't even know it was a church," Penny said. "A friendly old lady talked me into coming back, and I've been going back every day for 13 or 14 years – rain, hail or shine. All my kids have grown up and left me with a lot of time on my hands."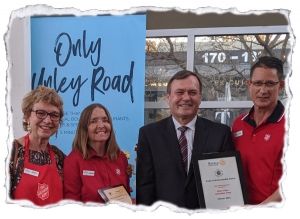 Unley Corps members Briony Casburn (left) Jennifer Millsteed and Corps Officer Major Reno Elms accept last year's Age Friendly and Retail awards from South Australian Small Business Commissioner John Chapman for its C2C program.
Rosemary is a corps thrift shop volunteer and cooks cakes for the 'Salvos On Saturdays' ministry, which is run by the corps youth each week. Colleges in the area also send their students to be part of the ministry as part of their community service program.
From 7.30 every morning, Penny is at the corps setting up for C2C and preparing breakfast, which often includes toast, porridge and sometimes cereal. She can still be there around 11am or noon ... "maybe three o'clock".
"People know that every morning they can come. They know that we always open early," she said. "On Mondays, we serve a nice lunch, too, and it's doughnut night on Thursdays." 
Penny has become the heart and soul of C2C, which still runs out of the foyer at the corps.
It was not long before the rickety table was replaced, home-cooked meals became part of the menu, and the rear courtyard became a meeting place. A "proper" coffee machine was installed as the ministry grew. It is Penny's pride and joy.
In addition to its C2C ministry, the corps added 'Christmas Lunch at Unley Salvos' to its program, realising that for many attending C2C around Christmas, it would be "a lonely time". So now, more than 70 volunteers cater for up to 160 guests each year. This initiative won the City of Unley Australia Day Community Event of the Year award last year.
The C2C ministry continues to expand and has seen the introduction of a Community Shed, which provides hair care services, an art and music program, a weekly market supplied by Oz Harvest, and a hospitality counter with Penny's coffee machine. 
One evening a week, the C2C team hits the streets, seeking out people sleeping rough in the area to provide whatever support they can. Adelaide Congress Hall Corps loans its coffee van for that outreach. 
All this is part of continuing the ministry to offer "value and support" to the community during "many of life's joys and challenges". Such is the esteem in which C2C is held, the corps been invited to conduct the funerals of some of its clients.
Several clients have come to faith in Jesus through the ministry and either has attended Sunday worship or C2C small groups/prayer meetings.