IN BRIEF: Snapshots from around the territory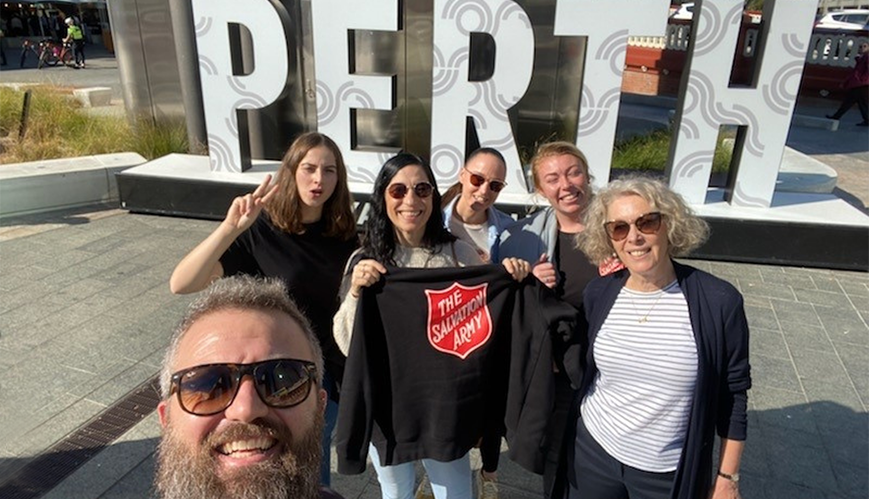 IN BRIEF: Snapshots from around the territory
9 July 2021
Clients and staff from The Salvation Army Transitional Support Service in Perth took part in Reconciliation Week activities across the city. (From left) Yuri Damico, Chloe Woollams, Sarah Clegg, Stephanie Douglas, Tess Mettam and Kaitlyn Traynor.
Compiled by Others staff reporters
Support service takes action for reconciliation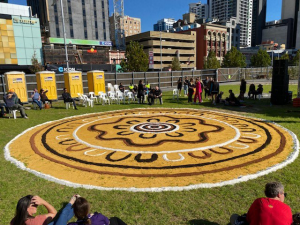 Youth and staff at The Salvation Army Transitional Support Service (TSS) in Perth took part in a range of activities for National Reconciliation Week last month. Pictured here, they gather for a corroboree.
During National Reconciliation Week (27 May-3 June), youth and staff from The Salvation Army Transitional Support Service (TSS) in Perth were inspired by AFL legend Michael Long on the Walk to Reconciliation. The Norm Smith medallist participated with TSS in the community walk, capping off a week of learning for the group.
TSS previously partnered with CREATE WA to learn about 'Truth Telling & Hidden Histories' of Aboriginal and Torres Strait Islander peoples in an event held at the State Library. They also visited the Boola Bardip museum where they made red, black and yellow bracelets as they learned about Aboriginal history.
Their proactive approach to NAIDOC week came in response to this year's message – 'More than a word, reconciliation takes action'.
---
Salvos Stores recognised for online excellence
SalvosStores.com.au has received two nominations at this year's Australia Post Online Retail Industry Awards.
SalvosStores.com.au has been recognised for its excellence in online retail with two nominations in the 12th annual Australia Post Online Retail Industry Awards (ORIAs).
It has been nominated in the Best Multichannel Retailer and Large Retailer over $1m Annual Revenue categories. The winners will be announced on 30 September at the International Convention Centre in Sydney. In the 2019 financial year, Salvos Stores donated $36 million towards The Salvation Army Australia's social programs.
---
banana-box hitch-hiker finds a new home
It's not easy being green – just ask Kermit the 'banana box frog', who arrived at Doorways in Sunbury (Vic.) this week.
Travelling interstate is a luxury these days, but one small visitor to the Salvos' Doorways centre in Sunbury, Victoria, has managed to successfully cross state borders. Kermit the hitch-hiking frog arrived at the centre this week, surprising administration assistant Jasmine Purches when it appeared in a monthly donation of bananas and produce from a local food collective. Like any Doorways client, it just needed some compassionate help, which the team was more than happy to give.
"He's been rehydrated, crickets bought and is nice and warm. These are the things you don't expect to be doing in ministry," laughed Jasmine. The Dwarf Green Tree Frog isn't native to Victoria, but the frogs are known to travel in boxes of produce for weeks at a time after surviving spraying. For this reason, they are commonly referred to as 'banana box frogs'.

"I spoke to Reptiles Victoria and our little frog will be handed to Melbourne Zoo," said Jasmine. "This was not on today's Doorways to-do list, but far be it from us to say no to a frog in need when it presents itself to the service!"
---
Citadel comes alive with the sound of musicals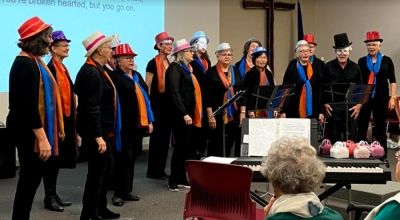 Desert Voices perform at Port Augusta Corps to raise money to support the work among disadvantaged people in the region.
The worship centre at Port Augusta Corps in South Australia was full last month when the Desert Voices community a cappella choir performed at a fundraising concert.
Corps Officer Major Gaye Day said about 80 people attended the concert, which featured music from several popular stage musicals. Gaye said the concert raised about $600, which would be used to support the Army's work with disadvantaged people in the region.
Choir director Anna Beach said the mixed-age Desert Voices group had been together for more than 20 years, performing a variety of music from popular to medieval arrangements in Port Augusta and the surrounding area.
---
Conversation on the menu at Blacktown Corps
Conversation and delicious food were on the menu at English conversation class at Blacktown Corps on Wednesday 23 June.
The English conversation class at Blacktown Corps in Sydney celebrated Refugee Week (20-26 June) with a morning tea like no other. Members of the conversation class, who meet each Wednesday, come from Syria, Peru, Romania, China, Germany, the Philippines, Lebanon, India and Myanmar.
"It felt like we had food from all around the world because so many different cultures were represented," said Corps Officer Captain Louise Beamish. "It was lovely hearing everyone in conversation with one another, saying how much they love coming to the class, and that it is like seeing family each week."
Louise said one member of the class, Fredrico, had built three raised garden beds for a community garden at the back of the hall, while another member had joined the corps' young adult Bible study group. "We can see God working in the lives of the people who attend our English class and also in the lives of those volunteering with the group. As one said, 'it really is the highlight of our week'," Louise said.
---
General's books available free of charge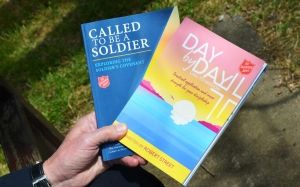 The two books that were launched by General Brian Peddle.
General Brian Peddle launched two important new books – Called To Be A Soldier and Day by Day – during a live-streaming event from International Headquarters on 1 July.
The two books provide Salvationists with a modern framework on being a soldier within the Army.
A limited number of hard-copy versions of both books are available free of charge for Australian Salvation Army soldiers. Contact The Salvation Army Melbourne Trade Store to order your free hard copy or visit mySalvos to access the digital version.