Army builds momentum on Indigenous recognition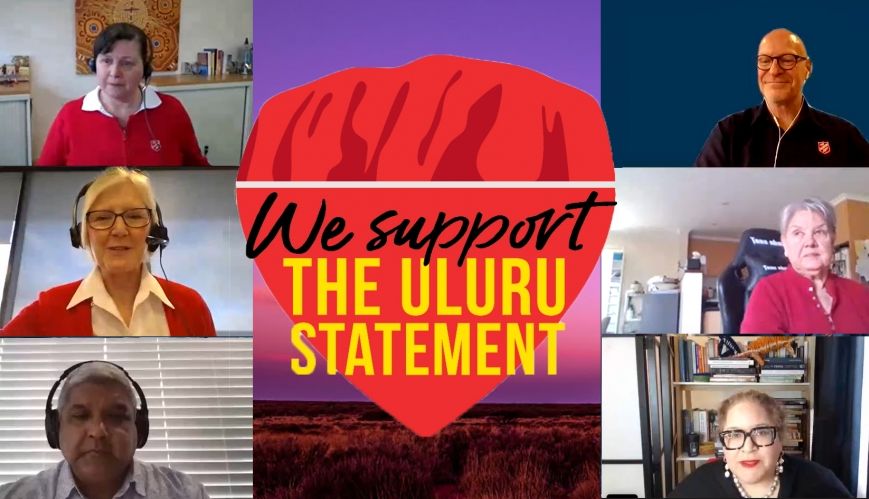 Army builds momentum on Indigenous recognition
16 July 2021
A screenshot from yesterday's webinar, 'The Uluru Statement: Where to from here' with the statement logo. (From top left) Secretary for Mission Lieut-Colonel Lyn Edge, Australia Territory Chief Secretary Colonel Winsome Merrett, Australia Territory board member Adrian Appo OAM, lawyer Professor Megan Davis, Aunty Pat Anderson AO, and Territorial Commander Commissioner Robert Donaldson. Artwork: Darryl Whitecross
By Darryl Whitecross
About 600 people yesterday took the opportunity to be part of a webinar designed to educate and encourage Salvationists across the country to lend their support to a campaign to recognise Indigenous Australians through constitutional change.
Titled 'The Uluru Statement: Where to from here', the webinar heard from prominent First Nations activists Aunty Pat Anderson AO, lawyer Professor Megan Davis and Army board member Adrian Appo OAM, who all spoke about what had happened as part of the process of constitutional recognition since the document, known as the 'Uluru Statement from the Heart', was released in 2017. They were part of the Referendum Council, which developed and delivered the statement.
Australia Territory Chief Secretary Colonel Winsome Merrett, who hosted the webinar, said the key points to come out of the webinar were:
• that Salvationists become better informed individually on the issue;
• to write letters to Prime Minister Scott Morrison and local Members of Parliament to encourage the process of constitutional change to continue;
• to 'yarn' with others to encourage them to walk alongside "our Indigenous brothers and sisters" as they sought to give the process greater momentum;
• to sign up to the ulurustatement.org website to "learn about the process of voice, treaties and truth".
"Today, we will be exploring how far we have come since then [2017] and what still needs to be achieved," Winsome said.
Active contribution
Territorial Commander Commissioner Robert Donaldson gave an emotional reflection on his connection with Maori culture in his native New Zealand and how truth and reconciliation in other nations could offer encouragement to Australians as the "healing process" took place.
He also referred to the time he and his wife Janine served in the South Africa Territory and the "pain" and "grief" of being part of the process of a country coming out of an apartheid system of racial segregation.
Robert said The Salvation Army was working to be a leader in Australia around reconciliation. He called on non-Indigenous Australians to not be defensive about the "injustices of the past".
"Try to act always with the marginalised and with Indigenous people in mind. Make an active and positive contribution to changing attitudes and actions," he said. "Look for God at work in a community and culture that is different to your own, for you will surely experience something new and wonderful because God is present there."
Partnering with others
Secretary for Mission Lieut-Colonel Lyn Edge, who facilitated a question-and-answer 'yarn' with Aunty Pat, Megan and Adrian, told the webinar that the Army had "plenty of resources" available in its online competency toolkit that would help inform Salvationists of the church's work in the area of reconciliation.
"We want to partner with others, like the Uluru Statement, to be as rich and well informed as we can," Lyn said. "We have 600 people on this [webinar], which shows how much The Salvation Army personnel are thirsty to learn and engage in the process."
"The Uluru Statement from the Heart calls for structural reform including a constitutional change that promotes justice and self-determination where Indigenous culture and peoples can flourish and where we can all move forward together in unity." – Lieut-Colonel Lyn Edge, Secretary for Mission
Winsome said understanding the Uluru Statement would enable the Army to "more effectively" work for justice for First Nations people – working for justice is one of the Army's mission intentions – "which assists us to share the love of Jesus". She congratulated Aunty Pat and Megan, and others from the Referendum Council, who were integral to the development and delivery of the statement, which was announced last month as the winner of this year's Sydney Peace Prize.
Aunty Pat said winning the award was a "real tribute" to the Indigenous people from across Australia who spent three days "wrestling with abstract concepts" to produce the statement: "It's showing that there are people who do get this; some people do understand what we're trying to do. It's a really big boost to the campaign."
Generations of pleading
The webinar was told that Megan, a professor of law and director of the Indigenous Law Centre at the University of NSW Faculty of Law, was the first Australian Indigenous person to be elected to a United Nations body and last Sunday was elected as the chair of the UN's Expert Mechanism on the Rights of Indigenous Peoples.
Aunty Pat said generations of Indigenous people had constantly asked to be seen, heard, respected, acknowledged, and recognised. "I really thank The Salvation Army for [the webinar] to give us an opportunity to talk to you directly and to try to explain to you a little bit more about what [the statement] is and what's happening here."
The webinar ended with a blessing from Uncle Vince Ross.
To watch the seminar, click here: https://web.microsoftstream.com/video/046ea938-5ac8-4157-bd5d-7d448ffe28a2

For the ATSI Cultural Competency Toolkit and Capability Framework, click here: https://salvosau.sharepoint.com/sites/SUP0903Toolkit

To read the Uluru Statement of the Heart, click here: https://ulurustatement.org/the-statement