IN BRIEF: Snapshots from around the territory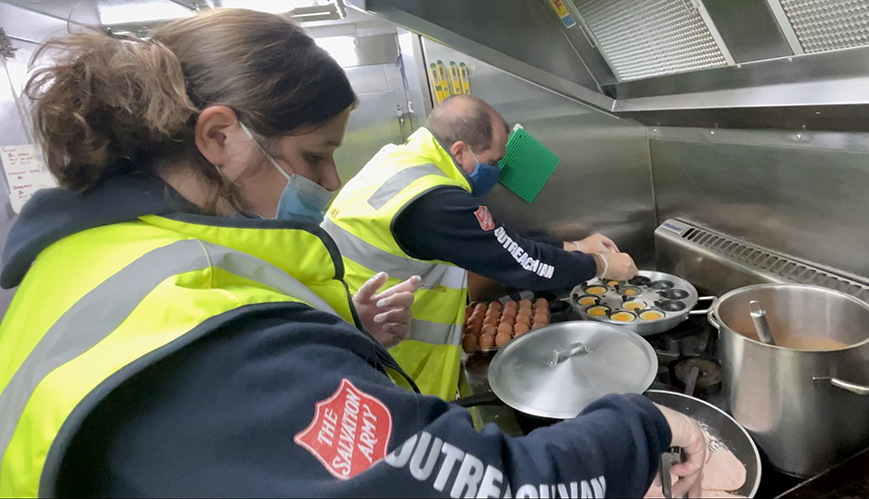 IN BRIEF: Snapshots from around the territory
6 August 2021
Salvos from across Western Victoria volunteered with The Salvation Army Emergency Services to serve firefighters at the Tesla battery fire in Moorabool Shire last weekend. Photo courtesy Peter Hobbs
By Others writers
---
SAES responds to Moorabool fire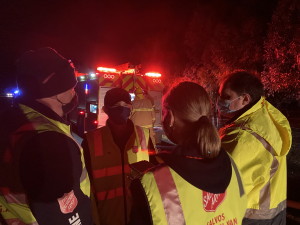 SAES volunteers from Bellarine Peninsula Salvos worked alongside Western Victoria and Wyndham City Corps personnel in Werribee to support emergency services at the Tesla battery site.
The Salvation Army Emergency Services (SAES) were first responders to the large battery fire in Moorabool Shire that started on Friday 30 July. Seventeen volunteers from Western Victoria served 250 emergency services personnel while they contained the lithium fire at the Tesla battery site on Atkins Road. All up, they served a mammoth 881 meals over two days, often delivering them to firefighters handling the 2km water hose and having a chat with them along the way.
Adam Clark, Strategic Emergency and Disaster Management Assistant Coordinator for the SAES said the fact that SAES volunteers were sourced from local corps made the service even more dynamic. "We saw the power of working with local corps and community, as we had teams working in shifts from Werribee, the Bellarine Peninsula and West Victoria," he said. "The trained corps volunteers already knew the CFA (Country Fire Authority) firefighters, and it strengthened what we were doing in the local community."
---
Serving up hope in Sunbury
The Salvation Army in Sunbury is supporting the Sunbury Neighbourhood Kitchen by delivering meals to locals during lockdown. (From left) Cadet Shaun Featherston, Captain Kim Featherston and Marianne Williams.
It is said that the kitchen is the heart of a home – but in Sunbury, it's the heart of a community. The Sunbury Neighbourhood Kitchen has become a hub in the town, north-west of Melbourne, after local caterers Marianne and Neil Williams started the enterprise in 2013 to use their excess food over a weekly meal.
The local Salvation Army were hands-on in their support, helping to prepare meals, fellowship and offering a shuttle service to and from the Monday night event. But with new COVID restrictions in place, they have found a way to pivot.
"Pre-COVID, we used to have community members come in and sit down for a meal, but at the moment, we're helping out by delivering meals in takeaway containers. Some don't have vehicles or the elderly who can't access the food otherwise, so we are helping," said Captain Kim Featherston, Corps Officer at Sunbury Salvos.
Last week, alongside the other community churches, they helped serve 77 hot meals to locals, and they are trying to get the word out so everyone can have a feed. "Once it goes back to seated service, we will still participate," said Kim. "There will still be some locals who can't make it, so we will offer a shuttle service and chat and connect over dinner."
---
Commissioners 'energised' by corps visits
Major Narelle Jacobsen and Territorial Leaders Commissioners Robert and Janine Donaldson at St Kilda Chapel Corps.
"It was energising to be in conversation with passionate and committed leaders and volunteers," Commissioner Robert Donaldson said after he and Commissioner Janine spent several days visiting corps and programs around Victoria recently.
Their tour included Cranbourne Corps (Doorways), Leongatha Corps (homelessness, Doorways, youth, domestic violence and men's programs), Wonthaggi Corps (thrift shop), Carrum Downs Corps (thrift shop and Doorways); Mornington Corps and Frankston North (youth program).
The Commissioners also spent time at Brunswick Salvos and Recovery Church Mooney Valley, Richmond Salvos and 'The Well' at St Kilda Chapel. "Thank you for responding with intelligence and heart to the needs of the people in your areas," Robert said. Read more here.
---
Officers to present 'Spirited' papers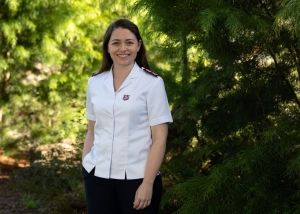 Major Emma Moore will present at the 'Spirited Women' conference this weekend.
Major Christine Faragher and Major Emma Moore are presenting papers at the 'Spirited Women' conference today (Friday 6 August). Spirited Women is the 11th annual conference of the Australasian Centre for Wesleyan Research, based at the Nazarene Theological College in Thornlands, south-east Brisbane.
Emma, Mission and Ministry Formation coordinator and lecturer at Eva Burrows College, will present 'The Stressed Ideal Woman: The Anxious Emotionology of Catherine Booth'. "I hope my presentation will give participants new insights into the history of Catherine Booth as an emotional being and how this shaped early Salvation Army approaches to gender issues," she said.
Christine, researcher of Gender Equity in The Salvation Army Australia Territory, will present 'The Domestication of the "Spirited Woman": Clothing Radicalism in Supposed Feminine Weakness'.
Dr Jennifer Hein, a soldier from North East Corps in Adelaide, will present her paper, 'Catherine Booth on Female Ministry: A question of Salvation', on Sunday 8 August.
The conference will take place online and in person from 6-8 August. Registrations are open to attend a day or for the weekend. For more details or to register, read more here.
---
Financial counselling scholarships


Scholarships are now available for Salvation Army officers, staff and volunteers to undertake the Diploma of Financial Counselling at Eva Burrows College Vocational Training.
Transurban, the Linkt toll roads operator in Brisbane, Sydney and Melbourne, has donated the cost of five Diploma of Financial Counselling scholarships. Supporting the financial counselling sector is crucial to hardship alleviation, building the financial resilience of communities and supporting people experiencing social and financial hardship. Applications close 16 August 2021. Learn more here
---
Miranda walks tall for appeal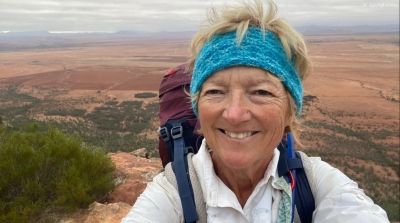 Miranda Trewren on the Yourambulla Range in the southern Flinders Ranges, just above the town of Hawker.
Every year, the Red Shield Appeal produces some great stories of creativity and achievement from people finding new and challenging ways to raise money.
Adelaide Congress Hall Salvationist Miranda Trewren provided one such story after walking the 1200km Heysen Trail in 37 days. It is considered one of the world's great treks and Australia's longest dedicated walking trail. It added up to about 280 hours of walking, 1,465,000 steps or an average of about 30km a day, according to Miranda, who raised $2200 for The Salvation Army.
The trail starts at Cape Jervis on Fleurieu Peninsula, winds through the Mount Lofty Ranges and then into the Flinders Ranges to finish at Parachilna Gorge, with creeks, gorges, waterfalls, beaches, barren land and small towns along the way.
After setting out on a cold, wet, windy morning on 10 May, Miranda said it was a great adventure. "I have learned lots, seen lots, lost a few kilos, been wet, been freezing, been almost blown down hillsides, been bathed in sunshine, fallen over several times, had injuries, been exhausted and distraught, cried, prayed, sung songs at the top of my voice, doubted I would finish, determined I would finish, been amazed by the views and had an amazing experience," she said. "Thank you to my family and supporters. Your words were so encouraging, your prayers needed and your faith in me a blessing."
---
Just Men Conference postponed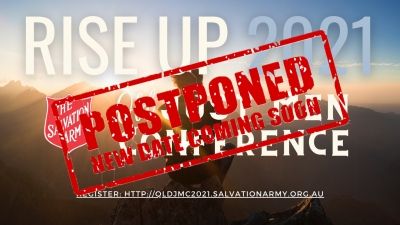 The extended COVID-19 lockdown in South East Queensland has resulted in the postponement of the Queensland Division's Rise Up Just Men Conferences in Brisbane and Central Queensland – planned for the weekend of 13-15 August.
Captain Leisa Humbley, divisional Adults Ministries Secretary, said the lockdown, particularly across Brisbane, had caused uncertainty around final registration numbers and any caps the State Government would put on the numbers who could gather for such events.
This year, the conference was to be run concurrently over three sites – in Brisbane, Bundaberg (Central Queensland) and on Magnetic Island (Far North Queensland) – with some live-streaming and recorded components shared.
At the time of publication, Leisa said the Magnetic Island component of the conference was set to go ahead. She also said the availability of the guest speaker – Sunshine Coast pastor and author Brian Andrew – would determine the date for the rescheduled Brisbane conference.
All registrations and fees are to be automatically rolled over to the rescheduled event.
---
Army team signs up for fun run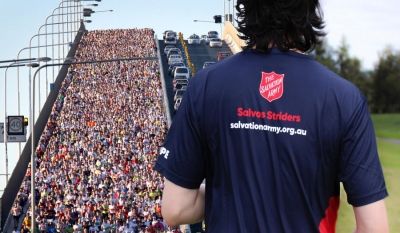 The Salvation Army will be a visible presence among the fun-runners at the Bridge to Brisbane event on 29 August.
The Salvation Army is entering a team in the 25th annual Bridge to Brisbane Fun Run on 29 August.
Shari Burse, Queensland Division Community Fundraising and Resource Coordinator, said 36 people so far had signed up to be part of the team, and another 160 people had registered to fundraise for the Army.
Whether signed up to run in the team or as an individual through the Army's fun-run fundraising page, Shari said supporters would receive a running shirt when they raised $50 or more. "So far, we've raised just over $4000," Shari said.
This year the fun-run course will revert to its original route over the Gateway Bridge. Since 2016, it has been held in the heart of Brisbane, with various starting points, and ending up at Southbank Parklands.
To register to fundraise as part of the event, click on the following link: https://bridgetobrisbane.gofundraise.com.au/cms/SalvationArmyAustralia