Salvos rally to support communities in lockdown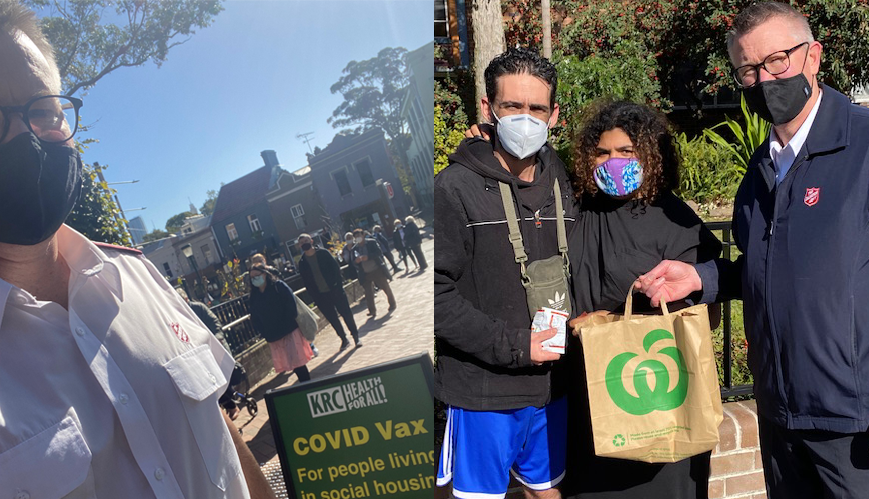 Salvos rally to support communities in lockdown
20 August 2021
As people across Australia cope with lockdowns due to COVID-19, Salvationists have stepped up to serve their communities safely. Pictured above, Major David Collinson supports locals lining up for their COVID-19 vaccine in Surry Hills, Sydney. The Salvation Army was invited there by NSW Health Department as people living in public housing accessed the essential service.
By Darryl Whitecross, Jessica Morris and Faye Michelson
---
NEW SOUTH WALES
---
Umina Beach team in tune with 'mainly' families
Robyn Foy and Captain Lesley Newton, Umina Beach Corps.
When the small Umina Beach Corps on the Central Coast started a 'mainly music' program in April, Captain Lesley Newton said the team was excited to have two families attend the first session.
"In the second week, we had 31 families come!" she enthused. "Before the COVID lockdown, we were averaging between 15-20 families each week. Relationships were developing between parents and volunteers, and we saw children making friends and growing and learning each week."
When the program had to go on hold because of the pandemic, 'mainly music' leader Robyn Foy and Lesley swung into action to keep the families connected. Each week Robyn puts together and delivers around 40 encouragement packs.
"These consist of a Salvos magazine and a KidZone, as well as a coffee sachet for each parent and something for each of the children," Lesley said. "We've given the children items such as pencils, colouring sheets, books, crayons, street chalk and stickers.
"Our families love these packs and look forward to receiving them each week. We may not be able to see them face-to-face, but there are so many different ways we can connect; this is just one way and what a difference it is making to our families."
Working with Woolworths in Sydney
As Sydney residents navigate lockdown, many are desperate for vaccinations. With people lining up for two hours to receive their jab, it's enough to leave anyone hungry and thirsty, so the Salvos headed to Surry Hills to lend a hand – proverbially and fully masked up, of course.
"We were invited by the NSW Health Department to support locals lining up for the COVID-19 vaccination in Surry Hills for individuals in high-density community housing," shares Major David Collinson, Public Relations Secretary for NSW. "We provided food and water as a joint initiative with Woolworths and wandered up and down the line to check on people. It made a difference wearing my Salvation Army uniform – there is such warmth and trust due to it."
On a hot August day, the provision of fruit and bikkies played a vital role in the wellbeing of those lined up, with David noting that the elderly and people with diabetes were in line. "The fact the NSW Health Department invited the Army to assist in caring for vulnerable people as they lined up was great, and we could provide nourishment thanks to Woolworths," he said.
---
VICTORIA
---
Corps communities caring and connecting
The team at Craigieburn Salvos started weekly Zoom Connect meetings earlier this year and have found it is a vital way to break social isolation for many people.
Entering a sixth lockdown has been challenging for communities across Victoria, especially in metropolitan areas where a curfew is in place. The team at Brimbank Salvos has focused on building relationships over the past 18 months, ​regularly dropping off care packages, holding ​a variety of virtual events like the recent teddy bears picnic for their kids' church, and celebrating Christmas in July!
"I'm just overwhelmed by our leaders who have managed to keep our programs going [remotely]," said Major Simon Damen. "When our Christmas in July event didn't happen due to lockdown, we made sure every elderly person received a Christmas meal. People want to get on board – it's been good therapy for ​people to receive a package and for those who cook, bake, sew etc. to help put these together."
Over at Craigieburn Salvos, Lieutenant Jacqueline Gluyas says people are experiencing fatigue and are feeling isolated during this lockdown. That's why they are restarting their weekly Zoom Connect meetings online.
"We keep it simple and open it up for people to share a win that they've had and a struggle that needs prayer," she said. "We try to have fun and keep some laughter in there, especially for people who are on their own or don't have work right now."
---
AUSTRALIAN CAPITAL TERRITORY
---
Canberra City Salvos look outside the box
When the ACT went into a snap lockdown last week, everyone had to pivot. The isolation has been especially challenging for the recovery community at Canberra City Salvos, and Lieutenant Mitchell Stevens and his team are working hard to keep everyone connected. They also keep a box of free essentials stocked at the front of the corps.
"Last year, we started our community box – it's got books, toiletries and non-perishable goods in there. It gets used quite a bit," said Mitchell. "Before restrictions, we held community days on Monday and Friday with all our different services. Now we help people by passing out hampers along with financial assistance."
---
TASMANIA
---
Serving up vaccines in Launceston
Breakfast, a vaccine and live entertainment were all served up at Launceston Salvos last month, thanks to the support of Way-Fm and Moreton Group.
An egg and bacon breakfast is a normal event at Launceston Salvos on a Wednesday morning, but in July, something extra was on the table – COVID-19 vaccines, courtesy of The Moreton Group Medical Services.
The organisation asked Auxiliary-Lieutenant Roderick Brown and Ministry Assistant Kelly Brown to set up a temporary vaccine hub at the church as part of their initiative to ensure vulnerable people across Tasmania could receive a COVID-19 vaccine. It turned into quite the event, given local radio station Way-FM jumped on board to support the collaboration and ABC News also covered the breakfast.

"Both corps and Doorways staff and volunteers assisted people in filling out paperwork required for the vaccination. So, it was a good collaboration across our corps, social mission and community engagement expressions, along with other community organisations – Moreton Group and Way-FM – to make it happen," says Roderick. After three weeks, the Moreton Group returned so people could access their second dose of the Pfizer vaccine. "There were around 20 people who were able to receive their vaccinations through this; many who frequently attend the regular breakfasts," said Roderick.
---
NORTHERN TERRITORY
---
Sandwiches the order of the day in Katherine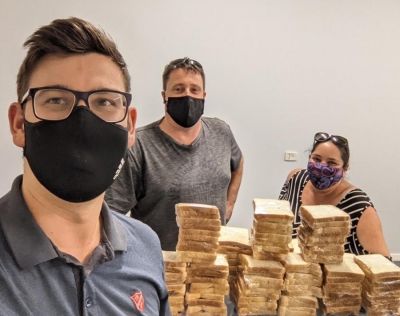 Katherine Corps Officer Auxiliary-Lieutenant Samuel Higginbottom (left) and Doorways hub staff, Wade von Tunzelman and Amelia Harvey, made sandwiches to give to "long-grassers" during the COVID-19 lockdown in Katherine.
Staff at the Doorways Hub in Katherine made "about a billion sandwiches" to distribute to the many "long-grassers" during this week's COVID-19 lockdown in the Top End town.
Captain Erica Jones, emergency services coordinator for Darwin, said the team had also distributed soup, masks and health notices to people experiencing homelessness. She said it was important to deliver the government's health bulletins to "our most vulnerable cohort" as most did not have access to the technology that broadcasts the information, and many did not speak English.
"There is a significant amount of the Indigenous population who attend our services, so we've got a relationship and are able to communicate the health orders as sent by the Health Minister," Erica said.
She said that even when lockdown was lifted, the hub team needed to continue to provide the important health and social distancing information: "While we tell them to stop where they are [and not move around the community during the lockdown] we also need to go around and make sure they know they can [move around again]".
Darwin's three-day lockdown ended at midday on Thursday but, in Katherine, it was extended for 24 hours as most of the casual contact numbers were in the town.
Erica said that, in Darwin, about 200-300 people experiencing homelessness were among the many considered casual contacts who needed to be provided food and other necessities during the lockdown. Several organisations worked together, too, to ensure those people restricted their movements. She said that, as with the previous lockdown, the rough sleepers tended to scatter by heading back into the bush or homes, so it was important to contact them to convey the government directions.