Ida blows in on anniversary of area's worst storm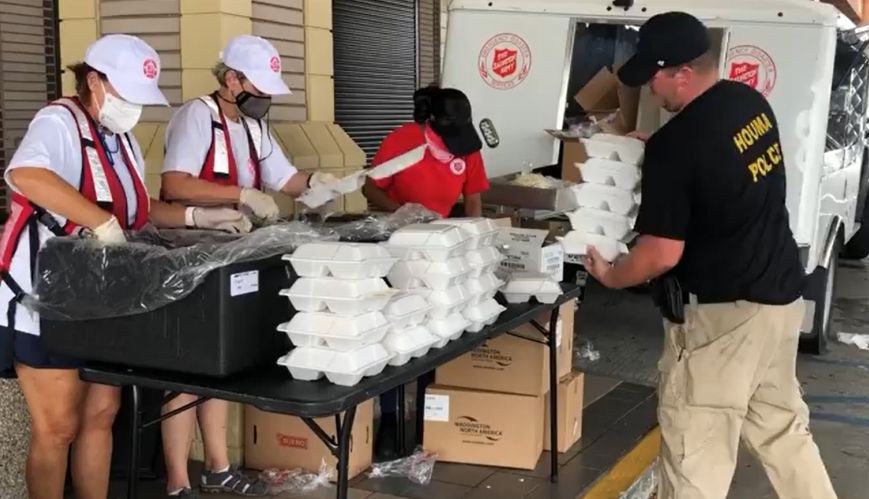 Ida blows in on anniversary of area's worst storm
3 September 2021
Disaster volunteers from The Salvation Army of Hood County, south-west of Dallas, Texas, served meals in Houma, south-west of New Orleans as part of the Army's relief operation in Louisiana's Greater New Orleans area in the aftermath of Hurricane Ida, which caused significant damage and power outages to the southern American state at the weekend.
By Darryl Whitecross
On the 16th anniversary of Hurricane Katrina, one of the worst storms to hit the United States, another fierce hurricane made landfall in the state of Louisiana at the weekend.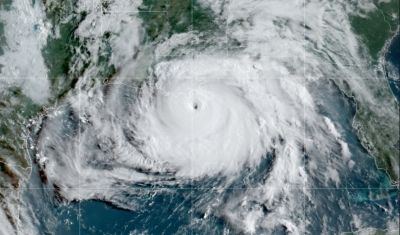 Hurricane Ida crossing the Louisiana coast at the weekend.
Ida, a Category 4 storm and the first major hurricane of the season, intensified over the Gulf of Mexico and made landfall south of New Orleans with 240km/h winds causing widespread damage and power outages.
The worst affected areas still are without power and homes in Louisiana and Mississippi are flooded.
Jeff Jellets, the Emergency Disaster Services (EDS) director for The Salvation Army Southern Territory, said Louisiana and some neighbouring states still recovering from several direct hits from major hurricanes in recent years, had found themselves in the path of yet another major natural disaster.
"We are no stranger to hurricanes like Ida," Jeff said. "Preparations for this storm [came] in the middle of ongoing, long-term relief efforts for the people of Louisiana, Mississippi, Alabama and Florida after recent storms. The immediate impacts could be devastating, but the long-term effects could be tragic," he said.
Jeff said the Army's network of trained disaster relief staff and volunteers from neighbouring states were on the ground across the Gulf Coast assessing the damage and responding where they could.
The teams were providing food, water, ice, cleaning supplies, hygiene kits, tarpaulins and shelter along with emotional and spiritual care as required.
Without power, people are also suffering with the warm weather without air-conditioning and refrigeration.
Additional mobile canteens, supplies and volunteers continue to arrive. Already more than 135 EDS crews are working in affected areas.
Other figures show that, inside the first five days, the EDS teams had distributed more than 30,000 meals from 40 mobile units, more than 22,000 drinks and more than 12,000 snacks.
Alvin Migues, Emergency Disaster Services Director for The Salvation Army in Texas, said it was anticipated a "ramping up" of meal distribution to where teams collectively distribute 20,000 meals a day.
Jeff said each mobile feeding unit could serve 500 to 1500 meals per day.
Hurricane Katrina, which whipped through New Orleans and surrounding areas of Louisiana's Gulf Coast on 29 August 2005, is considered one of the most deadly to have struck the US. More than 1200 people were killed, and $A170 million in damage was caused during the Category 5 storm.


Louisiana Governor John Bel Edwards said the coming weeks would be "extremely difficult for our state" with many people "tested in ways that we can only imagine today".
Jeff said Army disaster personnel collaborated with federal, state and local emergency management agencies and other partners to respond to and "monitor potential impacts" and "evolve response efforts as needed".
"Our staff and dedicated volunteers are focused and prepared to deliver meals, water and a word of encouragement and a prayer to those we encounter," Alvin said.