IN BRIEF: Snapshots from around the territory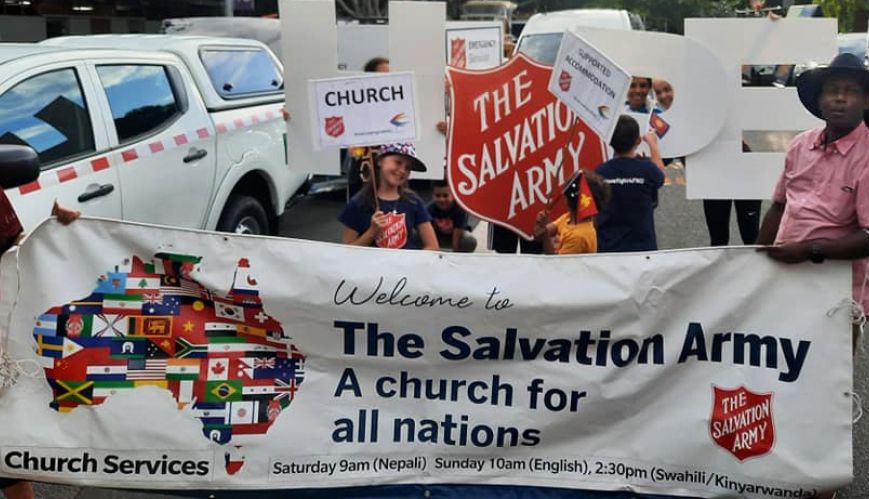 IN BRIEF: Snapshots from around the territory
10 September 2021
Corpsfolk of all ages took part in the annual Cairns Festival Grand Parade, many carrying signs indicating the many varied programs and initiatives run by the Cairns Corps.
Compiled by Darryl Whitecross
Cairns Corps on parade
Floating along (from left): Cairns Corps Officer Major Ben Johnson, the corps' Papua New Guinea community patriarch Major Ragana Gumuna, and Indigenous elder Uncle Peter Hyde.
The culturally diverse congregations of Cairns Corps are usually visible in the Far North Queensland community, but there was no mistaking them when they took part in this year's annual Cairns Festival Grand Parade on Saturday 28 August.
Corps Officer Major Ben Johnson said the faith community put on a colourful and tuneful display as the corps' three-vehicle 'float' crawled along the newly upgraded Cairns Esplanade on the opening night of the 10-day festival. 
The corps float included a bus carrying elderly congregation members, ahead of Ben's ute containing a PA system and keyboard, which towed a trailer carrying himself, Indigenous elder Uncle Peter Hyde and Papua New Guinea corps community patriarch Major Ragana Gumuna, and the Emergency Services vehicle and trailer.
Many others on foot sang, clapped and danced along the 1km route. Accompanying the corps float were several members of the Swahili and Nepalese congregations who were wearing traditional dress. Ben said about 20 people from the corps carried banners indicating the Army's social services in the city, and the HOPE lettering was also on display. The parade ended with a fireworks display.
---
ARPA awards for the team


The Salvation Army Publications Department won three awards at the annual Australasian Religious Press Association awards ceremony, held online last week.
Jessica Morris won a bronze award in the Best Review category for her review of the movie The Girl on the Bridge on Others.org.au. Simone Worthing's profile on Sue Hodges, 'Healed and saved for a purpose' on Others.org.au won a silver award in the Best Profile Piece section, and the Kidzone website took out the gold in the Best Website category.
Read the winning stories: 'The Girl on the Bridge', 'Healed and saved for a purpose' and visit the Kidzone website.
---
Beanies in demand all year round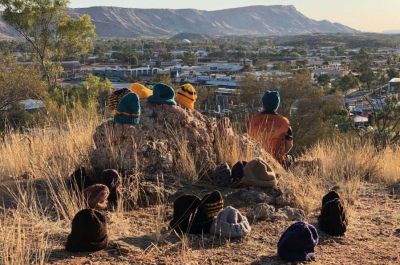 Some of the beanies that Adelaide Congress Hall sent to Alice Springs Corps. Picture: Madison Clutterbuck.
Think beanies. Think winter? Not necessarily. In Alice Springs, beanies are not only a winter warmer but a popular fashion accessory all year round.
Alice Springs Corps Officer Major Rhonda Clutterbuck said many of the women who used The Waterhole community centre liked to wear beanies throughout the year – especially the older women. "[Often] we get some beanies in winter and then get nothing for the rest of the year. They're not just a winter thing for us. It's an all-year-round requirement," she said, adding that temperatures can be quite variable in the Red Centre.
Rhonda said several faithful knitters had been producing beanies for several years, with the most recent shipment coming from Adelaide. Captain Sarah Healey, Adelaide Congress Hall Corps Officer, said the latest batch was made by Faye Phillips, who had put her "bits and pieces of scrap wool from home" to good use.
Making It Happen, a Salvation Army women's ministries project, has raised funds for The Waterhole over the past two years. While a community support facility with food and practical assistance, The Waterhole is mainly used by women.
Beanies can be sent to The Salvation Army, PO Box 2187, Alice Springs, Northern Territory 0871.
---
New dates for Queensland men's conference


COVID-19 lockdowns in Queensland, particularly in the south-east of the state, resulted in the postponement of The Salvation Army Queensland Division's Rise Up Just Men Conferences in Brisbane and Central and Far North Queensland planned for August. They were to have been simultaneous events over the same weekend, sharing some live-streamed segments from the guest speaker, Sunshine Coast pastor Brian Andrew, who will still be available for the new dates.
The Far North Queensland event is being held on Magnetic Island over the weekend of 22-24 October. The other two events will be held over the weekend of 12-14 November – Brisbane will be a one-day event hosted by North Brisbane Corps on 13 November, and the Central Queensland event will be a weekend camp in Bundaberg. Register here: http://qldjmc2021.salvationarmy.org.au/
---
Jisook adds her rural reflections to book
Central Highlands Corps Officer Captain Jisook Wunderlich and St John's Lutheran Church Emerald pastor Stephen Jaensch, and the book, Rural Reflections: Living Out Front with The Outback God, to which she contributed.
Captain Jisook Wunderlich spent her early childhood growing up in rural South Korea and now serves with her husband Marcus in the remote Central Queensland town of Emerald as the Central Highlands Corps Officers. So, these experiences make her well qualified to reflect on living with "an outback God".
These reflections have been published in a book of 118 devotions, titled Rural Reflections: Living Out Front with The Outback God.
Jisook was one of the eight ministers and 22 laypeople from Emerald, Longreach and Barcaldine who contributed to Rural Reflections, launched on 31 July.
The book was an idea by Stephen Jaensch, who has been the pastor of St John's Lutheran Church at Emerald for 10 years. The book was launched at an outdoor event in the grounds of the Lutheran church at Emerald and attended by Shire Council Mayor, Councillor Kerry Hayes, and the chairman of Emerald Churches Together, Chris Stolz.
---
Official opening of Scullin House
Deputy Chief Minister Yvette Barry and Oasis ACT manager Andrew Rich open Scullin House.
Deputy Chief Minister Yvette Berry and Salvation Army Oasis ACT Manager Andrew Rich recently 'cut the ribbon' to officially open Scullin House in Belconnen (ACT).
Scullin House is the third property from a partnership between Oasis ACT and Belconnen Corps, providing opportunities for young people to access independent housing options.
The service promotes support for young people moving to independence and provides a safety net that enables young people to build essential skills and confidence in a safe and supported environment.
---