IN BRIEF: Snapshots from around the territory
IN BRIEF: Snapshots from around the territory
24 September 2021
Ben (left) and Laura were part of the team that put together packs for clients and carers at Burrangiri Aged Care Respite Centre in Canberra.
By Others writers
'Boredom buster' packs support clients and carers


Staff at The Salvation Army Burrangiri Aged Care Respite Centre in the ACT delivered 'boredom buster' packs to their Day Centre clients and carers who were in lockdown during recent COVID-19 outbreaks.
Packs included an activities booklet with word searches, crosswords, quizzes, edible goodies, and sensory objects for those with dementia.
A favourite item was a personalised photo album for each client. This involved a printout of photos of the client and the activities they have been involved with at the Day Centre.
"Putting together and delivering the 'boredom buster' packs was a very special privilege as I knew how important it was for our clients and families to know that they are not forgotten and that we are still there for them in these trying times," said Laura Novak, Day Centre Coordinator.
---
Click for help in Tasmania
FindHelpTAS is a comprehensive database listing various services, including those associated with COVID-19, emergency services, family and domestic violence, and alcohol and addiction.
Help is just a click away in Tasmania after The Salvation Army and partner organisations created a free, centralised, online community service directory called FindHelpTAS. The directory is a comprehensive database listing contact details for a variety of services. These include those associated with COVID-19, emergency services, family and domestic violence, and misuse of alcohol and other drugs.
Pioneered by the Tasmanian Council of Social Service Inc, the Salvos partnered with Anglicare Tasmania, Hobart City Mission, Mission Australia, and Baptcare to create the self-funded database. Users simply select one of 18 categories, such as Aboriginal Services, Housing or Mental Health, and find a service provider in their vicinity. People can visit the database at FindHelpTAS.org.au. Printed directories are also available.
---
Bridgehaven's big build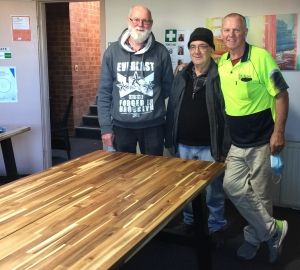 John Goldby, Kevin Keast and Major Steven Black built two tables and 35 chairs for the staff and clients at Bridgehaven Rehabilitation Centre in Preston.
Fellowship happens best around a table, just ask Major Liz Walmsley, Chaplain at The Salvation Army Bridgehaven Rehabilitation Centre in Preston. The Centre recently partnered with Preston Corps to build much-needed furniture for staff, women and children on-site.
Preston Corps members – John Goldby, Kevin Keast and Major Steven Black – otherwise known as 'The Three Amigos', spent a day building two huge tables and 35 chairs from flat-packs. The big build is the latest step in Bridgehaven's ongoing ministry with Preston Corps, which has seen women attend the Sunday worship services and JAM Sunday School.
In thanks, Liz penned a poem about 'The Three Amigos', that said, "Our women saw gentlemen, and gracious giving that day. So this little story is only the start, of how corps and social programs, can show Christ's love from the heart."
---
Meals and hope on Sydney streets


Corps Officers Majors Elwyn and Raewyn Grigg say many ministries at Sydney Congress Hall have adapted to the challenges of lockdown, including the community outreach and hope dinner.
Outreach coordinator Danny says, "On (a recent) Tuesday evening, I went out with four of our team to give meals to homeless people sleeping rough. As well as the meal, we were able to provide sleeping bags and warm jackets to people in desperate need of these items.
"Many times we heard 'thank God for the Salvos' or 'thanks for coming as others have stopped because of COVID'. We are excited that many of our street people are having meaningful conversations and engaging with us. Sometimes we are the only people they have spoken with all day."
---
Renovated space to offer care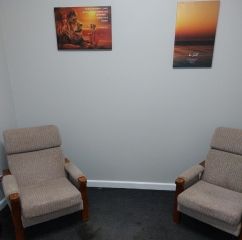 A fresh coat of paint, inspirational prints and comfy chairs have transformed a disused room into a missional space at Tamworth Family Store.
It's amazing what a bit of cleaning, painting and creative thought can achieve. At the Tamworth Corps Family Store, all this work has resulted in a missional space.
"There was a room that was not being used to our advantage, but it had two entrances, so it seemed perfect to be used as a potential missional space," Tamworth Corps leader Major David McMurray said. "So, after many hours of cleaning, some well-applied paint, scrounging some chairs from the store and having some suitable canvases printed, we opened the Tamworth Family Store missional space.
"It provides our financial counsellors, Doorways workers, and Intensive Transition Service workers with another space in which they can see clients. Given the corps is a fair distance from the CBD, the family store location is very convenient, particularly for clients who do not drive."
He said the room was also a safe, private space for staff to use if someone at the store is distressed or seeking assistance. "It provides the opportunity for the corps to be a visible presence in the family store and another opportunity to show our customers the love of Jesus," David said.
---
Order Christmas publications now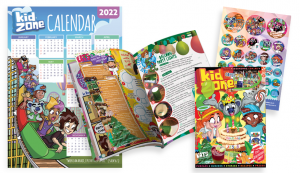 Are you starting to plan for Christmas? The Salvation Army has a range of Christmas publications available. Orders are now open for:
• 2022 TSA Calendars, with original photography by Major Pam Marshall
• Special Christmas edition of Kidzone magazine
• Kidzone sticker sheets
• Kidzone calendars
• A 24-page Christmas edition of Salvos Magazine.
Orders can be made by using the online form here. Orders will close Friday 15 October 2021.
---