Housing opportunity for Geelong's at-risk men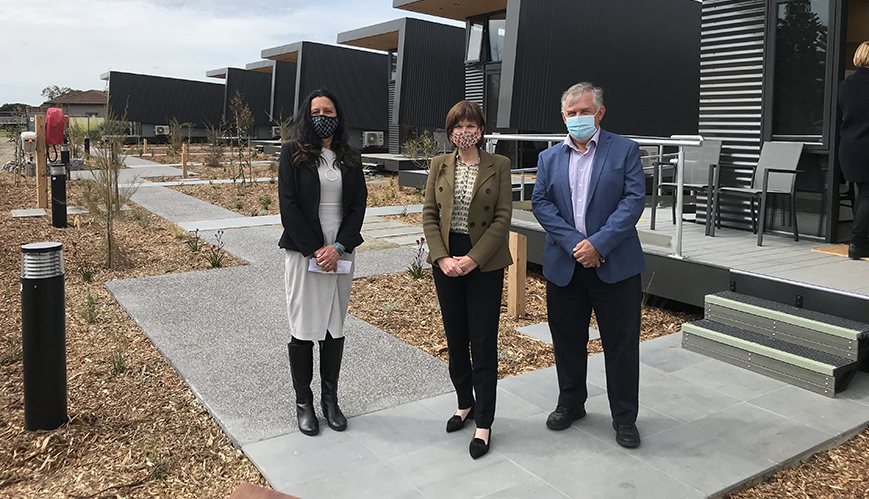 Housing opportunity for Geelong's at-risk men
4 October 2021
(L-R) Member for Geelong Christine Couzens, The Hon. Mary-Anne Thomas, Minister for Regional Development Victoria and Minister for Agriculture, and Brian Sherwell, a Samaritan House Board Member, celebrate the opening of the custom built units last week.

By Jessica Morris
Men sleeping rough on Geelong's streets can rest soundly tonight, thanks to seven custom built modular units, developed by Samaritan House Geelong in partnership with The Salvation Army.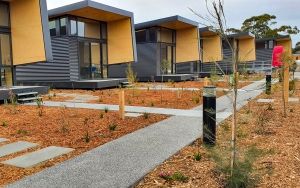 The Salvation Army Barwon will provide case management to the new residents of seven independent living units built by Deakin University for Samaritan House.
Samaritan House Geelong, a charity organisation providing crisis accommodation in the Barwon region, celebrated the opening of seven modular units on Wednesday with MP Mary-Anne Thomas, Minister for Regional Development and Minister for Agriculture. She thanked The Salvation Army for its support providing case management to clients at Samaritan House, and recognised the community effort of all involved.
"We are so proud to be in partnership with Samaritan House as they launch these units made to the highest standards by Deakin University," said Peter McGrath, Salvation Army Homelessness Manager Victoria West. "Samaritan House do a fantastic job supporting single men who find it difficult to access emergency accommodation."
The single units were custom designed by students at the Deakin University School of Architecture and Built Environment. They were developed as part of the Prefab21 Project, a social housing initiative between Deakin University, Samaritan House and Geelong-based manufacturer FormFlow. A $500,000 grant was provided by the State Government for the development of the 'microvillage' in March 2020. In addition, the City of Greater Geelong also made a grant of $450,000 towards the project. 
The Salvation Army Barwon, under the management of Kerrie Crtalic, Manager Barwon Homelessness Services, has provided support and case management to residents at Samaritan House Geelong since 2017, joining the not-for-profit's mission to restore dignity, self-respect and confidence to men. Under a new agreement, The Salvation Army Housing Victoria will also oversee tenancy, pioneering a living skills program for residents.
"Originally, Samaritan House provided short-term accommodation for high-risk men to stay overnight. It has evolved now, so these men can develop a sense of home, responsibility and develop job skills," said Peter.
The modular units share the same land as the organisation's revamped farmhouse, which houses up to four men. An additional specially-designed nine-bedroom house was also built on site.
Peter says the units give The Salvation Army flexibility to alter its service model by potentially housing a caretaker. This would be invaluable to clients, as the service does not cater to a 24/7 staffing model and is independently funded.
Samaritan House has provided emergency accommodation to men since 2012, when a group of concerned Geelong citizens volunteered to address the region's homelessness crisis. Lisa Dalla-Zuanna, former Regional Manager of The Salvation Army Barwon, was a member of the committee, helping to establish the charity and purchase land. In the years since, the Geelong community has thrown its support behind the essential service.
"After undertaking the Accommodation Living Skills program which has been developed as part of our partnership with The Salvation Army, these units will provide an opportunity for residents to stay for up to a further six months, learning to look after their own place and preparing for a move to more permanent accommodation in public or private housing," said Keith Fagg OAM, Chairman of Samaritan House.
"What you see is the result of a remarkable collaboration, a powerful example of what Geelong can do at it's finest in seeking to support some of the most vulnerable and disadvantaged people in our community."