Territory soldiering on despite a 'bumpy ride'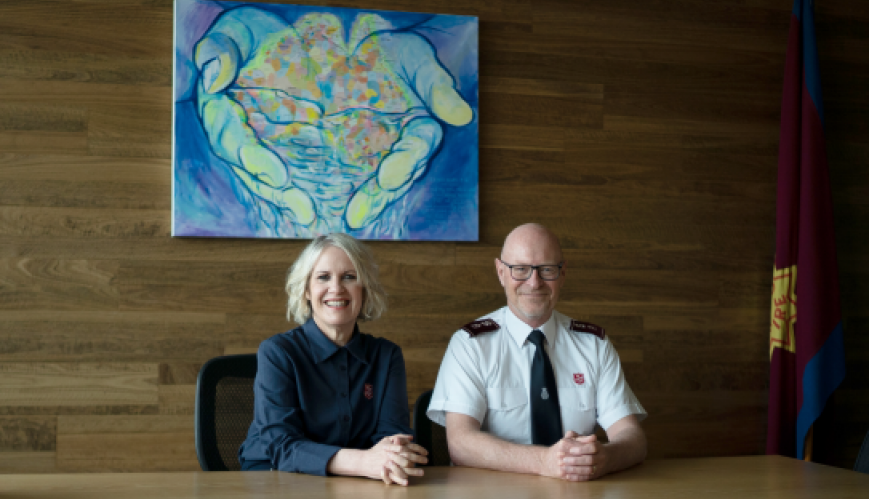 Territory soldiering on despite a 'bumpy ride'
18 October 2021
Commissioners Janine and Robert Donaldson.
The State of the Territory was held on on Sunday 17 October, giving Salvationists around the nation the opportunity to hear Commisoners Janine and Robert Donaldson and Colonel Winsome Merrett share some of the Army's mission highlights, events and challenges over recent months.
Leaders spoke from different locations due to COVID-19 restrictions in Melbourne.
MC Lieutenant Steph Glover, who serves as a community services specialist in the Community Engagement Department, started the event by reading an Acknowledgment of Country. Divisional Aboriginal and Torres Strait Islander Engagement Coordinator, Joshua Hart, was unable to do this as he was unable to join the event due to technical difficulties.
After the Acknowledgement of Country, the 'We are Salvos' video was shown and Commissioner Robert Donaldson opened in prayer.
Commissioner Janine Donaldson spoke first, sharing highlights of what has been happening across the territory in recent months, starting with the 22 days of prayer initiative 'God is seen when we are one'.
"Thank you to all of you who participated; it really was a significant and life-changing three weeks," she said. "It was such a blessing, encouragement and inspiration to participate in the initiative and come together from around this territory online each night to pray. It was a privilege to be able to pray for colleagues, staff and volunteers delivering mission. We value the key themes that came through these focused days of prayer, and we are committed to expanding on these as we continue to pray and develop our spiritual hearts."
Janine went on to talk about the Governance Board's visit to Rockdale Corps (NSW/ACT) earlier this year.
"Located in the heart of Rockdale, this corps is practically and pastorally supporting the most vulnerable in the community," she said. "It comprises a worship centre, community connect space, Salvos Stores and conference centre. As the board toured around this space, we became aware of so much more. It takes collaboration to provide services through Doorways, Moneycare, bathroom and laundry facilities, lunch and morning teas, a low-cost food market, creative crafts, and ministry to men. However, the heart of this centre is its many people and their desire to offer local mission delivery in a holistic and collaborative way."
She noted how LMD (Local Mission Delivery) is working to harness the skills, resources, and experiences of all in and around the community to make an eternal difference by providing opportunities for meaningful, relational, and supportive connections.
"This is done by partnering together in mission and ministry," Janine said. "Faith pathways are provided through kids' church, Bible studies, worship, Salvos Stores, teen and young adults ministry, home groups, Christianity explained [a short course designed for people with little or no Bible background], Theology Thursday and prayer gatherings. That's the heartbeat, that's the vision, that's the prayer to transform Australia one life at a time with the love of Jesus."
Transformational journey
Colonel Winsome Merrett spoke on Australia Territory's transformation journey, noting that 2021 has continued to challenge us individually and as a movement.
Colonel Winsome Merrett.
"On 1 December 2018, we officially became one national territory, and we knew the ongoing transformation would be demanding, and that it would take a number of years to embed," Winsome said.
"The depth of change required across our systems and processes and people has been staggering and the journey to operating as one territory has therefore often been uncomfortable and even exhausting for many.
"I attended an online gathering last month with Area Offers and other senior leaders, where the hashtag #thatwentwell, was used by Mission Portfolio to remind us of what we continue to achieve and can celebrate in what has often been a bumpy ride."
She shared some of these achievements – an aligned vision, stronger partnerships, increased innovation, and better stewardship – as an encouragement and inspiration of what TSA people have achieved collectively as we operate as one national territory.
Resources
Commissioner Robert Donaldson spoke on four topics – the Connecting People Questionnaire, The Salvation Army post-COVID, the book Called to be a Solder and the Inclusion Statement, and the Reconciliation Plan.
He outlined statistics from the questionnaire. (Read the Others article on the questionnaire results here.)
"We have two strategic measures that relate to these statistics," Robert said. "One is to have 10 per cent of corps people to build relationship with people coming to Social Mission and Community Engagement services. Thanks for your commitment to this. The other is to see one per cent of people coming to Social Mission and Community Engagement Services being on a faith journey within The Salvation Army. That is nearly 2500 new people on faith journeys per year. Relationship and intentionality in this area are key to seeing people come to faith."
He said while COVID-19 has been challenging in many ways, it has also shown that many in our communities are open to faith conversations, prayer, discipleship, and worship.
"Thank you to the corps who are responding with multiple mid-week or Sunday groups. We need to have a range of approaches and opportunities for others who are exploring relationship with God today," he said.
Robert also drew attention to four resources: Called to be a Soldier, the new O&R for soldiers; a pastoral letter from the General to all Salvationists; The Salvation Army Australia Inclusion Statement. and Let's talk, an International Headquarters resource encouraging conversations about human sexuality.
He summarised with three key messages:
Every expression of The Salvation Army must be a safe place. The Word of God calls us to be welcoming, hospitable, safe, respectful, kind, gracious, listening and loving. We must value and include all people.
The Salvation Army's definition of marriage is one man and one woman. As a movement, The Salvation Army encourages and supports respectful theological and pastoral conversations on a wide range of topics under the heading of human sexuality. "There are strong opinions and a wide range of Biblical interpretations on these topics, but can I appeal to you all, to be kind, gracious and respectful of each other as we wrestle with these topics and to value and include all people," he said.
The Reconciliation Action Plan has made positive progress, Robert said. "In just one year we have progress or completion on 74 of 89 deliverables, including the Cultural Competency and Capability Framework, which is about building our competency, capability and confidence so that we can contribute to reconciliation and better outcomes for Aboriginal and Torres Strait Islander peoples," he said.
"Janine and I found the cultural training experience to be most interesting, though at times confronting. Our special thanks to Lyn Edge, Lucy Davis and Shirli Congoo for your leadership, and thanks to all for your participation and commitment to reconciliation and improved outcomes."
A short question and answer time was held. Winsome closed in prayer after a Q&A session and the event closed with a video presentation about Rouse Hill Corps.