You are here:
Home › News › 2021 › 10 › 26 › Nt Pilgrimage Aims To Develop Leaders And Unify Division
NT pilgrimage aims to develop leaders and unify division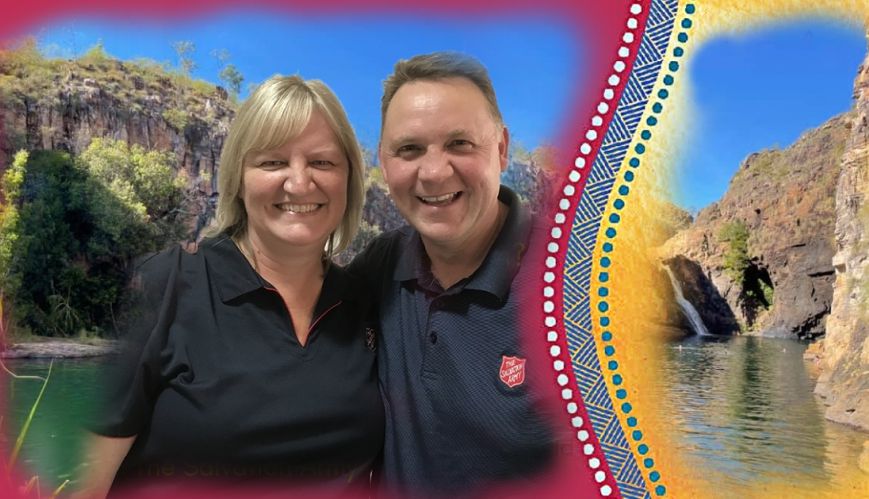 NT pilgrimage aims to develop leaders and unify division
26 October 2021
Majors Anne and Lance Jeffrey will oversee a pilgrimage for 12 people to the Northern Territory that is hoped to boost cross-border relations and encourage leadership and ministry within The Salvation Army's South Australia/Northern Territory Division. Photograph: NT Area Officer, Captain Erica Jones. Maguk Falls, Kakadu National Park. Artwork: Darryl Whitecross
By Darryl Whitecross
The South Australia/Northern Territory Division is planning a Cultural Mission and Immersion Experience pilgrimage to the Northern Territory next year.
Divisional Commander Major Lance Jeffrey said the division was looking for 12 delegates aged 18 years or older to participate in the ministry, which would involve a two-week trip to Alice Springs, Katherine and Darwin between 19 April and 1 May.
"The experience is to raise [cultural] awareness and provide real-life experience of ministry and life in remote Australia," Lance said. "It will be a valuable experience."
Lance said the pilgrimage would help develop participants' leadership skills and opportunities and continue the work of unification across the SA/NT geographical border.
The division was "unique" in that it spanned South Australia and Northern Territory, which were separate divisions before The Salvation Army in Australia became one territory. He added that there was "still work to be done" in building relationships between the two regions.
Delegates on the pilgrimage, who were to be accompanied by four carefully chosen mentors, would connect with Army personnel and First Nations elders in each of the areas to be visited.
"[The delegates] will learn how to connect with people from different cultures, discover the relationship between Aboriginal spirituality and Christianity, visit areas that have cultural significance to the locals, camp overnight in the Australian landscape, and participate in prayer walks, educational teaching and outreach," Lance said.
Major Anne Jeffrey, Divisional Officer Personal Secretary, said the pilgrimage was an initiative she and Lance had planned since they took office as divisional leaders two years ago. The initiative gained momentum after the release of the Army's Reconciliation Action Plan this year, and it is hoped that it will become a permanent part of the divisional strategy.
Anne said it was hoped that the participants would be challenged to consider taking up a ministry or mission position within the Army somewhere in the Northern Territory.
Lance said it was hoped long-term relationships and mission and ministry opportunities would be formed with stronger cross-border relationships and interaction.
Successful applicants would be required to attend four online training sessions between February and March next year and attend some face-to-face sessions.
Lance said all prospective delegates would need to be nominated by their corps officer or line manager, after which the coordinating team would send an application form. Applications close on 30 November. He said a panel would consider the applications, and the 12 successful delegates would be notified by 15 December.
"We pray that, through this opportunity, people would be inspired, and God would ignite a passion within them for further ministry within The Salvation Army and for the glory of God," Lance said.