Arndale junior soldiers in Sri Lanka's good books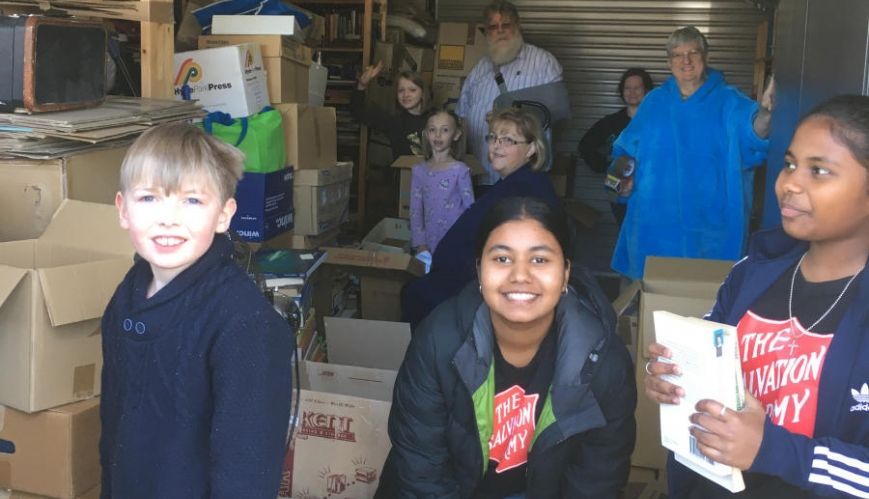 Arndale junior soldiers in Sri Lanka's good books
28 October 2021
Eli Lowry, 9, Samantha Rajan, 17, and Ria Rajan, 13, help pack books into boxes for Adelaide's Arndale Corps to send to The Salvation Army Officer Training College in Sri Lanka. Helping out behind them are (from left) Kayleigh Myts, 11, Emaline Lowry, 7, Arndale Corps Officers Majors Grattan and Glenda Savage, Catherine Anderson and Major Mairi Mitchell.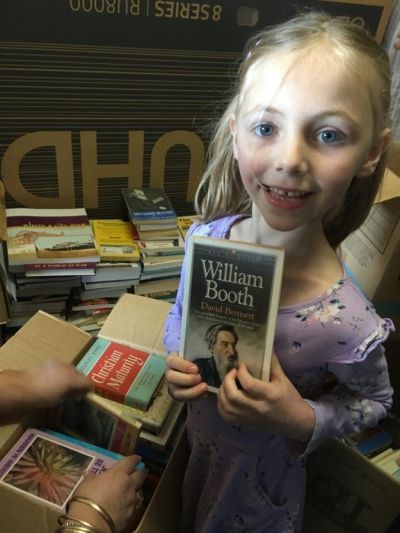 Where it all began: Emaline Lowry, 7, packs David Bennett's 1994 book on The Salvation Army co-founder, General William Booth.
It was the 60 minutes that booked Adelaide's Arndale Corps a page in Sri Lankan history.
Corps Officers Majors Glenda and Grattan Savage were on an overseas holiday when they found themselves part of an impromptu tour of the Officer Training College in the Sri Lankan capital, Colombo.
Glenda said they walked into a large room filled with bookcases – "with only 19 books all up on the shelves!"
"We were there barely an hour ... but God laid it on our hearts that we had to do something about this," Glenda said.
She said it was also significant that she and her husband met a group of training college cadets in Colombo – from Bangladesh, India, Pakistan and Sri Lanka – who were touring Army sites. She admits her heart went out to them, knowing the lack of resources to assist them in their studies.
On returning to Australia, the Savages began a drive to collect as many religious education resource books as they could to send to the training college in Colombo.
The first shipment of 33 boxes, weighing 30kg each, included church history, theological and leadership books, and Bible commentaries. Another shipment of six boxes is being put together.
Glenda said the corps' junior soldiers decided to make the book collection their missionary project for 2020, not only helping to pack the boxes but placing handwritten letters and other inspirational inserts inside the boxes for the cadets.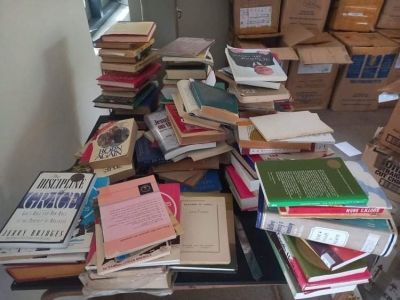 Some of the hundreds of books collected by Arndale Corps to be sent to the Officer Training College in Sri Lanka.
"They [the junior soldiers] then got involved with fundraising, selling Christmas cards and chocolates to raise money for the postage to the get the books over there. The whole corps ended up being involved," Glenda said, adding that corps members bought the cards and chocolates and donated money to help with the shipping costs.
Books not only came from around South Australia but other states.
Lieutenant-Colonel Stephen Malins, Chief Secretary of the Sri Lanka Territory, said a "tide of books ... has flooded into our territory"; a "generous gift desperately needed" by the college. "Our hearts are filled with gratitude to you, the corps folk and the junior soldiers," he said.
Stephen said the books would help the college set up "a more comprehensive library", which would help it gain university accreditation.
For information on giving a book or to donate to shipping costs, email glenda.savage@salvationarmy.org.au