Urban Mission moves towards reconciliation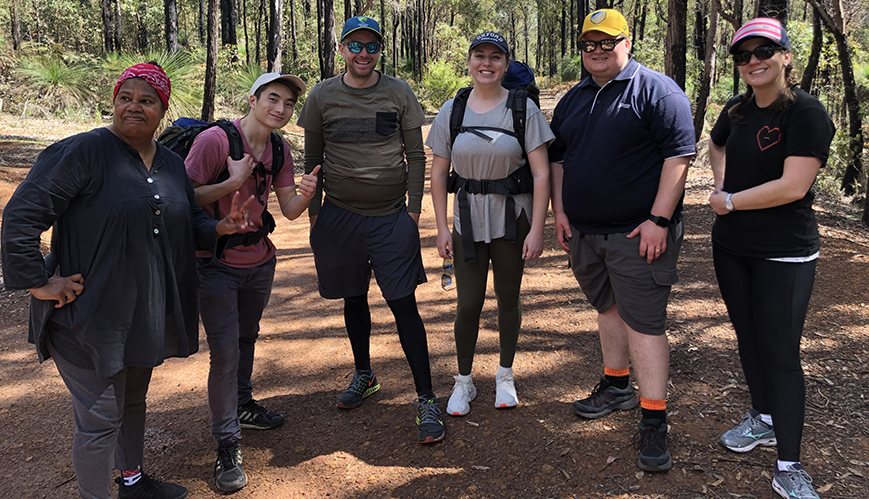 Urban Mission moves towards reconciliation
4 November 2021
Salvos from the Urban Missions Movement (UMM) at the Rivervale Project walked 16km for reconciliation earlier this year. Aux-Lieutenants Steven and Marenda Freind (centre) were joined by Mary Yarran (left), Divisional Aboriginal and Torres Strait Islander Coordinator for Western Australia.
By Jessica Morris
Reconciliation with First Nations people is an important, arduous trek – and Salvos at the Urban Missions Movement (UMM) are committed for the long haul.
In September, participants from this year's UMM cohort took part in a 16km 'Reconciliation Trek' on Whadjuk Noongar Land (Perth), under the guidance an Aboriginal Elder from the Whadjuk people.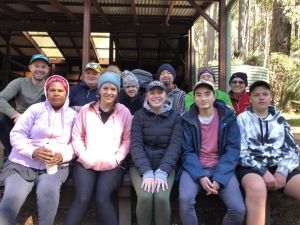 More than 10 people took part in the Reconciliation Trek, walking on Whadjuk Noongar Land (Perth).
The Reconciliation Trek is one of four activation points in the UMM, which provides 12 months of organic missional training for emerging leaders in Western Australia. Launched last year to empower the '21st century Salvationist', activation points are crucial to the holistic framework of the UMM, especially considering the National Reconciliation Plan was launched in 2020.
This is something Aux-Lieutenants Marenda and Steven Freind, and Mary Yarran, Divisional Aboriginal and Torres Strait Islander Coordinator for Western Australia, are passionate about. "This Reconciliation Trek reminds me that this is a journey," reflects Mary. "I see it as a good platform to help activate reconciliation [within The Salvation Army]. Our future is in the hands of these people."
On day one of the trek, 11 participants experienced a Welcome to Country before hiking 8km to their campsite, where they participated in a Yarning Circle. After a night under the stars and another 8km trek towards home, each person was asked to set an accountability goal to enact reconciliation in their life.
"We have seen accountability goals set by participants in the workplace, in how they engage with students, with customers in hospitality, and in local corps settings," said Steve. "We are all about creating a framework of accountability so in the weeks to come, we can check if people have actually spoken to their colleagues or their boss."
This is the second year the Reconciliation Trek has taken place, and the Freinds say it is The Salvation Army National Reconciliation Action Plan in action – we just have to create space for it. The local community has also thrown their support behind the trek, with companies Sarayu Well and First Hike Project providing trekking expertise and equipment for the journey.
"We run this trek so participants can understand what reconciliation means for us, and what it means for Aboriginal people – what it means to journey with people in reconciliation," shared Steve. "This action is based on Christ's command when he says, 'Love your neighbour as yourself'."
As a member of The Salvation Army National Aboriginal and Torres Strait Islander team, Mary has been delighted by the connections and conversations created through the trek. Not only does she see the fruit of reconciliation in others, but she is experiencing it first-hand. After participating in the trek last year, she was compelled to apply for her current position with The Salvation Army and sees it as kingdom-building work.
"Last year, a friend asked me if I would be interested in doing a reconciliation yarning circle [with The Salvation Army], and I met Steven and Marenda and attended their UMM. So when I heard about the job as divisional coordinator, I applied – and the rest is history!" she shares. "This job is like an extension [of my faith]. We have a kingdom mentality, and we are all part of the big picture."