Aussies deck the halls for Kmart Wishing Tree Appeal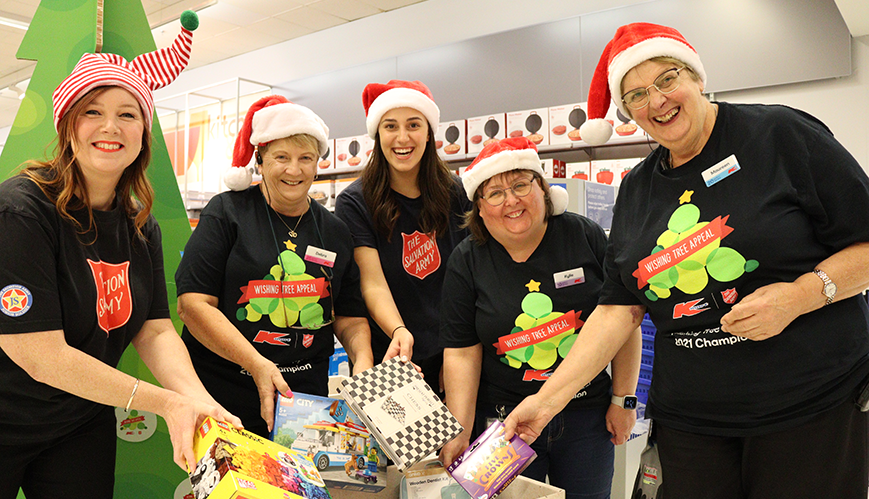 Aussies deck the halls for Kmart Wishing Tree Appeal
17 November 2021
The 2021 Kmart Wishing Tree appeal has kicked off across the country, with all donations going towards families doing it tough this Christmas. Pictured Captain Nicole Snead (far left) and Amelia Natoli, Public Relations Manager for Tasmania (centre) celebrate the launch with staff at Kmart in New Town, Tasmania last week.
By Jessica Morris
The tinsel is out and the Wishing Tree is back at 320 Kmart stores across the country! Since 1987, Kmart Stores have partnered with The Salvation Army for the annual Kmart Wishing Tree Appeal, ensuring thousands of Aussies doing it tough have a holiday to remember.
Captain Nicole Snead, Corps Officer at Hobart Salvation Army, helps launch the Kmart Wishing Tree Appeal in New Town, Tasmania. This year, every Wishing Tree has been made sustainably. 
"The Kmart Wishing Tree Appeal is in its 34th year, and over the years, more than 7 million gifts have been provided to families who have come to The Salvation Army and have experienced the love of Jesus in their time of need," said Major Bruce Harmer, Head of Public Relations for The Salvation Army in Australia.
"Our partnership with Kmart provides material resources through which we are able to support Australian's experiencing either situational poverty or long-term poverty. Supporting families doing it tough at Christmas allows us to share the love of Jesus in a caring, compassionate, and God-glorifying way. And in doing so, we play an important part in building healthy communities one person, one family at a time."
Many Salvos have fond memories of the Wishing Tree Appeal, purchasing and donating a present at their local store, or volunteering for gift dispersal through Christmas Cheer. Over the years, it has become a community event – crossing corps and mission and expressions of the Salvos so people in need leave with a bag of goodies, some wrapping paper and likely a stuffed animal or two.
"It's an amazing dynamic that both those who donate gifts to the Kmart Wishing Tree Appeal and those who are the recipients of the gifts benefit greatly from this longstanding appeal," said Bruce.
"Those who place a gift under the tree often take the opportunity to explain to their children why they are supporting those who need help at Christmas. This becomes a special moment for them. Those who receive the gifts appreciate so very much the help in providing for their children also. Along with feelings of happiness and joy, those who receive the gifts also feel a sense of relief, safe in the knowledge that their children will experience the joy and surprise that Christmas Day brings."
What are you waiting for? Head over to your local Kmart Store, hand pick some presents and place them under the Wishing Tree. Or call your corps officer and see if you can volunteer for Christmas Cheer this year. Whether a gift is big, small, we have a chance to make someone's Christmas just a bit merrier. And all the while, we are sharing the love of Jesus.
Thanks to Kmart, you can download free Christmas activities for kids here.
For more information, or to donate to the Kmart Wishing Tree Appeal, visit www.kmart.com.au/kmartwishingtree.