Top End fundraising as easy as ABC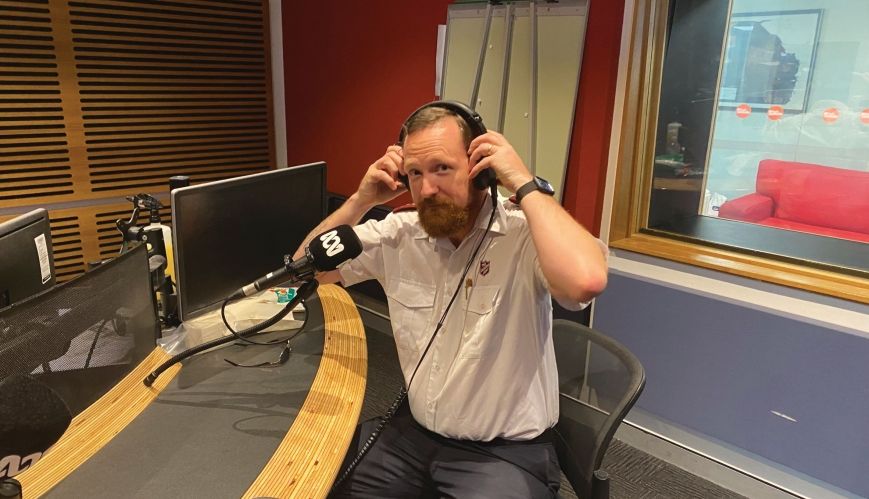 Top End fundraising as easy as ABC
1 December 2021
Captain Peter Jones prepares to go on air on ABC Radio Darwin.
By Darryl Whitecross
The missional and ministry work of The Salvation Army in Australia's Top End has been featured as part of ABC Radio Darwin's annual Christmas campaign.
Captain Peter Jones, South Australia/Northern Territory Division Public Relations Secretary (NT), said several stories on what the Salvos were doing and who it had helped over the past 12 months were aired by the national broadcaster between 22 November and 3 December as part of its 'Territory Gives' campaign.
Having heard where the Army spends its funds, listeners were then encouraged to give to the station's Christmas appeal, with the money to be used in the NT. "The [station's] campaign supports a local charity and the work they do over Christmas," Peter said.
Community groups were invited to submit applications to the station to be part of its campaign. I submitted an application with the help of the [Army's] national media team to ABC Radio Darwin, and we were successful for this year."
Captain Peter Jones prepares to go on air on ABC Radio Darwin. Stephen McClelland, ABC Radio Darwin Manager, said the campaign was about telling "local stories using local voices to local people".
He said station reporters recorded many interviews with officers, staff, and volunteers across Army mission initiatives in Darwin, Katherine and Alice Springs and aired them on each of its weekday programs.
"We worked with them to help them tell their stories of what they do in The Salvation Army, how they volunteer in The Salvation Army and how they were helped by The Salvation Army," Stephen said.
"The audience gets to hear the stories of the people that they're assisting, and the programs they are assisting [with their donations]. It helps encourage the listeners to give."
Peter and Stephen said while the Territory Gives campaign ended on 3 December, the station would continue to focus on the Army's work into January, with Peter doing regular live in studio updates on the appeal and other Christmas initiatives.
"It's good for our team; it's good for the community; it's good for the audience," Stephen said.