Hanging out for hope in Inverell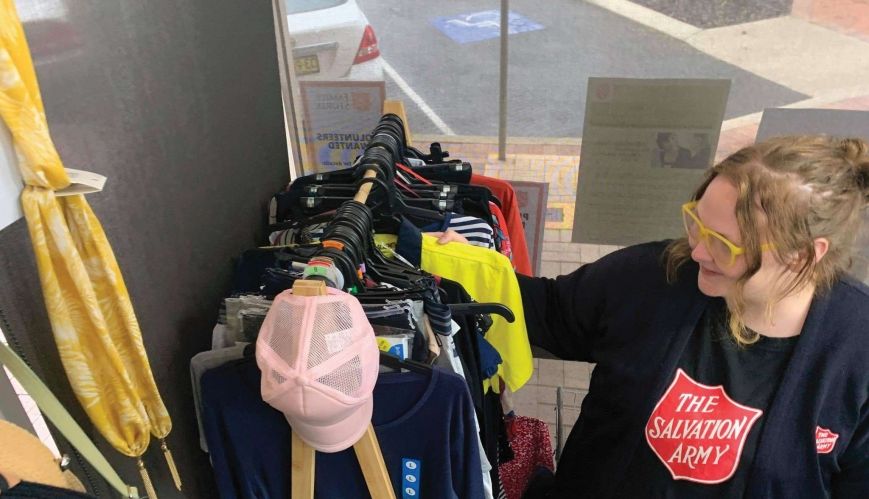 Hanging out for hope in Inverell
7 December 2021
Lieutenant Cindy Roehrig stocks the Hangers of Hope rack with new merchandise.
By Faye Michelson
The small rack of clothes standing in the welfare space next to Inverell Corps Family Store in northern NSW has a simple sign that says it all – 'Hangers of Hope'.
The rack displays a free selection of new adult and children's clothes, shoes, caps, beanies, and scarves. When people facing hard times take something from here, it often means more than just a new piece of clothing; it's a piece of hope.
Lieutenant Cindy Roehrig says the corps set up Hangers of Hope to give people accessing their welfare services the opportunity to choose something they need.
"Through the help and support of Good 360, we receive items from our local Big W," Cindy explains. "We wanted a new way to hand these out to our community in need. We run welfare two days a week, and this is when Hangers of Hope is available. It's a place for people to choose what they need and not feel as though they're being judged. We want to give people dignity when using our service."
In the four months it has been operating, Hangers of Hope has lived up to its name.
"We have seen many people's faces light up at the chance to take something from the rack," Cindy says. "It may seem like something small to give someone a new beanie or scarf or T-shirt, but to some people, that one gesture means more than we can ever imagine."
Cindy says the team often sees big smiles on people's faces as they leave with a new item.
"We had one lady share with us that she had to choose between paying a bill or buying her granddaughter a birthday present," Cindy says.
"After looking through the Hangers of Hope, she found the perfect pair of lovely new gumboots – this meant she could do both, pay her bill and still give her granddaughter a present. In that small moment, I saw Hangers of Hope doing just that, providing hope in our community."