You are here:
Home › News › 2021 › 12 › 16 › Us Emergency Teams On High Alert As Wa Crews Stand Down
US emergency teams on high alert as WA crews stand down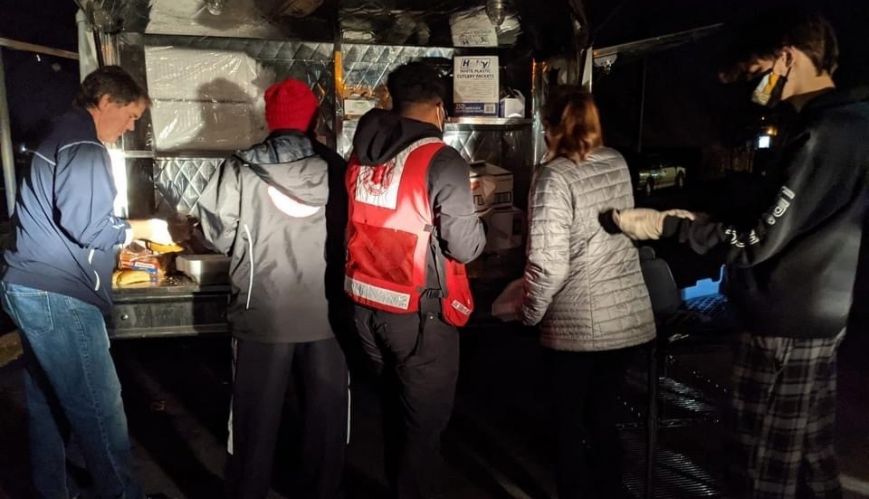 US emergency teams on high alert as WA crews stand down
16 December 2021
Crews from The Salvation Army Nashville Area Command serving the communities in western Kentucky affected by the weekend's tornadoes in the south of the United States.
By Darryl Whitecross
While Salvation Army Emergency Services (SAES) teams in Western Australia headed back to base at the weekend after the Margaret River bushfires, emergency crews in the United States were on high alert after deadly tornadoes ripped through six southern states.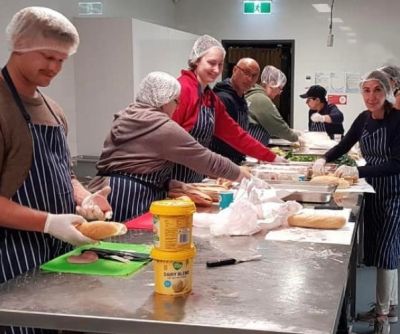 Volunteers from the CWA of WA Minderoo Foundation help prepare food for the SAES to support firefighters battling bushfires in the Margaret River area.
Western Australia Division Public Relations Secretary Warren Palmer said due to a "scaling down of this bushfire", SAES relief teams wound up on Sunday and returned to their bases in Perth and Bunbury. The teams had initially prepared to be in the Margaret Rivers area, south of Perth, for five days. "As there has been no real impact on life and properties, we will have no further direct participation," he said.
In America, a deadly system of up to 30 tornadoes crossed six states – Arkansas, Missouri, Tennessee, Kentucky, Illinois and Mississippi – on Friday evening [Saturday morning, Australian time] leaving heavy destruction in its wake, with about 70 people feared dead.
Jeff Jellets, the Emergency Disaster Services (EDS) Director for the Army's US Southern Territory, said EDS personnel had been deployed to meet the immediate needs of survivors and first responders.
Mobile feeding units had been deployed to the affected areas with each unit able to serve between 500 and 1500 meals per day. Incident Command Centres also have been established and, in a partnership with the Arkansas Baptist Disaster Relief, a kitchen had been set up in Black Oak, Arkansas, to prepare food and supplies.
"Those who experience such sudden tragedy are faced with extreme physical and emotional challenges," Jeff said. "We are dedicated to providing essential services such as food, water, shelter, and emotional and spiritual care for survivors and first responders for as long as we are needed."
Jeff said tornadoes were common at this time of the year in the Mississippi Valley, Southeast and Midwest regions, but the size and violence of the weekend's storms were "absolutely unprecedented".
"This outbreak may have set the record for the longest continuous tornado in American history," he said. "This one was likely as strong as the ones that hit Oklahoma City in the [the Northern Hemisphere] spring a few years back – and is much more what you'd expect then.
"This one was also record-setting for how long it remained on the ground [travelling for about 440km] – likely a historically long time – and while Kentucky does have tornadic storms, these are much what you expect to see further west. This is clearly the worst tornado ever to hit that state."